5 meal ideas when you're short on time
It's been one of those days – you just get home from work and you are absolutely beat. BUT THE FAMILY IS HUNGRY! They want food and they want it now! What do you do? Order takeout? Head to the nearest fast food joint? That can get expensive after a while. When I'm short on time, I like to whip up something from this list.
5 meal ideas for when you're short on time
Pasta – Not only is it super simple to make, but it's FAST! I can have a plate of pasta on the table for you in 15 minutes, tops. We make our homemade sauce, and that takes about 10 minutes. While it's cooking, we plop the pasta into some boiling water and by the time it's done, the sauce is finished as well. Mix them together, top with some cheese and VOILA! Dinner is served.

Breakfast – We love having breakfast for dinner once or twice a month. Sometimes we will have eggs, bacon, and hashbrowns. Other times we will have fresh toast and fruit drinks. There are so many possibilities!

Soup & salad – It's pretty simple to make your own soup, and it really takes no time at all. We prefer to do this so that we can control the things that go into the soup. However, if you're just not up to making your own soup, feel free to just heat up the canned variety. Pair it with a simple salad and you've got an easy meal in no time at all!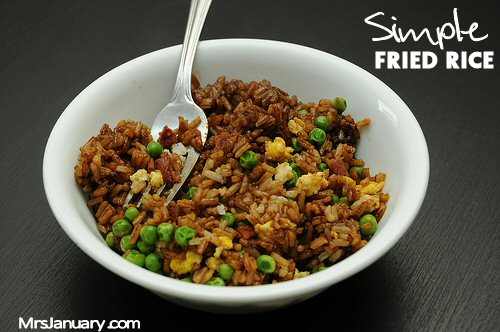 Fried rice – Our fried rice recipe takes about 30 minutes from start to finish. The rice takes about 20 minutes to cook, but you could always use instant rice to make your cooking time a bit shorter. Once the rice is cooked you can add in any ingredients you want. We add some scrambled eggs, bacon, and baby peas.

Sandwiches – There are a variety of sandwiches you could make for dinner. My favorite is a BLT, but you could also try deli meat, leftover chicken/turkey/roast beef, tuna, even peanut butter & jam! Have some salad alongside your sandwich to fill you up a bit more and get some veggies in ya.
It's easy to just call for delivery when you're strapped for time and exhausted – but before you go that route, try making something yourself. You won't believe how proud you will be for saving yourself some money and making a meal at home.
What meals do you like to make when you're short on time?