Stretch your grocery budget – 7 foods that will help
Stretch your grocery budget.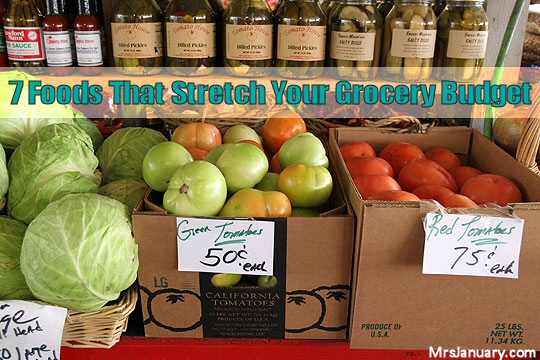 These 7 foods can save you money and help stretch your grocery budget. There are many ways to save money on food, including purchasing only sale items, using coupons, and preparing food in bulk for the freezer.
To ensure that you are saving the most amount of money possible on your food items, try to always keep the following budget-friendly foods on hand.
1. Oats
A fantastic alternative to over-priced (usually) cereal, oats make a great breakfast option. A nice hot bowl of oatmeal is very satisfying on cold days (and even warm days if you are able to enjoy the luxury of air conditioning).
Avoid the individual packets at the store and buy oats in bulk. If you like having the packets for convenience, try making your own. It's easy!
2. Beans
Beans can be used in just about every lunch and dinner meal. Eat them on their own, mixed in with chili's & soups, or substitute for meat in some dishes (such as tacos or burgers).
If you don't want to give up all of the meat in your meal, try using a combination of half beans/half meat. You will hardly notice a difference in taste.
3. Rice
Rice is very inexpensive and extremely versatile. Use it for stir-fry, in soups, stuffed peppers, or on its own. You can even make desserts with rice that is very yummy.
4. Potatoes
Potatoes are one of the most economical foods available. It's not uncommon for 10-pound bags of potatoes to go on sale for less than $2.
Since potatoes are a produce item, they are cheaper at certain times of the year (July-March). When stored in a cold, dark area of your home, they can last for weeks.
5. In-season produce
You should always buy produce that's in the season if you're looking to save money on your grocery bill. Check out our in-season produce guide to know the best time to buy a variety of different products.
Once in season, buy produce in bulk and freeze, so those items will last you well into the seasons that they are not at their cheapest/freshest.
6. Pasta
We often have a pasta meal every week, because we know how much money it saves us to eat that type of meal.
Pasta is a very inexpensive (even more so if you buy it on sale and with a coupon) alternative to a big meat-heavy meal.
7. Eggs
Eggs are an inexpensive protein that can be used for many meatless meals such as omelets, boiled eggs, and other 'breakfast for dinner' type meals.
Eggs often last about 3 weeks in the refrigerator, so stock up when you see a great sale.
All of these foods are inexpensive and can really help to stretch your grocery budget further.
Watch for sales and stock up for as long as you can (be sure that you will be able to consume the items before their expiration date).
I recommend checking out The Bulk Barn for most of your bulk food purchases (we buy our oats, spices, and more from there). They are usually much cheaper than the grocery stores and often have great money saving coupons available as well.
Are there any other foods you would add to this list?