7 Easy Ways You Can Afford to Stay Home With Your Kids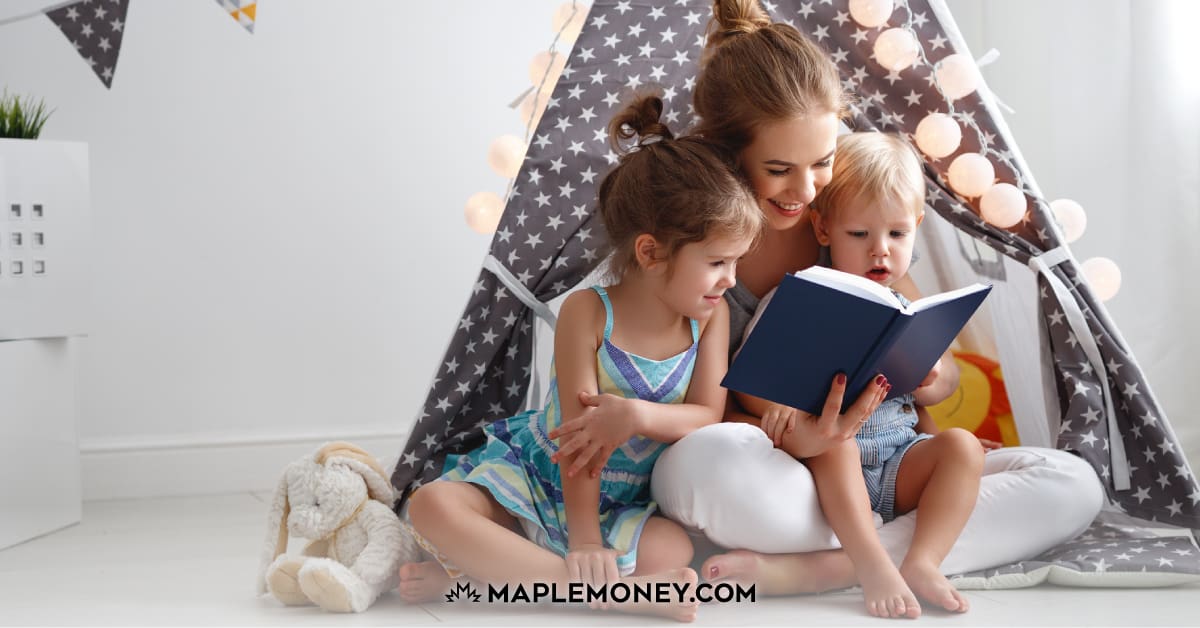 Staying home with your kids can be affordable if you follow our seven steps for saving.
Stay-at-home mom. This once common household staple is becoming more and more rare as rising costs of living and fewer employment opportunities make this option more of an impossibility.
While the thought of staying home alone with small kids all day would send some moms running for the hills, others want nothing more than the chance to spend those early years with their littles.
When I had my kids I knew I wanted to find a balance between work and motherhood. Unfortunately, once my third daughter was born I was left with a hard choice-work full time shift work or leave my job.
I knew that working full-time would leave my family with slightly more money but a lower quality of family life. Despite my trepidation, I made the hard decision to walk away. Instead, I chose to focus on what I could do to save money while staying home. I discovered that a few changes equalled big savings.
Live in a Humble Home
One of the best things my husband and I did when buying our first home was to buy a small house we could easily afford. Although we were pre-approved for much more, we chose to stick to a smaller budget to make sure we were comfortable even if things were to get tight financially. At the time were bought our home our oldest was an infant and we had another on the way. We knew that I would be on maternity leave and we would have the additional expenses of another child.
We also bought a 'fixer-upper'. My husband is mechanically inclined and I enjoy painting and renovations so we didn't mind buying ugly. Ugly usually equals savings. Plus by buying a home in need of cosmetic updates, we knew we could add some sweat equity. Renovations don't have to mean spending big bucks. Check out my $150 kitchen makeover here.
Many of my friends also chose homes with income potential. They were able to have a renter pay their mortgage or even double up on their mortgage payments to become mortgage-free sooner. It allowed them to plan for future financial freedom despite being a young couple.
Drive an Old Car
The fewer household bills you have the better. A cheap but ugly and reliable car is better than a car payment you have to stress about every month. While my kids were little we purchased the cliche van but got it secondhand and financed it for three years. With this decision, we were able to drive our van payment free for an additional three years. There were so many months that we were beyond grateful for the $200-$300 savings.
Once the van finally died (or we decided to put her down) we got a small car to replace her. This time we were able to buy it outright to avoid any payments. Score! Our small car was able to introduce our kids to things like manual windows and humility, while we breathe easier with one less bill each month.
Grocery Shop for Less
With our growing family also came growing grocery bills. Every parent wants to feed their children healthy food, but we want to do it in an affordable way. Couponing may be a popular choice and the topic for many online forums, but trips to the grocery store with kids don't always lend themselves to seeking out specific brands, sizes and items in order to save.
I have found a much easier way to save on the grocery bill without ever stepping foot in the store. The first thing I do is shop the sales on Save.ca. I choose meals that I can make based on the items on sale as well as stock up on non-perishables that we use on a regular basis.
By shopping for groceries on Walmart I can price match without a long line of waiting customers giving me the stink eye. All you do is:
Check out the best deals on Save.ca.
Search through the grocery area on the Walmart website and add the exact same items from the flyers.
Once you have finished your list grab your online order # and go to
From here all you need to do is copy and paste the flyer page URL into the form and you will see your grocery purchase refunded the difference in price!
By buying quality items at a lower price you can feed your family healthy recipes for less. Plus you can get your groceries delivered to your car. Not to mention you don't have to deal with impulse purchases, grocery aisle meltdowns or waiting in long grocery lines.
Buy Second-hand
Life with kids is not always glamorous and if you are trying to save money your home is likely going to reflect that. Buying used furniture, toys and clothes was a great way for me to save money while ensuring that my kids still had everything they needed. After all, my kids seemed to love enjoying everything in their path, it hurts a little less knowing I got a good deal on the items they destroy.
When we bought our first home we furnished it with second-hand furniture from VarageSale as well as any giveaways from family and friends. As much as new furniture would have been nice, I knew it would likely be destroyed by my tribe of toddlers so we made due with what we could afford. The bonus of shopping for second-hand is that you are far less upset when the stomach flu hits, there is a diaper blow out or anything is spilled on your sofa.
I also looked for older wooden furniture that was being given away for free and used some inexpensive paint to modernize and personalize it. It is an inexpensive way to get new to you furniture that is right on trend.
Dress for Less
Kids grow fast, and clothes that can cost a fortune can often be outgrown before they are even worn. Buying good quality second-hand clothes is one way I am able to save money but still get quality garments that can be passed down.
If you really don't want to put your baby in second-hand clothing or gear but still want to save, consider selling your gently used goods to a retailer like Once Upon a Child. You can give your cute threads a second chance and earn some money back in your pocket. Keep in mind these types of retailers look for quality name brand clothing without stains or rips.
Enjoy Free Events
Being home with your kids doesn't mean you have to stay inside, you need to find low cost and free events and resources for your family. Luckily for us Canadians there are many resources available in most communities to get your littles out for some social interaction (and to keep you sane with some adult interaction!)
Check out the free events at your local library. Many churches offer up a space for parents to meet up for some adult interactions while the kids play regardless of your religious beliefs. Search Facebook for local parenting groups that may host local events.
Shop Smart
The more often you go shopping the more money you are likely to spend. Instead of getting out of the house to walk a mall, make sure you are only hitting the stores when you have something specific and only buy what you really need.
Look for local buy nothing groups online and see what you can borrow or lend instead of purchase. Grow your own food if you have available outdoor space (I had a field of raspberry bushes for years) and trade your garden's bounty with friends.
Larger families can benefit from deep freezers so you can buy in bulk when items are on sale. It also allows you to cook large amounts of food and freeze the leftovers for easy meals when you need them. One thing I love to cook in bulk is pasta sauce. I sneak in as many vegetables as I can and then blend all the evidence away for a healthier pizza or pasta sauce.
Get a Side Hustle
Just because you are home with your kids doesn't mean that you can't bring in some extra cash. There are lots of ways for parents to make a little extra cash without sacrificing too much of your precious time with the kids.
Home Daycare
While providing care to another child may seem like an obvious answer for any stay at home parent, there are many things to consider. How would your child react to sharing your attention? How would an additional child change your schedule or diminish your freedom? Who could take your place if you or your child was to become ill? What are the guidelines for home daycares in your area?
Sell, Sell, Sell
Some parents make a great success of themselves by selling products through an MLM company like Avon, Thirty-One or Lipsense. If you want to try and go this route make sure that you choose a company whose products you really believe in. After all, good products will sell themselves. Watch out for large buy-ins and small commissions.
Hobby Jobs
I personally brought in a couple extra bucks through crochet items, handmade crafts and freelance writing. Turning your hobby into a money maker is not always easy, but at least you get a chance to call the shots doing something you love.
In the end, whether you stay at home with your kids or not saving money where you can is always a great move. By saving money now, you can invest in a stronger future for your entire family.