5 Things You Should Always Buy at Yard Sales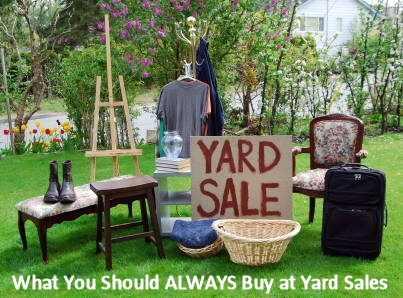 It's officially yard sale season – the time for great bargains!
I must see yard sale signs up every weekend now. I've already been to a few of them and picked up some fantastic items very inexpensively.
There are many items that I always look for at yard sales. Items that are always cheap and always useful.
Below is a list of 5 things you should always buy at yard sales.
1. Baskets
Baskets are a great organizing tool that can be used all over your home. Use them for storing toys in the playroom, towels in the bathroom, magazines in the living room. The possibilities really are endless.
You can usually find baskets priced anywhere between $0.50 and $5 at yard sales, depending on the size and quality.
2. Clothing
Most yard sales include clothing of some sort and it is well worth your time to check out those items. Many sellers price the clothing very reasonably. Depending on the brand, I find that most clothing is priced around $1 per piece.
You can often find brand name articles of clothing at yard sales, priced much lower than what you would pay at any clothing store.
3. Toys
I bought most of our children's toys from yard sales. You really just can not beat the prices! I have found some fantastic deals on toys – including a brand new picnic table for $10, a Fisher Price baby gym for $5 and a set of stacking blocks for just $1.
Toys are something you should never pay full price for. They can always be reused – buy them from yard sales and thrift stores to save some serious cash on these items.
4. Glass Jars
I love purchasing glass jars from yard sales because they are so versatile. You can use them for organizing craft items, canning produce, or even as a small vase for some flowers. Coloured jars are also fantastic for decorating.
Just like baskets, the possibilities are endless when it comes to what you can do with glass jars.
You can expect to find these jars for around $0.50-$1 at most yard sales.
5. Books, CDs and Movies
Other items that you can find at most yard sales is books, CDs and movies. When people read, listen to, or watch one of these, they often don't do so a second time – so they sell them.
These items are easy to find at a very low price if you're looking at yard sales. For an even better bargain, ask the seller if they would consider giving you a discount if you purchased more than one. Most sellers will say yes (I have never been turned down).
When you're shopping at yard sales, look for these items. They will likely be some of the best deals you find all day.
Also, don't forget to pick up lemonade or baked goods from cute little kids that have their own sale going on. You can really make their day for not much money at all.
What items do you always buy at yard sales?