Are You Obsessed With Coupons?
Obsessed With Coupons?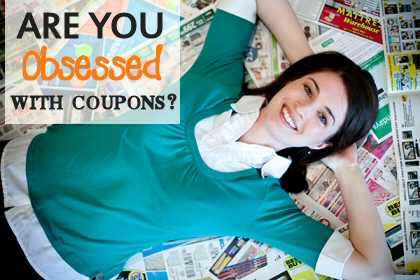 Are you obsessed with coupons?
Ever since my first time using them, I have been hooked. I don't know if I would call myself obsessed (although I'm sure some people would), but I am definitely a bit intense when it comes to coupons.
You browse all of the sale flyers, match up your coupons, head to the store, load up your cart, checkout and… it's just fabulous. It's such a huge adrenaline rush for me to get a great deal.
Do I get nervous when I go up to the cashier with my coupons?
I am never NOT nervous when I go to the cashier with coupons. I get all hot and sweaty and start to stutter and can't focus on anything. It's worse when I am hoping to get overage from a coupon, but even if I have a coupon for $2 off a product that is $2.99, I'm still nervous, because cashiers like to make up thier own rules when it comes to coupons sometimes.
For example, yesterday I went a store to purchase Secret deodorant. It was on sale for $2.50 a piece and I had 6 coupons for $5.00 off when you buy 2 – so that means I would get 12 for free (just pay taxes). There should have been no issue, but since I was getting them for free, the cashier said I couldn't use the coupons.

After speaking with her supervisor, she found out it was fine and it ended well.
It's normal to get nervous at the cash register.
So what about you – are you obsessed with coupons?