Babysitting – practically free options
Is the cost of babysitting preventing you from going out, on your own, with friends, or with your spouse? Do you end up just staying home, instead of paying those costs?
It's important to have a break from your kids sometimes. The key is to find a quality, economical babysitting options for guilt-free time away.
Babysitting – practically free options
Swapping childcare
Perhaps the easiest solution to saving money on babysitting is to swap childcare with a trusted friend. One night they could watch your children and the next week you could watch theirs. If the children get along well, this could quickly become a highlight for the whole family.
Splitting childcare
You might also consider sharing the childcare costs with a friend. Perhaps you could hire a teenager (just starting out, so not that costly) to watch both sets of children and split the bill.
Ask family
This is probably the most obvious option if you're blessed to have family close by. I honestly don't know what I would do without my parents' help. The challenge is to never take advantage of the kindness of relatives, and hopefully, be able to pay them back in different ways.
Barter
Do you have any skills that you could trade for childcare? Bartering is an often-overlooked solution where two people can exchange an equal value of services without exchanging cash. Here a few examples of how bartering could work:
My sister took graduation pictures of a grade 12 student in exchange for 6 hours of babysitting.
I have helped students study for their exams in exchange for childcare.
Perhaps you have an in-home salon that you could use to barter with a trusted client.
Go shopping (strange, but true)
IKEA is the most kid-friendly shopping venue I have ever visited. With 50 cent hot dogs (I know, I know – but this isn't a healthy living post!) and $1 ice cream cones, it's a treat for the whole family. They offer change stations with extra diapers if you run out, and sell jars of baby food in the restaurant.
And let's not forget the play area – it's sheer brilliance. If your children are tall enough to be left (and potty trained), but not too tall, you can sign them in for free for one hour. Don't forget socks or there will be tears. Yours. Theirs. But browsing IKEA for an hour, child-free, is priceless!
Babysitting co-op
Craig Ford, from Wise Bread, explains how his church started a babysitting co-op:
Parents could leave their kids at the church while two of the other parents stayed and did the babysitting. Each child brought something to eat for dinner and the babysitters selected a kid-friendly movie for the kids to watch. The only rule was that if you left your kids, you needed to be sure to take a turn babysitting in the future.
If there are six to eight couples in an evening, all but one of them were able to go on a date without an extra expense for babysitting. And the kids looked forward to it as much as the parents did.
High school volunteers
In Ontario, high school students are required to log in forty hours of volunteer time in order to graduate. You could explore if this would be a viable option for a teenager you know. I hired our grade 9 babysitter to help with our baby this summer.
We're also chatting about getting creative for her to do some volunteer hours; she might research activities for 18 month-olds, and take full charge of him for the occasional morning.
Gym childcare
Many gyms include childcare in their membership as a draw for parents. I obviously don't recommend joining a gym just for the childcare, but it's certainly a lovely perk if you were going to join anyway.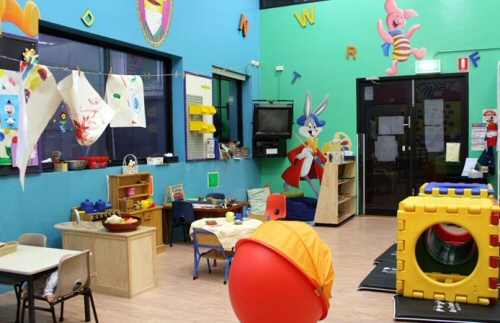 Too often we look to the most obvious solutions for receiving quality childcare.
However, if you can find a win-win situation to budget-friendly babysitting, this could make that time away much more affordable.
What are your favorite solutions for affordable babysitting?