6 back to school sanity savers
Back to school challenges are common for most parents, but if you're prepared, back to school doesn't have to be a difficult and stressful time.
This post offers 6 suggestions to keep you back to school savvy.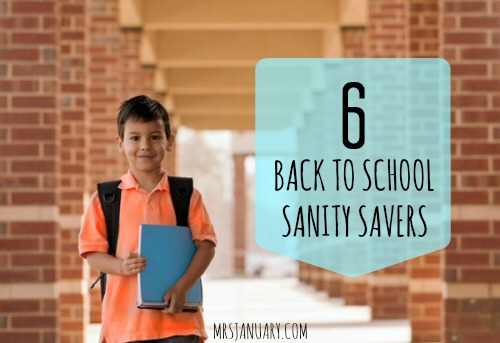 6 back to school sanity savers
1. Buyback to school supplies at the right time
Begin to watch flyers for sales on school supplies. August and September are when you will find the best deals on school supplies.
Take inventory of what you have and what you need. Staples offers a back-to-school supply list by grade, but sometimes their list includes a few items you may not really need, so be mindful of that.
Related: Back to School List – Everything for Just $10!
Purchase a few disposable items (glue sticks, pencils, erasers) to tuck away for mid-year. When I keep them accessible in the office, they tend to disappear quickly. You don't want to run out by December!
Purchase some supplies reduced by 75%-90% to tuck away as birthday gifts.
2. Organize children's wardrobes
Does anyone else have children who believe in trying on more than one pair of pants in an hour is a violation of their human rights?
Regardless, I do torture each of my children with a pants-try-on-athon. We decide which pairs get donated, passed down to a sibling, or thrown out (yes, some really are that bad!).
I keep 1 Rubbermaid bin per child in the basement for them to grow into. I shop clearance at Real Canadian Superstore, find brand names at Value Village/Talize and even score on Kijiji at times.
I also stockpile shoes since each child needs an indoor and an outdoor pair. We go through shoes very quickly around here. One day they are fine – the next day a toe can see daylight. Best to be pre-paired (get it?).
3. Ensure lost items are returned
One of my children had a year where more items were lost than found. Boy, was I glad I used Mabel's Labels? Hats off to the brilliant moms who created these funky labels that are kid-friendly and practically invincible.
To save money, I recommend ordering labels with your LAST NAME so they are not child-specific. Ours have been passed down from child to child, with the labels perfectly intact – even in shoes.
Here is a link if you would like to order your own: Mabel's Labels for Kids
Walmart also carries Mabel's Labels in their school section – you can write your own name on them, and they will be the same fabulous quality.
4. Prepare for the barrage of papers
Back to school means lots of papers coming home each day. Save your sanity by getting ready for the papers before they start to arrive. I bought a Helmer cabinet from Kijiji (pre-assembled – yay!). There are 6 drawers, so each boy gets 2 drawers for themselves. They are labeled, for example, Ayden-School, Ayden-Crafts.
When papers arrive home, we sort them into recycling/keep and the boys put the "keep" pages into their "School" drawer. The crafts drawer is for their artistic creations or keepsakes.
At the end of the year, we do another purge and store the "really must keeps" in a filing cabinet downstairs.
5. Making back to school lunches easier
Hands down, the most dreaded job for parents is usually making lunches on school days. I found an option that will simplify this process immensely.
My mom bought these for my boys for Christmas (well, really for me!). Lunchroom supervisors would ask me where I found the boys' lunch systems. The boys used them daily for 6 months and they still look brand new. They are on the higher end for lunch boxes, but worth every penny.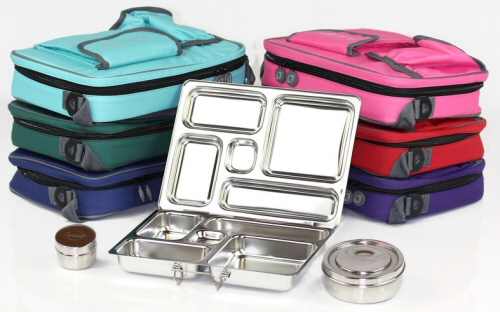 They are from a company called Planetbox. Their stainless steel containers are easy to load and simple to wash.
I make 4 lunches at a time – 3 for my school boys and 1 for my toddler. When my toddler is ready for a snack, I can pull out the box with prepared nibbles. We love the Rover (medium-sized) but if you have a really big eater, you might consider the Launch.
I can not believe how quick the lunch prep process is without having to hunt for containers, lids, etc.
6. Save your coins
September is notorious for notes coming home from school, asking for money. These include money for combination locks, field trips, and random expenses. Last year, one of my son's had a field trip for $8.37 last year, and the school requested exact change. Seriously?
Have a jar with coins ready so you aren't left scrambling on a school morning.
I hope these back to school suggestions help you prepare to face September with a new sense of calm. These sanity savers sure help my family each year and am hopeful that they help yours, too!
What is your favorite back to school tip?