The Best Cheap Cell Phone Plans In Canada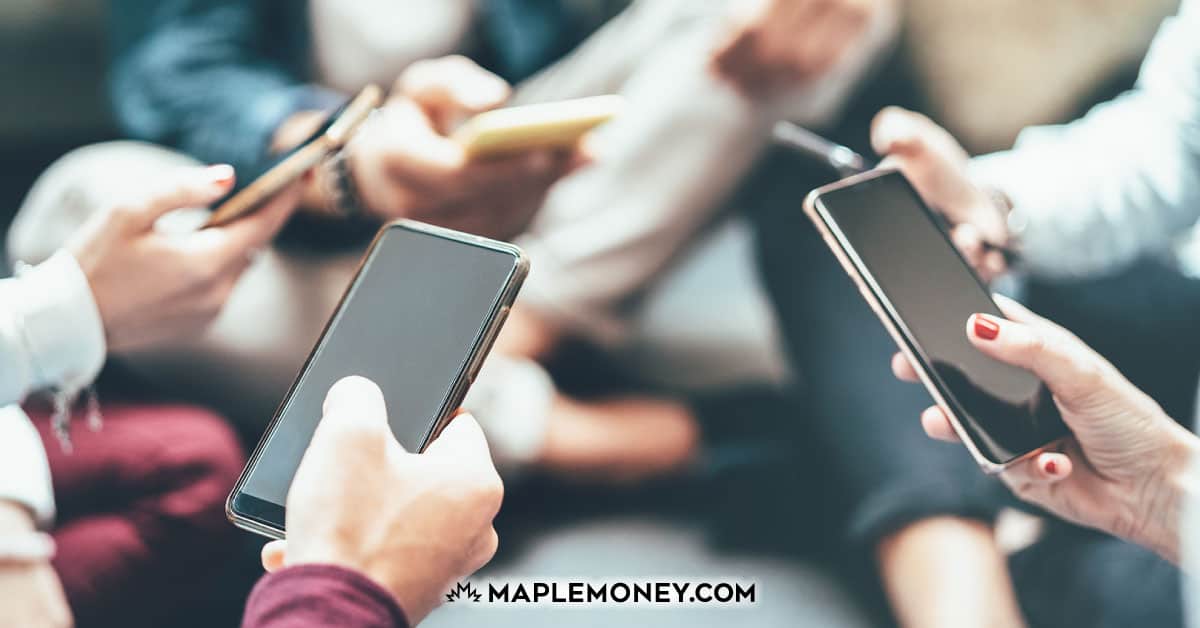 It's an unfortunate reality that Canadians pay among the highest rates for cell phones anywhere in the world. Much of this is because our largest providers (Bell, Rogers, and Telus) are making money hand over fist without the threat of serious competition in a highly regulated Canadian telecommunications industry.
There are cheap mobile phone plans available from various discount providers, with the tradeoff being slower upload and download speeds and poor connectivity. However, many Canadians are willing to accept the drawbacks to save on their monthly cell bill. If you're one of those people, the following is a list of the cheapest phone plans you can get right now.
Cheapest Smartphone Plan
At the moment, our top choice for the cheapest smartphone plan is Public Mobile's 100 Minutes, Canada-Wide Talk + Text plan, which includes 250BM of bonus data, all for $13/mo.
It's a perfect low-cost cell phone plan for those who use their phone only sparingly but still want limited data access. Of course, the downside to spending so little money on a smartphone is that you'll blow through your minutes and data in no time if you use your device regularly.
Fortunately, Public Mobile does offer reasonably priced add-ons. An extra 500 Canada-wide minutes can be added for only $5, and whatever you don't use rolls over to the next month, a great value add. You can also add 1GB of additional data for only $15.
Cheapest Data-Only Plan
Lucky Mobile leads the way with their $15 data-only plan. You get 750MB of cell phone data (250MB + 500MB when you set up a pre-authorized monthly payment). While this represents great value, there is a catch – the upload and download speeds are bottlenecked at 3 Mbps, slow enough to make video streaming a frustrating experience. If you're content to browse articles on the web or listen to music, it should suffice just fine.
Cheapest Unlimited Cell Phone Plan
At $25/month, Chatr's Nationwide Talk & Text plan is the cheapest unlimited cell phone plan in Canada. It's unlimited because they offer endless data when you set your account to pre-authorized payment.
The data speeds are slow, at 3Mbps for the first 500 MB, after which they fall off a cliff to an abysmal 64 kbps. If getting the best cell phone plan deal is your number one priority, the monthly plan fee is less than 50% of what you would pay with one of the nation's top 3 carriers: Bell, Rogers, or Telus.
Cheapest for Talk-and-Text
Talk-and-text plans are suitable for those who do not need to use data outside of a Wi-fi zone. If you're a B.C. or Alberta resident, you can benefit from the lowest priced talk-and-text plan in the country. Shaw Mobile is offering it's By the Gig Plan for $15/month to its existing home internet customers (Shaw Fibre). The plan includes the flexibility of adding a GB of data if you change your mind about only using Wi-fi, which is nice.
What about the rest of Canada?
If you live anywhere else in Canada, you can still get good value from a talk-and-text plan, albeit not as cheap as Shaw By the Gig. In my mind, the best value right now is SimplyConnect's $25 Talk-and-text plan. Not only do you get unlimited nationwide calling for less than $30, if you make a 2-year commitment (contract), they'll throw in a free Motorola smartphone.
If you supply the phone, the monthly fee drops to $22.50. SimplyConnect shares the Rogers Wireless network, giving you coverage everywhere in Canada.
Best Prepaid Cellular Plans
With a prepaid phone plan, you either pay in advance for a bundle of features or purchase credits in a pay-as-you-go format. There is no credit check required in either situation, and you are not locked into a contract, making for a flexible cell phone solution.
Prepaid Bundle
While their 100-minute plan is cheaper, Public Mobile's $25 prepaid plan is a far better value, giving you unlimited talk and text and 1GB of data if you set up AutoPay. With AutoPay, your net cost is only $23/month after the $2 discount is applied, making this arguably the best value cell phone plan in Canada. Data uploads and downloads at 3Mbps, fast enough to browse the web and stream music.
Pay-As-You-Go
Pay-As-You-Go plans won't get you the same value as buying a monthly plan, but for limited use, it's a great way to save. Chatr Mobile's Day Pass offers nationwide calling (except Newfoundland) for $3/day, unlimited talk and text, and 250MB of data (monthly). There is also a $2 Day Pass option, but it doesn't include data.
Other Ways to Save on a Smartphone Plan
If you decide to stick with one of the major cell carriers, i.e., Bell, Rogers, or Telus, here are some ways you can still save money:
Bring Your Own Phone
When you purchase an iPhone or Android device at the time you sign a new 2-year contract, the price of the new phone is subsidized into your monthly phone bill . This is how people end up spending over $100/month on their standard phone plan. You can always buy the phone upfront, but phones are expensive, which is why most people don't go that route. Instead, consider bringing a phone you already own. This can save you anywhere between $20 and $50/month on your monthly bill.
Buy a Used Phone
To bring your own device, you can use an older model that you already own or purchase one used through Kijiji or your local Facebook Buy and Sell. You can usually find a phone that's in great shape between $200-$400. It all depends on how new you need it to be. As long as it's in an unlocked status, it can be connected to your carrier. Just input a sim card into the new device, and you're ready to go.
Avoid Data Overage Fees
If you don't have an unlimited data plan, you have to be careful not to exceed your monthly allowance. With the amount of music and video streaming we do these days, you can run out quickly. While overage fees are capped at $50 before your data plan is frozen, that makes up a huge percentage of your overall bill and can eat into your budget, especially if it occurs regularly.
Don't Purchase Features You Don't Need
When you sign up with a new cell phone provider, they will offer you as many features as possible. This can include data or minutes you may not use or things like extended warranties and expensive accessories. My advice is to make sure you're not paying for features that you won't use and shop for lower-priced accessories elsewhere.
Negotiate a Cell Phone Plan Deal with Your Current Provider
Here's one that's worked for me in the past. If you're unhappy with your current plan, you may be able to negotiate a better cell phone deal by contacting their loyalty department. It costs a lot of money to onboard new clients, so cell phone companies are often willing to provide a discount or throw in some freebies to retain an existing customer. The worst that can happen is that they say no, so you really have nothing to lose.
Is the Cheapest Cell Phone Plan the Best Value?
Sometimes, what's cheap isn't always the best option. When it comes to cell phone packages, that may be true for many Canadians. For example, the slow data transfer speeds offered by most of the discount carriers featured above would make the entire discussion a non-starter for many. On the other hand, if you only use a phone sparingly or are fine with limiting data usage to wi-fi zones, you'll save a tonne by going with a discount plan. Either way, until Canadian mobile phone prices catch up with the rest of the world, it's good to be mindful of how much it costs you to stay in touch.