The Best Crypto Exchanges In Canada: Where to Trade Your Bitcoin and More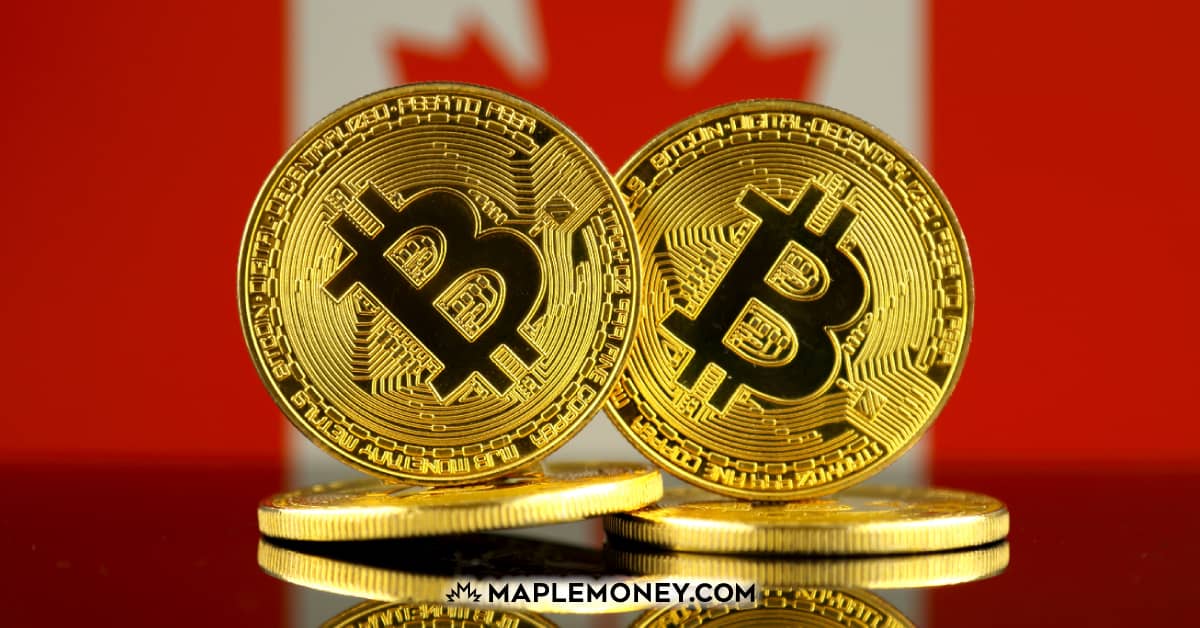 Unless you've been living under a rock, you've no doubt witnessed the sudden rise in the value of cryptocurrency over the past couple of years. Earlier this year, the market crossed the $2 trillion threshold and continues to dominate the headlines regularly.
One of the easiest ways to buy and sell Bitcoin, Ethereum, and many other coins is through a cryptocurrency exchange. A crypto exchange allows investors to exchange Canadian or US dollars for digital currencies and swap between the coins themselves.
In this review of the best crypto exchanges in Canada, I'll let you know what the top exchanges have to offer. And, unlike many other crypto reviews, I'll go out on a limb and make my pick for best overall. Ready? Let's dive in!
What Is Cryptocurrency?
A cryptocurrency is a digital currency that exists across a decentralized network of computers. It can be exchanged between parties without a centralized bank or government oversight, which is one of its greatest appeals. Many cryptocurrencies employ blockchain technology, which maintains the security and credibility of crypto transactions.
Cryptocurrency is not without its critics. This is partly because cryptocurrency lacks intrinsic value, and prices fluctuate wildly based purely on investor speculation. To date, the most common types of cryptocurrency are Bitcoin and Ethereum.
What Is a Centralized Exchange?
There are two types of cryptocurrency exchanges: centralized and decentralized. Centralized exchanges enhance the user experience by acting as a go-between for the crypto buyers and sellers. For their service, they charge a small fee on each transaction. Traders dealing on centralized exchanges don't mind paying the fee because they appreciate the simplicity and ease of use.
What Is a Decentralized Exchange?
More experienced crypto traders may opt to trade using a decentralized exchange. The benefits include lower trading fees and a higher level of security, generally speaking. Early versions used order books, which kept a record of all open orders of a crypto asset.
More recent decentralized exchanges employ swaps, which execute trades instantly between investors' crypto wallets. Liquidity pool protocols help to set the price of the asset.
Bitbuy – Best Overall Canadian Crypto Exchange
Bitbuy is our top pick for Canadian Crypto Exchange in 2021. Not only is it the most established exchange in Canada, but they get top marks for their competitive and transparent pricing. This advanced trading platform includes an iOS and Android app and top-notch customer support.
Bitbuy has also gone to great lengths to provide its clients with the highest levels of security. Bitbuy is registered with FINTRAC, offers 95% cold storage, and all transactions involve 2-step verification. If there's a drawback to Bitbuy, it's that you can only trade seven currencies. Unless you want access to alternative currencies, Bitbuy is the exchange we recommend.
Bitbuy Features:
Seven available currencies: BTC, BCH, EOS, ETH, LTC, XLM, XRP
Trading fees .10% to .20%
Express Trade platform for beginners
Pro Trade platform for sophisticated traders
Trade on-the-go with Bitbuys mobile app for iOS and Android devices
Transactions secured by 2FA
Registered with FINTRAC
95% of assets secured by cold storage
Coinsmart – Instant Credit Card Transfers
Coinsmart has an advantage over some of the other exchanges on this list by offering nine different currencies, low trading fees, and several ways to fund your account. On the downside, there are fees when you deposit or withdraw money from your account.
You can fund your Coinsmart account four ways: Interac e-Transfer, bank wire, bank draft, or with your credit or debit card. Credit/debit transfers are processed instantly, although the fee can be up to 6%. The commission fee for a single trade is .20% and .30% for a double trade. A double trade occurs when you exchange currencies other than Bitcoin.
Coinsmart Features:
Nine available currencies: BTC, ETH, XRP, LTC, QCAD, ADA, BCH, XLM, EOS
CAD currency only
Crypto trades are .20%; 1.5% on EFT deposits, 1% on withdrawals
Mobile app available
95% cold storage on assets
Four ways to fund your account
Instant credit/debit card transfers
Wealthsimple Crypto – Best for Beginners
In July 2020, Wealthsimple, Canada's largest robo-advisor, unveiled Wealthsimple Crypto, and with that move, entered the cryptocurrency market. Wealthsimple Crypto has several features that appeal to beginner crypto investors. You can open an account within minutes, and there are no account minimums.
Wealthsimple executes trades instantly, and there are no fees for depositing or withdrawing to and from your Crypto account. When Crypto launched, you could only trade two coins, Bitcoin and Ethereum. However, in 2021 they expanded their offering to no fewer than 14 cryptocurrencies.
On the downside, Wealthsimple trading fees of 1.5% to 2% are pretty high, and you cannot directly transfer coins to and from your Wealthsimple Crypto account. When selling, for example, your only option is to transfer to CAD dollars before withdrawing funds. That may turn off more experienced traders, but beginner investors will appreciate the simplicity that is Wealthsimple Crypto.
Wealthsimple Crypto Features:
Coins offered: BCH, ETH, AAVE, DOGE, LINK, BAL, UNI, COMP, BAT, KNC, SNX, LTC, MKR, YFI, CRV,
CAD currency only
Trading fees of 1.5% to 2%, deposits, and withdrawals are free
Mobile app only
Coins stored with Gemini Trust Company, $200M in cold storage insurance
Fund account with Interac e-Transfer or wire transfer
Coinsquare: Best for Alternative Coins
Coinsquare is aimed at more savvy crypto investors looking for low fees, advanced trading options, and a wide variety of coins. You can trade more than ten currency types with Coinsquare, including selecting alternative coins not readily available elsewhere.
With Coinsquare QuickTrade, you can place instant trades between two coins. If one of the coins is BTC, the fee is .2% for a single conversion. If you're trading two other coins, i.e., ETH to LTC, a double conversion is involved, and the fee is 4%. This is slightly higher than Bitbuy's double-conversion fee of .30%.
Coinsquare offers 2FA security on transactions and 95% cold storage. According to their website, they also run multiple backups and distributions daily.
Coinsquare Features:
Coins offered: BTC, BAB, BSV, ETH, LTC, DOGE, DASH, ETC, XRP, XLM
Fund account with Interac e-Transfer ($20 min) or wire transfer ($10,000 min)
CAD and USD currency
Trading Fees (Bit Markets) 1% to 2%
Trading Fees (QuickTrade) 2% to 4%
Trade on the mobile app (iOS or Android)
Shakepay: Best for Small Purchases
Shakepay is crypto trading in its most basic form, making it an ideal platform for beginners or novices who plan to make small purchases. In other words, if you want to dip your toes into crypto, this might be the way to do it.
They only offer two coins – Bitcoin and Ethereum, and two ways to fund your account: Interac e-Transfer and wire transfer. E-Transfers are almost instant, so you can get trading within minutes of opening your account. There are no trading fees when you buy and sell bitcoin. Instead, Shakepay earns money on the spread by charging a slight premium over and above the market price.
A unique feature is the ability to earn free Bitcoin daily simply by shaking your mobile phone! Start at $.10 on Day 1 and watch your earnings increase the longer you keep the streak going.
Shakepay Features:
Coins offered: BTC, ETH
CAD dollars
No commission fees – revenue earned on the spread
Fund account via e-Transfer (min $5) or wire transfer (min $5,000)
Free transfers
Shake the mobile app to earn free BTC
Netcoins – Limit orders
Netcoins makes it easy for traders to place limit orders, allowing you to place trades trades at a predetermined price. Unlike other exchanges, you can transfer crypto into your account, in addition to CAD and US Dollars. Their platform is slick and easy to use, with one major drawback: the lack of a mobile app. This, along with a high trading fee of .50%, prevents Netcoins from being considered a top pick, but it remains a solid choice.
Netcoins Features:
Coins offered: BTC, ETH, XRP, QCAD, BCH, LTC, USDT
Fund your account with CAD, USD, or cryptocurrency
Trading fee .50%
Funding options include: Interac e-Transfer, online bill payments, bank wires, credit card (limited coins)
Free transfers, withdrawals
Registered with FINTRAC
Desktop trading only (no mobile app)
MOGO Crypto – Best for Rewards
If you're all in on Bitcoin, MOGO Crypto might be the right exchange for you. They offer a MOGO Visa Platinum Prepaid card that lets you earn 2% Bitcoin cash back on purchases. Imagine being able to earn Bitcoin when you shop for groceries or fill up your gas tank. The platform is easy to use, and you can fund it two ways; via an Interac e-Transfer or wire transfer. The downside to all of this is that their trading fee is very high at 1%.
Active traders can get a rebate of .50%, but you need to buy and sell $10,000 of Bitcoin per month to qualify. Still, if you can take advantage of the rewards program, it should help to offset the higher trading fee.
MOGO Crypto Features:
Coins offered: BTC only
Earn 2% Bitcoin cash back with prepaid Visa card
Trading fee 1%, or .50% for active traders
Funding options include: Interac e-Transfer, wire transfer
95% cold storage
NDAX – Best for Expert Traders
NDAX is a Calgary-based crypto exchange that's well suited for expert traders. It features a meager trading fee of .20%, eleven different coins to buy and sell, and a robust trading platform. NDAX offers four ways to fund your account: Interac e-Transfer, wire transfer, bank draft, and certified cheque.
NDAX Features:
Eleven coins offered
Trading fee .20%
Funding options include: Interac e-Transfer, wire transfer, bank draft, certified cheque
95% to 98% cold storage
Instant ID verification
Mobile app available
The Other Crypto Exchanges
Below is a list of other popular crypto exchanges. While we aren't covering them in detail here, we will likely take a closer look at some of them in the future, so be sure to check back later.
Best Crypto Exchanges In Canada: The Bottom Line
This is our first-ever look at the best crypto exchanges in Canada, and I must admit; it wasn't easy coming up with a number one pick. There are many exchanges to choose from, and each of them adds features and improves functionality all the time.
In selecting Bitbuy as our top choice, we went with the crypto exchange that we feel appeals to the broadest group of crypto traders. Unlike some of the competition, the Bitbuy platform is suitable for beginners and pros alike, it's established and reputable (that's important in the crypto world), and it delivers the goods at very low fees, even if they're not the lowest out there.