22 of the Best Free Trials Available to Canadians in 2023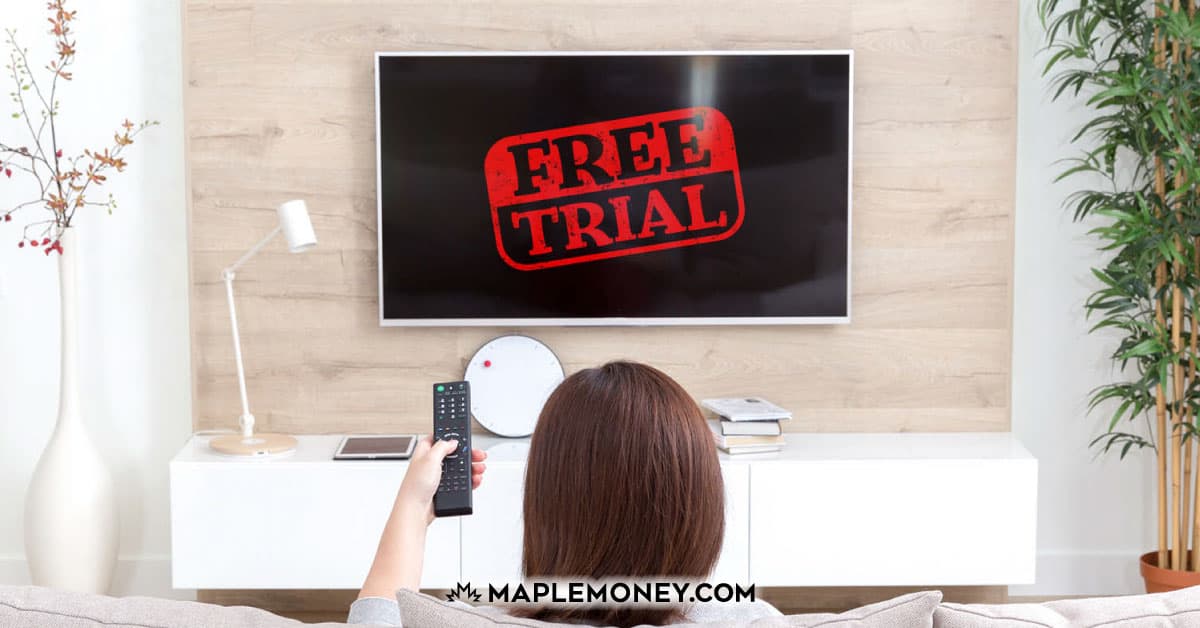 Whether it's movies and music streaming, or online gaming, the cost of subscription-based products and services can add up. That's why it's great to see so many companies offering free trials. This way, you can test something out before buying, to make sure it's worth the cost. To help you in your search, I've put together the following list of free trials that are available in Canada.
TV & Video
Netflix, the world's largest movie streaming service, no longer offers free trials to customers in Canada. They say the move is temporary and is part of a test to "better understand how customers value Netflix", however, it's been well over a year since they made the change.
Another popular streaming service, Crave TV, is offering a 30-day free trial to customers during COVID-19, but the promotion is coming to an end soon. Thankfully, there are a number of other TV & Video streaming providers still offering free trials. Here's a list of the ones I was able to find.
Acorn.tv: 7-Day Free Trial
Acorn.tv offers Canadians the ability to stream British programming for as little as $7.49/month, and you can try it out for free for the first 7 days.
Amazon Prime Video: 30-Day Free Trial
If you love online shopping, Amazon Prime is one of the best deals out there. Not only do you get access to free, 2-day shipping on most of the items you order online, you also get access to Amazon Prime Video, Amazon's version of Netflix. You also get the first month for free, with no obligation to continue afterwards.
Britbox TV: 7-Day Free Trial
Like Acorn.tv, Britbox is a streaming service that gives Canadian viewers access to British television for the low price of $8.99/month. It also comes with a no obligation free trial for the first 7 days.
Crunchyroll: 14-Day Free Trial
Are you familiar with Anime? Originating in Japan, it's a form of hand-drawn and computer animation with a very distinctive style. Fans of anime can stream their favourite programs on Crunchyroll Premium for $7.99, along with a 14-day free trial.
DAZN: 30-Day Free Trial
If you're a fan of NFL football, or Premier League soccer, you'll love DAZN, which is a global sports streaming service. DAZN's pricing is very attractive, at only $20/month or $150 for a full year. And with no contracts, you can cancel anytime. The best part is that they offer a 30-day free trial for new customers. Oh, and in case you're wondering, it's pronounced duh-ZONE.
Hayu: 30-Day Free Trial
Hayu is proof that there's a streaming service for just about every audience imaginable. They offer unlimited streaming of Reality TV and True Crime programming. It's 5.99/month, with 1 month free to start.
YouTube Premium: 30-Day Free Trial
Many people don't realize this, but there's a paid version of YouTube that greatly improves the user experience. For $11.99/month, YouTube Premium removes the ads, and allows for audio to continue to play when you minimize a video on your screen. You also get access to YouTube original movies and TV shows, as well as music and video downloads. If this interests you, you can try it out with a 30-day free trial.
Video Games
The gaming industry has exploded over the past decade, and a big reason for the rise is subscription-based gaming, which allows gamers worldwide to play together over the internet.
Playstation Plus: 14-Day Free Trial
Playstation Plus allows you to play with gamers anywhere in the world. A monthly subscription is $11.99, but new users can grab a 14-day free trial via download from the Playstation store.
World of Warcraft: Limited Play for Free
Free play works a bit differently on World of Warcraft. Instead of a typical free trial, they will allow anyone to play for free, up to level 20. Once there, you'll need to subscribe to continue your progress. A 1-month pass is $18.99, or you can pay in 6 months blocks, for $16.34/month.
Xbox Live: 2 to 14-Day Free Trials
You can subscribe to Xbox Live for $11.99/month, but you can also find discount codes for free trials when you buy certain games. The most common trial period tends to be 14-days. Sometimes, when you buy a new Xbox console, it will come bundled with limited time, free access to Xbox Live.
Music Streaming
It's never been easier or more affordable to listen to music. When I was younger, I remember spending hundreds, actually thousands of dollars buying CDs at the local record store. These days, with online music streaming, we have access to millions of songs for as little as a few dollars per month. The best part is that all of the major music streaming companies offer free trials to new customers, making it easy to pick the service that's right for you.
Spotify: 30-Day Free Trial
With over 170 million users, Spotify is the world's largest music streaming service. Spotify has a free version, but it's very limited compared to Spotify Premium, which offers unlimited streaming for up to 6 accounts. The first 30-days are free on all Premium plans, giving you a chance to try before buying.
Apple Music: 90-Day Free Trial
If you're fully immersed in the Apple ecosystem, you may want to try out Apple Music for your music streaming. Apple offers a very generous 3-month free trial, with access to more than 70 million songs. After that, an individual account starts at $9.99/month.
Amazon Music: 30-Day Free Trial
When you sign up to Amazon Prime with a 30-day free trial, not only do you get access to Amazon Prime Video, but you can listen to your favourite artists through Amazon Music. While the service is limited to around 2 million songs (70 million for Apple music), it's definitely worth checking out.
Sirius Canada: 30-Day Free Trial (Annual Billing)
Sirius Canada offers satellite radio streaming of not just music, but all sorts of sports, news and talk radio programs from across North America. With Sirius All Access, you get every channel for $21.99/month, or $241.89/year billed annually. The annual plan is free for the first 30 days, however, it should be noted that the offer is not available with monthly billing.
Apps & Software
From photo-editing and graphic design to tools for the office, there are plenty of subscription-based software applications that offer free trials.
Adobe Photoshop: 7-Day Free Trial
Photoshop has long been the go-to software for professional photo editing. But at $20.99/month, the full version is fairly expensive. Thankfully, Adobe offers a 7-day free trial, which isn't that long, but it should be enough time to dive into the software and find out if it's worth the investment.
Adobe Lightroom: 7-Day Free Trial
If you're looking for a more intuitive and portable photo editing option, Adobe offers Lightroom. Like Photoshop, you can try it out risk-free for 7 days.
Adobe Illustrator: 7-Day Free Trial
Sensing a pattern here? Illustrator is yet another Adobe app, which is a must-have for amateur and professional graphic designers alike. And, as with Photoshop and Lightroom, it also comes with a 7-day free trial.
Canva Pro: 30-Day Free Trial
Canva Pro is the paid version of Canva, a cloud-based graphic design app that makes it easy to edit photos or create logos and other designs for a variety of uses. The Pro version unlocks some advanced functionality, but it also gives users access to over 60 million stock photos! At only $12.99/month, it's a solid value. You can test-drive Canva Pro for free, for the first 30 days.
Freshbooks: 30-Day Free Trial
Freshbooks is a top invoice and accounting software and is ideal for freelancers and solopreneurs. They offer a 30-day free trial, after which you can choose from one of three pricing plans, Lite, Plus, or Premium.
PicMonkey: 7-Day Free Trial
Similar to Canva, PickMonkey is a cloud-based photo editing and graphic design software. It's not as fully- featured as the Adobe products, but it's perfect for anyone who wants to create logos or graphics for social media. You can get PicMonkey Pro for $12.99/month, after trying it for free for 7 days.
Microsoft 365: 30-Day Free Trial
Microsoft 365 bundles together a number of top programs from the software giant, including Microsoft Word, Excel, PowerPoint, Outlook, OneNote, and OneDrive, which offers a terabyte of free cloud storage. The cost is $109/year, and comes with a 1-month free trial.
Quickbooks: 30-Day Free Trial
Not to be outdone by Freshbooks, Quickbooks also has a free trial offer. You can try out their software at no obligation for 30-days, before choosing from 4 different service plans, including Quick-books Self-Employed.
Final Thoughts on Free Trials
The free trials I've listed above are not the same as limited time, introductory offers that come and go. When you're searching for a new product or service to use, in addition to looking for a free trial, check to see if there's a price discount available once the free trial expires. This is another way to save big on subscription-based services.