Canada's Best Grocery Delivery Services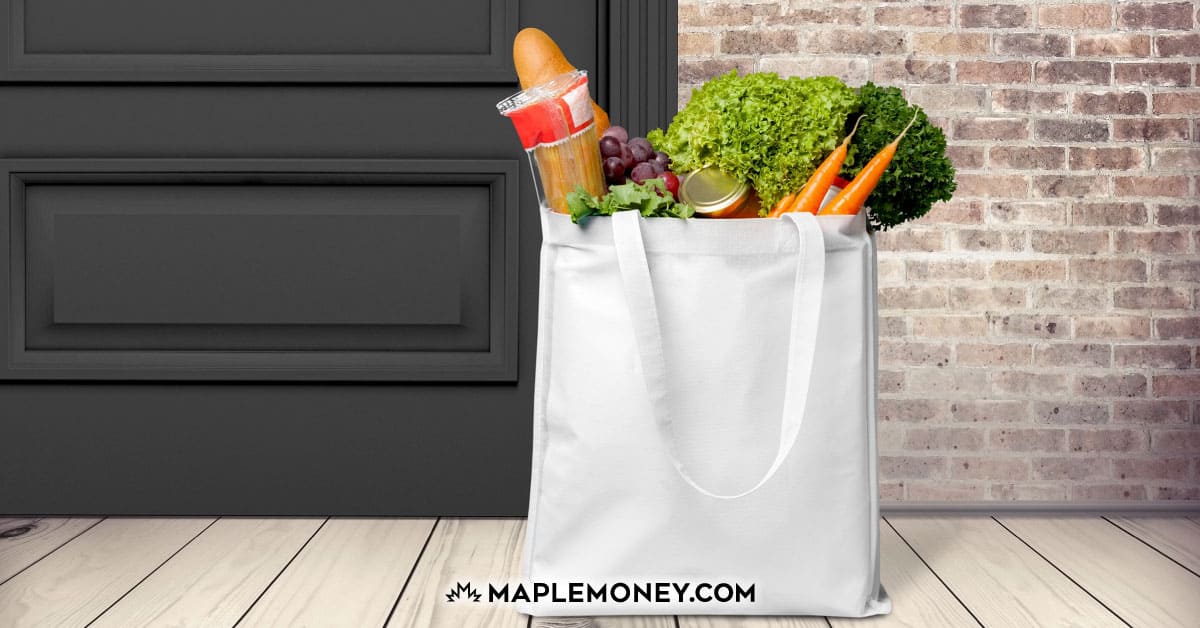 Like meal kit delivery, grocery delivery services existed long before COVID-19, but lockdowns and social distancing have resulted in a sharp increase in the number of grocery stores across Canada that offer the service. There are so many options that it can be difficult to choose. In this guide to grocery delivery in Canada, I'll highlight eleven of the best delivery services available today, from the large national brands to smaller regional players.
Best Grocery Delivery Services In Canada
We're not picking a winner for our list because most Canadians won't live close to every grocery delivery service covered here. For example, Grocery Gateway is only available to residents living in Toronto and the surrounding area, and Metro offers delivery within Quebec. However, the grocery chain has many locations throughout Ontario.
Instead, I'll cover the key features of each service and let you choose grocery delivery that's well suited for you and is located close to your home. We will, however, start with the national brands.
1. Loblaws (PC Express)
Service Area: Canada-wide
What We Like: The ability to earn PC Optimum Points
Key Features
$9.95 delivery fee
$3.00 pickup fee (Free for PC Insiders)
Same day delivery
Option to order up to 13 days in advance
Earn PC Optimum points
Loblaws is Canada's largest grocery retailer. They operate more than 2000 stores across Canada under the following brands: Loblaws, No Frills, Real Canadian Superstore, Fortinos, Zehrs, Extra Foods, Maxi, and more. In 2020, company revenues exceeded $53B.
PC Express is Loblaw's proprietary grocery delivery service. It's available in many locations across Canada. Where it's not, Loblaws also has a partnership with Instacart, which I'll cover a bit later. Perhaps the best thing about PC Express is that customers can earn PC Optimum points when shopping online. Add your PC Optimum card to your account. PC Optimum is one of the leading loyalty rewards programs in Canada.
To order grocery delivery, start by entering your postal code at PC Express Online. The website will let you know which grocery delivery options are available nearby. Then, choose your grocery items and pay for them via the PC Express online store. The experience is the same as with any other online shopping retailer. Once you've selected your order, pick a time for home delivery. PC Express's shoppers will fill your order and deliver your groceries when you've chosen.
At this writing, PC Express has three welcome offers for new members to choose from when you spend $100 on your first order: 3 months of free pickup, 25,000 PC Optimum points ($25 value), or two free deliveries.
2. Walmart
Service Area: Canada-wide
What We Like: Walmart's low prices, free pickup.
Key Features
$7.97 – $12.97 delivery fee
Free pickup
Same-day pickup or delivery is available
Order pickup up to 21 days in advance
Order delivery up to 5 days in advance
Easy reorder service for returning customers
NEW! Live order tracking in select areas
Access to low Walmart prices
While they didn't start that way, Walmart has become one of Canada's largest grocery chains. They have more than 400 stores in Canada, so unless you live in a very rural area, there's a good chance of a Walmart nearby.
The standard delivery fee, which includes picking and packing your order, is $7.97. Walmart recently dropped its prices for same-day and 2-hour express delivery by $2, now $10.97 and $12.97, respectively. The minimum grocery order for delivery is $35 before tax. Orders are delivered by Walmart employees or by one of the company's third-party delivery partners. While Walmart doesn't offer loyalty rewards, like PC Express, shoppers benefit from the retail giant's everyday low prices.
3. Costco Canada
Service Area: Canada-wide
What We Like: Access to Costco bulk goods, 2% Reward for Costco Executive members
Key Features
No curbside pickup is available
Free with a minimum order of $75 (Costco delivery)
Non-perishable items only (Costco delivery)
Same day delivery available with Instacart
Perishable items can be delivered via Instacart
Instacart pricing $5.99 +item prices marked up slightly
Costco didn't make this list based on the merits of its in-house grocery delivery, as I found it lacking when measured against the services offered by other retailers, like PC Express, Walmart, etc. But Costco is hugely popular with Canadian shoppers due to its high-quality products and bulk food options. While not everything is cheaper at Costco, you can save a lot of money on everything from meat to produce to cleaning supplies if you're a savvy shopper.
Unfortunately, Costco's in-house delivery is cumbersome and slow. Same-day delivery isn't available (2 to 10 days), and you cannot include perishable food items in your order. Delivery is free on orders over $75, but under $75, there is a $3 surcharge per unit. For better pricing and same-day service, you can opt for delivery via Instacart. The minimum order through Instacart is $35 before taxes. Curbside pickup is not available.
4. Amazon/Whole Foods Stores
Service Area: Canada-wide (shipped by Amazon)
What We Like: Free shipping with Amazon Prime
Key Features
Limited items available
Non-perishable items only
Free delivery for Amazon Prime members
Delivery timeline 1-7 days
Access to unique Whole Foods products
Amazon acquired a popular U.S. grocery chain, Whole Foods. But while American shoppers now have access to the entirety of Whole Foods grocery delivery service, Canadians are limited to a narrow assortment of items in the Whole Foods Market on Amazon.ca. In other words, you won't be able to get all of your shopping done through Amazon online.
On a positive note, Amazon Prime members have access to free delivery within 1 to 7 days. Otherwise, delivery fees vary. There are some pickup locations in large centres, and you can pick up items between 1 to 4 days after ordering. The bottom is that I don't see much benefit from buying groceries through Amazon in Canada. We can hope for improved item selection in the years ahead.
5. Voila by Sobey's
Service Area: Toronto, Montreal, and Quebec City (and surrounding areas)
What We Like: The ability to earn Airmiles points on your purchases
Key Features
$3.99 pickup fee
$7.99 delivery fee
Same-day pickup is available.
Next-day delivery is available.
Order for pickup or delivery up to 6 days in advance
Earn Airmiles points on your grocery purchases
Sobeys is Canada's second-largest grocery retailer. They operate 1500 stores across Canada under several banners, including Safeway, IGA, Foodland, FreshCo, and Lawtons. Sobey's headquarters are in Stellarton, Nova Scotia, and they have more than 120,000 employees nationwide.
Sobey's launched their own online grocery delivery service, called Voilà, in June 2020, just as pandemic lockdowns were wreaking havoc on the retail industry. Voilà isn't available in all Sobey's locations, so you'll need to visit their website and enter your postal code to find out if you can get groceries delivered in your area.
Like Loblaw's customers and PC Optimum, Sobey's allows you to connect your Airmiles card to your Voilà account and earn Airmiles points on your online grocery purchases. They are currently offering new customers $15 off their first three orders when buying groceries online. The only significant drawback is that while Sobey's is a national brand, Voilà's grocery delivery services are only available in and around Toronto, Montreal, and Quebec City.
6. Instacart
Service Area: Instacart partner stores in all provinces except Quebec
What We Like: Low fee delivery
Key Features
Delivery: $3.99
Delivery timeline: 2 hours, 5 hours, order up to 5 days in advance
Order online through Instacart.ca
Free delivery welcome offer for new customers
Instacart offers job opportunities in the gig economy.
Instacart isn't a grocery chain; it's a 3rd party grocery delivery company that partners with various grocery stores across Canada to provide affordable grocery delivery services. Their delivery fee is only $3.99, and you can get delivery within 2 hours, or 5 hours, and book up to 5 days in advance. Currently, Instacart is offering a free trial for new customers, with unlimited free delivery for two weeks.
To have your groceries delivered with Instacart, you need to do your grocery shopping through a partner store. Instacart's most prominent partners are the Loblaws family of stores, Walmart, and Costco. You can easily find a store by inputting your address or current location on the Instacart website, and it will let you know which stores are nearby.
In addition to ordering groceries, you can get hired as a contractor by Instacart to shop for and deliver groceries in several Canadian markets, including Toronto, Edmonton, Ottawa, and Calgary. Learn more in our full Instacart Shopper Review. While the pay isn't great, grocery delivery can make for a highly flexible side hustle.
7. Save On Foods
Service Area: Canada-wide
What We Like: Earn points with More Rewards
Key Features
Free pickup 1 to 12 days in advance
Delivery: $4.95 – $9.95
Timeline for delivery 1 to 12 days in advance
Earn with More Rewards
There is an advantage to buying groceries online from retailers that offer loyalty rewards. Sobey's has Airmiles, Loblaws has PC Optimum, Costco has 2% Rewards for Executive members, and Save On Foods has More Rewards. And you can redeem More Rewards for more than just grocery discounts. BC Ferry and Vancouver Canucks tickets, as well as gift cards, are also available.
Grocery pickup is free, and delivery is reasonable, from $4.95 to $9.95. You can arrange online grocery orders up to 12 days in advance. The downside? While Save On Foods has expanded to locations across western Canada, most stores are located in the B.C. Lower Mainland.
8. Metro
Service Area: Downtown Toronto and Montreal (for delivery)
What We Like: Priority curbside pickup is available.
Key Features
$9.95 delivery fee
$3.00 pickup fee (Free for PC Insiders)
Same day delivery
Option to order up to 13 days in advance
Earn PC Optimum points
Metro is a Quebec-based grocery retailer that has expanded its operations to include Ontario, with more than 300 stores. Unfortunately, delivery is available at only a handful of locations in Toronto and Montreal, so it's certainly not the best grocery delivery service available. Grocery pickup service is available in Quebec City, Montreal, Laval, and Gatineau.
According to Metro's website, the turnaround time for deliveries is 1-2 days, and the price is $11.99. It's not the cheapest, but still reasonable, as is the delivery window. If you enjoy shopping at Metro and live in downtown Montreal or Toronto, it's a solid choice. Otherwise, you're probably out of luck.
9. Grocery Gateway
Service Area: Toronto and the surrounding area
What We Like: No minimum order amount
Key Features
No minimum order amount
$9.99 flat fee for delivery
Same day delivery is $14.95 plus an Eco Fee
Up to 7 days (same day is available)
Only available in the Greater Toronto Area
Grocery Gateway is the online grocery delivery service for Longos, a chain of Southern Ontario retail supermarkets. Longo's started as a family business, founded in 1956 by Italian immigrant brothers Joe, Tommy, and Gus Longo. Today, the Empire Company controls Longo's. Empire is Sobey's parent company and claims a 51% ownership stake.
Delivery is available through Grocery Gateway in the following areas: Toronto, Oshawa, Stouffville, Mississauga, Burlington, Milton, Guelph, Kitchener/Waterloo, Hamilton, Barrie, and Oakville. If you live in one of these areas, you'll love the flat delivery fee ($9.99) and the no-minimum order amount, a rarity on the grocery shopping delivery landscape.
On their website, Longo's advertises the Grocery Gateway Delivery Pass+. According to Longo's, for less than a cup of coffee a week, members get free unlimited deliveries and preferred pricing on some items and other perks. If you live in Southern Ontario, it's worth checking out!
10. Cornershop by Uber
Service Area: GTA and other major Canadian urban centres
What We Like: Fast delivery times
Key Features
An Uber company
Delivery Fee: $6.90 for orders over $60
$9.90 for orders under $60
Free unlimited deliveries on orders over $40 with a Cornershop Pop membership
Delivery timelines are between 45 and 90 minutes in major centres
Cornershop is an Uber company offering grocery delivery services at select locations in the following Canadian cities: GTA, Montreal, Quebec City, Vancouver, Edmonton, Calgary, Gatineau, and Ottawa. The number of stores you can order from varies depending on your location. Pricing is very competitive, with delivery fees ranging between $6.90 and $9.90.
A Cornershop Pop subscription will get you access to exclusive promotions and unlimited free delivery on orders over $40. If you're 19 years of age or older, you can order alcohol delivery via Cornershop. Cornershop is an excellent option as a third-party online delivery company if you live in the service area.
11. Grocerocity
Service Area: London and Mississauga, Ontario
What We Like: Convenience store delivery is available.
Key Features
Grocery store, restaurant, and convenience store delivery
A flat fee of $25 for grocery delivery (orders under $100)
25% on orders over $100
Curbside pickup available for $15
Unique Fridge Fill service
Last but not least is Grocerocity, London, Ontario's most popular online grocery delivery service, according to their website. I was previously unfamiliar with Grocerocity, but I noticed that the company's reviews are overwhelmingly positive during a quick online perusal.
In addition to grocery store delivery, Grocerocity offers restaurant and convenience store delivery, which is a nice bonus. The pricing for restaurants is $12, while grocery delivery is a flat $25 for orders up to $100 (25% of the total order amount for orders over $100).
At this writing, Grocerocity was offering a free $30 Cineplex movie gift card on your 7th delivery, a clever scheme to earn repeat business. They also provide a unique service called Fridge Fill™. For an additional $10, Grocerocity will not only deliver your groceries, but they'll put them away for you in your fridge and cupboards. This is an excellent service for the elderly or anyone with mobility issues.
Grocerocity seems like a premium service, and that's reflected in the price. But if you live in London or Mississauga and are willing to pay a little extra, it may well be worth it.
Best Credit Card for Grocery Purchases
It's no secret that groceries are one of the most significant expenses for any family, especially during our current times. You know that I'm a big fan of earning credit card rewards if you're a regular reader. If you're spending all that money, you might as well get something back for it.
If you're looking for a rewards credit card that will let you maximize your spending on groceries, look no further than the Scotia Momentum Visa Infinite Card. It's a great all-around cashback credit card with a whopping earn rate of 4% on recurring bills and grocery store purchases. Here's a list of other key features:
Scotia Momentum Visa Infinite Card
The Scotia Momentum Visa Infinite is a premium rewards credit card that pays 4% cashback on groceries and recurring debits, 2% on gas and daily transit purchases, and 1% on all other purchases. In addition, cardholders get access to no fewer than eight types of insurance coverage, including Trip Cancellation and Trip Interruption, Travel Emergency Medical Insurance, Flight Delay Insurance, and Delayed or Lost Baggage Insurance.
Key Features
$5000 minimum credit limit
$120 Annual Fee (Supplementary card $50/year)
20.99% purchase interest
22.99% cash advance interest
4% cashback on groceries and recurring payments
2% for gas and daily transit
1% for all other purchases
Eight types of Insurance coverage are included.
Visa Infinite Concierge Service
Visa Infinite Hotel Collection
Visa Infinite Dining and Wine Country Program
Car rental discounts
Note: This card is of no benefit if you shop at Costco, as they don't accept Visa. A better bet is the BMO Cashback World Elite Mastercard if you are a Costco shopper.
Final Thoughts on Grocery Delivery In Canada
There you have it, our picks for the best grocery delivery service providers in Canada, in no particular order. Generally speaking, most Canadians will benefit from the delivery services offered by the largest grocery chains (PC Express, Walmart) as they are available in most locations. Residents of Canada's biggest cities will be able to choose from some of the smaller players. No matter what service you choose, try to get the best combination of price and convenience. Even grocery delivery fees can add up if you shop often and are not careful.