How To Get The Best Home Insurance Quote in Canada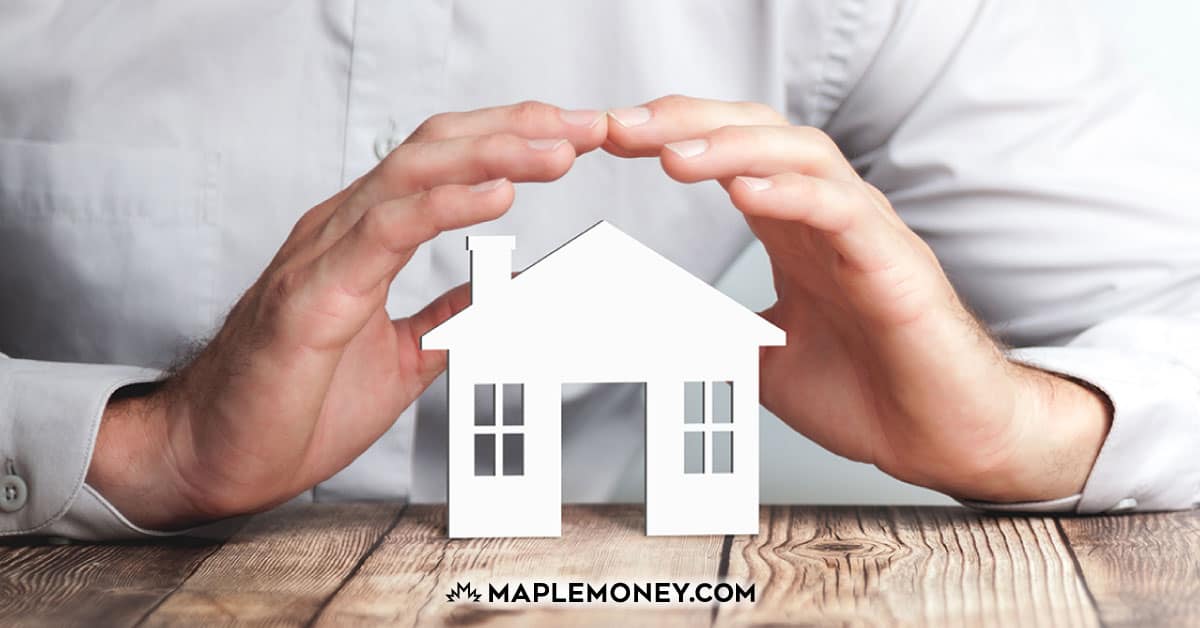 Unlike car insurance, in Canada, there is no legal requirement to have homeowners insurance. But that doesn't mean you should go without it. Find out why you need insurance and how to get the best homeowners insurance quotes in Canada.
Why Do Homeowners Need Insurance in Canada?
Although not legally required, home insurance is mandated by most (if not all) lenders as a condition of getting a mortgage. Home insurance protects the interest of banks and lenders.
Insurance also provides financial security should something unexpected happen to your home. With insurance, you will not have to worry about how you will pay for the cost of repairs to your home, the replacement of your possessions, or the legal costs should someone get hurt on your property.
How Does Homeowners Insurance Work?
Home insurance is very similar to car insurance in that you pay an annual premium either as a lump sum or in monthly payments.
The insurance company then provides you financial protection should you need to make a claim.
That financial protection will cover the cost to repair and replace damages to your home and personal possessions, legal action should someone get hurt on your property, and additional living expenses should you need to temporarily live somewhere else due to damage caused by an insured peril.
Factors That Impact the Cost of Your Home Insurance Quote
Insurance companies assess the likelihood you will make a claim when they determine both your insurability and the cost of insurance. The more likely you are to make a claim, the more expensive your insurance premium will be.
Home insurance providers use the following factors to determine the likelihood that you will make a claim.
Property Type
Whether you live in a condo, 1000 square foot detached home, or row townhouse, each property type is evaluated differently when it comes to insurance.
The age of the property also factors in. Older properties typically cost more to insure, as there is a greater risk for claims and costs to repair.
Location
Home insurance rates differ provincially. Identical homes may have different insurance rates in each province.
Insurance providers also factor in how close your home is to a fire hydrant and the nearest fire station. Crime rates of the neighbourhood may also be considered. Higher neighbourhood crime rates will lead to higher insurance premiums.
Replacement Cost
The replacement cost of your home is the cost to replace it to its current condition. It is not the current market value of the home.
Because house insurance covers the cost to replace the dwelling, the more costly the building, the higher the insurance premium. A 1000 square foot detached home will cost more to insure than a motorhome or 700 square foot condominium.
Contents
Home insurance also covers the cost of replacing your personal property. The more valuable your possessions are, again, the higher your insurance premium will be.
Valuable possessions are usually only covered up to a certain dollar amount. If you have collectible art, bicycles, jewelry, or other valuables, you may want to pay for an extra rider on your insurance.
Adding an extra rider to your insurance will increase the premium amount.
Credit Score
In every province and territory except Newfoundland, insurance companies can use your credit score to determine your insurance premium. The belief is that your credit score is correlated to your risk of a claim.
Your credit score cannot increase your premium cost, but it can positively affect and decrease the cost for you.
You are not obligated to show your insurance provider your credit score. But if you have good credit, it's in your best interest to share your score as it can decrease your premium cost.
Alarm System
Having a monitored alarm system (and not just a sign saying you do) can decrease your insurance costs. An alarm system decreases the risk to the home insurance provider. Which in turn, decreases your premium.
Heat Source
Radiators or in-floor heating are considered the safest heat source. In contrast, wood stoves are considered the least safe due to maintenance requirements, risk of fire, and carbon monoxide poisoning.
Homes with wood stoves will cost more to insure than homes with radiators.
The age and maintenance of your heat source are also important. Older furnaces will cost more to insure. And insurance providers may require annual inspections of older furnaces as a condition of insurance.
Internal Construction
The type of plumbing and electrical system you have in your home will influence the cost of insurance.
Things like aluminum wiring and galvanized or lead piping pose a higher risk of a claim. And therefore have a higher cost to insure and a higher premium.
Roof
Older roofs are more costly to insure because they can have a higher claims risk of water damage.
Depending on the age of your roof, some policies may only pay a depreciated replacement amount.
Renovations & Upgrades
If you do any renovations or upgrades to your home, you will want to inform your insurance provider. Like updating the plumbing and electrical, some upgrades can reduce your premiums, while others may increase the premiums if they increase your home's replacement cost.
Don't neglect to tell your insurance provider about upgrades for fear of increasing costs. Remember, your insurance is there to protect your home. If your insurance provider is not aware of the renovations or upgrades, and you incur a total loss, they may not replace it to its renovated condition.
Past Claims History
The more claims you have on your history, the greater the risk of a claim you are to insurance providers. They will protect themselves from the risk of this claim by increasing the cost of your premium.
You are more likely to get a better insurance rate if you have not had a claim in recent history. Or better yet, if you've never made a claim before.
Deductible
You can decrease the amount of your premium by increasing your deductible. And vice versa.
Pets
Owning a pet doesn't guarantee that you will pay more for insurance. But the type of pet you own could have an impact on your premium or insurability.
If you own an aggressive breed of dog, the cost of your liability insurance may increase.
Some exotic pets may result in higher insurance costs – especially if they are known to damage property.
If you own an illegal exotic pet, then there is a chance that you won't be able to get house insurance. And not telling your insurance provider about an exotic pet may nullify your policy.
Use of Property
Insurance companies will have different rates for homes that are primary residences, rental properties, have a home office, or act as a home-based business.
Different uses of the property carry different risks and, therefore, different costs to insure.
If you are using your home for anything other than just living in, ensure you inform your home insurance provider. Failing to do so could result in your future claims being denied or your insurance being nullified.
Pool & Other Detached Structures
Pools cost more to insure because they increase the property's replacement value, and there is a greater risk for a claim. If you have a pool, making sure it is well maintained and has an enclosed fence with a locked gate can mitigate this risk.
More detached structures, such as garages and sheds, can increase the cost of insurance as well. When there are more things to insure, there are more things to replace should there be a total loss claim.
Extra Riders
An insurance rider is additional coverage that you can add to your policy for an extra cost. They enable you to customize your policy to your insurance needs. If you have valuables, you will want to make sure that they are covered should an unexpected event occur.
Some common insurance riders are scheduled personal property coverage (to cover valuables such as collectible art, bikes, and jewelry), water backup coverage (in case your drain or sump-pump backs up), and business property coverage (if you run a home-based business).
Type of Policy
The type of policy you choose to have will impact the cost of the policy. Comprehensive policies are the most expensive, but they also provide the most insurance coverage.
How Does Home Insurance Coverage Work?
There are 4 main types of insurance coverage. When choosing coverage, make sure to read through the entire policy. It's important to understand what's all included (and not included) in your specific policy.
No Frills
Not every insurance provider offers no-frills insurance. It is limited to properties that don't meet normal insurance standards. And is very limited in what is covered under the policy.
This type of insurance coverage might be appropriate as interim insurance if you bought a fixer-upper or complete teardown type property. It would be similar to only having fire and theft insurance on a parked car in the winter.
Standard
Standard, also known as basic or a named perils policy, covers your home, contents and provides liability. But it only covers perils specifically named in the policy.
Broad
Broad or broad form policies are good mid-priced options. They provide comprehensive coverage on physical structures (for all risks except those named as policy exclusions). But standard or basic coverage on contents (for all risks specifically named in the policy).
Comprehensive
Comprehensive policies, also known as special or all-perils policies, are the most inclusive policy type, with the most coverage. And therefore the highest price.
All risks are covered to your home and contents unless specifically excluded. But you can buy additional coverage for the excluded perils.
How to Get Cheap Home Insurance?
Shop Around

Not all insurance providers are the same. Taking the time to compare home insurance quotes could save you hundreds of dollars a year.

Bundle Policies

Many insurance companies offer multi-product discounts if you combine your home and auto insurance. Bundling policies could save you anywhere from 5-25% on your premiums.

Get a Monitored Alarm System

Monitored alarm systems decrease an insurance policy's rate because they decrease the claim's risk or the amount of the claim. Insurance companies pass on this decreased risk to you in the form of cheaper house insurance.

Increase Your Deductible

Increasing your deductible will decrease your premium. Just make sure you have enough money to cover the deductible should an unexpected event occur.

Renovate Wisely

Updating the electrical system, plumbing, and heat sources in older homes can help to decrease the cost to insure them. But be careful if upgrading other parts of your home because these renovations may increase your home's replacement value and, therefore, your insurance cost.

Ask About Discounts

Insurance companies offer all kinds of discounts, but often you have to ask for them. It's also a good idea to call your insurance provider once a year to check to see if you qualify for any new discounts.

Stay With an Insurer

Some insurance providers offer loyalty discounts if you stay with them for a while. These discounts may be in the form of a decreased premium or a disappearing deductible. It may be possible to get your deductible down to zero by staying with the same company for several years.

Improve Your Credit Score

Although a bad credit score may not increase your premium, a good credit score can decrease it. Work on improving your credit score. Then, follow up with your insurance provider to request they reevaluate your file with the new, improved credit score.

Don't Overinsure

The more insurance you have, the more it will cost. Although you want to ensure that you have the coverage you need, over-insuring could unnecessarily cost you.

Pay Your Premiums Annually

Many insurance providers offer the option to pay your insurance premiums monthly. But they may charge you an extra fee for doing so. Opting to pay your premiums annually could save you up to 5% on your cost of insurance.
Who Has the Best Homeowners Insurance Quotes in Canada?
Who has the best insurance quotes in Canada will depend on your specific situation. You may be eligible for some discounts with one company that aren't offered at another.
Here are the top 10 places to look for the best insurance quotes in Canada
Allstate Home Insurance
Aviva Home Insurance
Belairdirect Home Insurance
CAA Home Insurance
Costco Home Insurance
Desjardins Home Insurance
Intact Home Insurance
RBC Home Insurance
Sonnet Home Insurance
TD Home Insurance
What Is Not Covered by Typical Home Insurance Plans?
Even with a comprehensive insurance policy, certain circumstances are still not covered by typical home insurance plans.
Valuables over a certain amount (unless you have an additional rider on your policy).
Renting out part or all of your home (unless you have a policy that includes having a tenant).
Damage or theft of business equipment and tools (homeowners insurance is not the same as business insurance).
Injury to a client when visiting your home based-business (talk to your insurance provider about business insurance and liability for this)
The intent of home insurance coverage is protection from unpredictable events. As such, predictable events are often not covered.
Predictable events may include:
Normal wear and tear
Loss or damage caused by mold
Damage caused by lack of maintenance
Freezing peril
When Should a Home Insurance Claim Be Filed?
Every time you make an insurance claim, your cost of insurance may increase.
Before reporting a claim to your insurance provider, you may want to consider the following:
Is this claim covered by my policy?

Double-check your policy documents to ensure your claim is covered.

How much will it cost to fix yourself?

If the claim is fairly minor, you may consider fixing it yourself and not going through your insurance.

What is the amount of damage?

If the damage is fairly minor, even if you can't fix it yourself, it may be cheaper to pay someone to fix it for you rather than go through your insurance. This is especially true if you have a higher deductible.

Liability

Who is liable for the damage or accident?
How to File a Home Insurance Claim?
Preparation is key when filing a home insurance claim.
Taking an annual inventory of your home's contents and upgrades – including pictures, and keeping an electronic copy of the receipt for large ticket items – can decrease stress when filing a claim.
Being prepared will help you complete the documentation required when filing a claim. Documentation may include photographs of the damage (even if just taken with a smartphone), original receipts for items, and relevant medical records or police reports if available.
You will also want to inform your insurance company immediately if you have a claim. Some companies make reporting a claim as easy as filling out a form on their website.
Insurance FAQ
Can You Cancel Home Insurance?
Yes, you can cancel your home insurance if you are not happy with your provider. But it is a good idea to seek out new home insurance quotes and a policy in advance. Line up the insurance policies so that you do not have a coverage gap.
This is especially important if having home insurance is a condition of your mortgage.
What Factors Have No Impact on Home Insurance?
With house insurance, the property has the most impact. The homeowner's age and gender have no impact as they would on car insurance.
What Is a Home Insurance Peril?
A peril is any unexpected event or accident. Home insurance intends to protect you from perils to your property financially; not normal wear and tear
Freezing peril occurs when your pipes freeze and burst. This often occurs if the property is vacant over the winter months.
Most insurance policies require the property to be checked up on frequently (usually every 3-7 days) if it is vacant. Check your policy to ensure that you are covered if you have to leave your home vacant for any amount of time over the winter months.
What Is a Deductible?
An insurance deductible is the amount of money that you have to pay first when making a claim. Your insurance company covers all costs above your deductible.
If you are looking to save money on your insurance, then increase your deductible to the highest amount you are comfortable with. Just ensure that you can still afford the deductible.
Is There a Charge to Switch Home Insurance Providers?
If you switch insurance providers at the end of your contract, there should be no charge to switch providers. But if you decide to switch mid-way through your contract, there may be an administrative or cancellation fee.
You may be entitled to a refund if you pay your premiums annually and cancel your insurance to change providers mid-way through the year.
Who Does a Home Insurance Policy Cover?
A home insurance policy typically covers the property, possessions, and personal liability for the policyholder(s), spouse or partner, and dependents under 18. Dependents under the age of 21 may also be insured if they live at the property as their primary residence.
Do I Need Home Insurance for an Airbnb?
Yes. An Airbnb is a short term rental. And has more risk than an owner-occupied dwelling. Talk to your insurance provider about appropriate insurance coverage if you are running an Airbnb out of your home.
Speak to your insurance provider if you are renting out part or all of your home for any reason (not just through AirBnB) to ensure that you have the correct coverage.
What's the Difference Between Home Insurance and Property Insurance?
Home insurance and property insurance are interchangeable terms. They both cover the property and liability of the owner. They do not cover the possessions of a tenant.
Renters should get their own insurance. Renter's insurance covers the renter's possessions and not the building or dwelling.
What's the Difference Between Homeowners Insurance and Mortgage Insurance?
Homeowners insurance protects you. Mortgage insurance protects the mortgage lender. If you are unable to make your mortgage payments, mortgage insurance may cover the payments. It is in your best interest to have home insurance. It is in your lender's best interest for you to have mortgage insurance.
Can I Get a Mortgage Without Home Insurance?
No, you cannot get a mortgage in Canada without home insurance. All lenders make house insurance a condition of the mortgage to protect the asset and their financial interest.
What's the Difference Between Actual Cash Value and Replacement Value Insurance?
Actual cash value insurance covers the cost to replace the item when it was new minus depreciation.
Replacement value insurance covers the cost to replace the item today to similar quality, regardless of the item's age.
Why Do Home Insurance Premiums Keep Increasing?
According to the Insurance Bureau of Canada, insurance premiums keep rising due to several factors:
An increasing number of claims
An increasing number of catastrophic insured losses (usually caused by natural disasters)
People own more personal property that needs to be insured.
How To Ensure You're Getting the Best Home Insurance Policy?
Before buying home insurance, shop around to ensure that you are getting the best homeowners insurance quote for your particular situation. Make sure to read the policy in full. And ask for clarification of anything you don't understand. The time to read your policy is not when you need to make a claim.