The Best Online Wills in Canada for 2023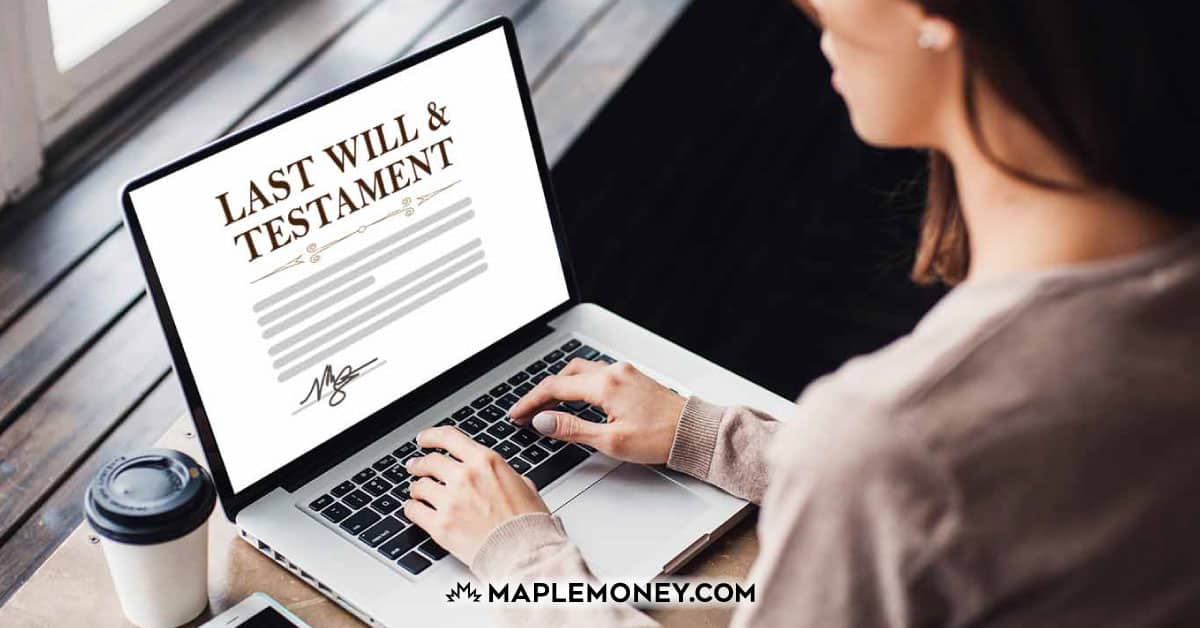 If you don't have a will, it means that someone else will decide what happens to your estate when you die. This includes all of your assets, even the care of any minor children. While traditionally, Canadians have sought the help of a lawyer to help with their estate planning, these days you can create a legally binding will online in as little as 20 minutes, saving both time and money. You'll find out right here if an online will is right for you, and which ones we think are the best.
What Is an Online Will?
An online will is one that you create on your own, using an interactive online tool. It's usually a 20 or 30 minute process during which you are asked a series of questions related to your estate. Once you have correctly entered the information, a legal will is automatically generated. Once you print the document and sign in front of two witnesses, you have your very own legal will. The main reason people use online wills is that it's much more convenient and affordable than going through a lawyer. What they give up is the expertise and legal advice that a lawyer can provide.
Do I Need a Lawyer to Complete My Will?
For most Canadians, the answer is no, you don't need to have a lawyer complete your will for you. Online wills have been created and/or vetted by estate lawyers in the jurisdiction in which you reside, and are sufficient to cover most situations.
That said, there are definitely times when a lawyer is the best choice to prepare your will. Examples are not limited to, but can include: a second marriage, if you wish to exclude an immediate family member from your will, you own a corporation, you hold significant assets in a foreign country, or you have a child receiving government benefits due to a disability.
Willful – Best Overall
Willful has been around for a few years now, offering affordable estate planning solutions for Canadians, with straightforward pricing. The Essentials Plan is $99, and provides you with a Last Will and Testament, allowing you to make your final wishes known. This includes the naming of your estate representative and beneficiaries, as well as guardians for any minor children.
For $189, the Premium Plan adds a Power of Attorney document and allows you to plan for any healthcare emergencies that may arise. If you are married, the Family Plan offers the best value, at $329. It includes separate wills, power of attorney, and healthcare directives for each spouse. According to Willful, you can mirror your wishes for your spouse, which results in faster completion of the documents.
Right now, you can save 15% when you purchase any Willful plan and use the promo code, MAPLEMONEY.
Features:
Straightforward pricing
3 Plans: Essentials, Premium & Family ($99/$189/$329)
Unlimited, free updates
Intuitive and easy-to-use interface
Available in British Columbia
Customer support includes live chat functionality
Epilogue: Best for Advisors
Epilogue was founded by two former estate lawyers, Daniel Goldgut and Arin Klug, so they know a thing or two about preparing a will. In creating Epilogue, their goal was to "provide a better way to make a will, so that more people could do it."
Upon visiting their website, Epilogue's focus on the user experience is evident. They offer simplified pricing, starting at $139. For $179 you can include Power of Attorney with your will, and both plans offer free updates at any time. Couples can get 2 sets of documents for $289, which is a solid value. According to Epilogue, your will can be completed in as little as 20 minutes, and help is never far when you need it.
One thing that stands out about Epilogue is their focus on helping advisors – accountants, insurance professionals, and investment advisors – create wills for their clients. They offer dedicated email, phone, and live chat support to advisors, without any subscription fees.
Features:
Founded by two former estate lawyers
Simple, easy to use platform, with a helpful learning centre
Straightforward pricing, starting at $139
Free updates, anytime
Dedicated support for professional advisors
Canadian Legal Wills – Best for Affordability
While there is a free online will available on this list, I've selected Canadian Legal Wills for affordability, because their product is far superior to any free product. For as little as $39.95, you can create a last will and testament, along with a 40% discount for your spouse or partner. If there's a drawback to the CLW pricing model, it's that it's somewhat a la carte, making it a bit difficult to understand exactly what you're paying for.
As far as the overall product goes, Legal Wills Canada has been around for 20 years now, so you can be rest assured you're getting a quality product. Their website does feel a bit long in the tooth and isn't as clean and intuitive as the Willful and Epilogue platforms. That said, if you're willing to compromise just a little on the overall experience in order to save some extra money, Canadian Legal Wills is worth considering.
Canadian Legal Wills has also given MapleMoney readers 15% off when you sign up through our exclusive link, which will automatically apply our reference code of a917465391.
Features:
In business for 20 years
Available in all provinces, except Quebec
Living wills available for $19.95
Last will and testament begins at $39.95
40% discount for a second will for spouse/partner
Life Locker lets you list belongings, digital assets and contacts
Canada Wills: Best Free Wills
With Canada Wills you can make your own legal, online will for free. That's right, it won't cost you a penny. Once you've filled everything out online, simply print a pdf version of the document, sign and have it witnessed by two people who are not benefitting from your estate in any way.
While I like that the free option is available, CanadaWills doesn't provide the same level of service and support as the other companies on this list. For this reason, I wouldn't recommend them to anyone who can afford to spend the hundred or so bucks on one of the other options.
Features:
100% free will
Available in every province except Quebec
Free medical power of attorney & advanced directive available
Includes provisions for pet care
Our Top Pick: Willful
While all of the online wills we've covered here are solid choices, our top pick is Willful. With three available tiers, they offer something for everyone, at a reasonable price. Another thing I like is the Willful platform. Their website is slick and easy to use. In fact, it's reminiscent of a leading-edge tax return software, it's that intuitive. Think Turbo Tax for estate planning.
The big drawback to Willful is that it's not yet available in all Canadian provinces. Of course, that doesn't matter if you live in Ontario, Alberta, Saskatchewan, Manitoba, Nova Scotia, New Brunswick, or British Columbia. I have spoken with Willful about this, however, and they said that they are working hard to expand across Canada.
Final Thoughts on Online Wills
There you have it, our list of the top online wills in Canada for 2020. Before deciding on one of these options, make sure that you don't need to see a lawyer for your estate planning needs. Remember, there is no substitute for actual legal advice, and for some, it's necessary. Oh, and one other thing. If you decide to purchase an online will, make sure it is printed and signed in the presence of two witnesses. This way, you can make sure it becomes legally binding.