5 ways to enjoy budget friendly theatre this summer
Summertime is created for leisure activities and outdoor fun. While we don't want our families to have too much screen time during summer break, and occasional theatre experience can add to memories. Here are a few ideas to get you started.
5 ways to enjoy budget-friendly theatre this summer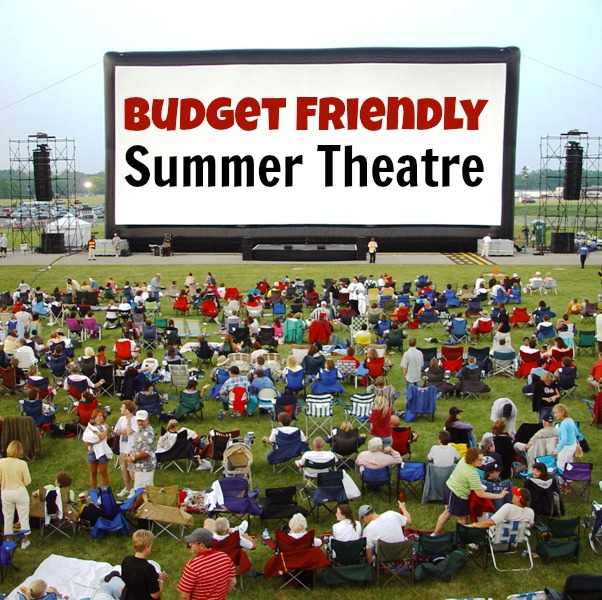 1. Free outdoor movies
Many cities offer free outdoor movies in the summertime. Some outdoor theatres may cater to a particular audience (ie. children) or a particular genre of movies (ie. oldies but goodies). Search for free movies in your city to see what might be available in your neighborhood.
Related articles: Free Outdoor Movies in Toronto and Outdoor Movies in Mississauga.
2. Drive-in movies
Drive-in movies during the summer months bring back nostalgic feelings. Warm summer nights, intermissions at the playground, and wearing pajamas. Before heading out, check the drive-in theatre's website for promotions like "Carload Tuesdays." And for extra fun, invite another family to come along.
And don't forget that double features allow you to get twice the bang for your buck.
3. Shakespeare in the park
If you have never experienced Shakespeare in the Park, add it to your summer bucket list. Over the years I have seen The Tempest, Much Ado About Nothing, Twelfth Night, and many more. Bring your own lawn chairs (and bug spray) and watch quality performances under the stars. Many of these theatres offer pay-what-you-can while some charge a set rate.
Related article: Driftwood Theatre in Ontario
4. Pay creatively
Make those budget dollars stretch this summer by going to the movies for free, or almost free. Pay with M & M vouchers, cereal box coupons, Scene points, or Air miles. The possibilities are endless. But whatever you do – don't pay full price!
Related post: How to Go To the Movies for Next To Nothing
5. Non-traditional theatres
Search venues for films that you may not immediately consider. Community centers, libraries, and churches often show free movies for children in the summertime. Check out local Facebook groups like Entertain Kids on a Dime to track down these unique options.
Summer movies can add variety to the schedule. Why not check out a few of these ideas for unique experiences that also make the budget stretch.
How do you enjoy summer movies on a budget?