How to Buy a Used Car: Protect Yourself When Buying a Used Car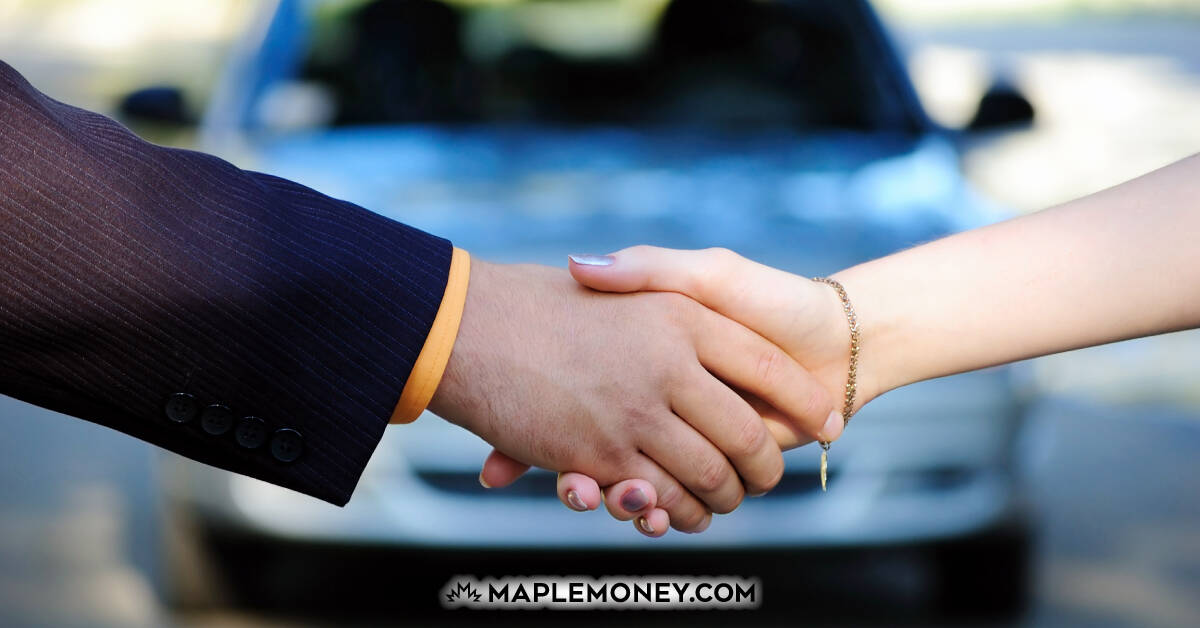 A few weeks ago I wrote about our less than positive experience with a car dealership. Since then my wife and I have continued to look for a vehicle, and thus far, haven't been terribly successful. We've gone to a few more dealerships, and while none have been as bad as the one I wrote about, most simply aren't offering what we're looking for: a good deal on a used car.
Lately we started to resign ourselves to just sit back and wait for a deal to show up so that we can pounce on it when it arrives, instead of actively looking so much. I was just settling into waiting longer term when one morning just after I arrived at work, I got an email from my wife saying that she found what looks like a good deal on craigslist. She called the gentleman, and he agreed to meet us after I was done work.
We met up with the seller, test drove the car, and everything looked great. At this point, I hadn't really thought about what would happen beyond this point, as I figured something would be wrong with the car that would make me want to walk away, but nothing was. So I stepped out of the car, and I froze. To be honest, I didn't know what to do. How do I buy a used vehicle in a private sale? Do I just write them a check and they hand me the keys? Do I need to fill out any paperwork? Do I pay tax on the purchase?
For most people, this might not be a problem, but for a young couple who has never purchased a vehicle before, buying from a dealership offers at least a sense of security that you can't get from a private sale. If you're unhappy with your purchase, there's a phone number to call to complain to. If you drive it off the lot and experience immediate regret, most dealerships will take the car back if you return it within a day or two. If you're struggling with understanding financing, or how the car buying process works, you're dealing with professionals that do this for a living – they can help you. You don't have any of those services when you buy a car directly from the owner.
So all of this is running through my head as I stand in front of the gentleman who is selling his vehicle. I do what I can to inquire about the origins of the vehicle, about why he is selling the car, and I inspect the vehicle as best I can. The problem is, through the back of my head, there's this little voice that's telling me, "It could all be a lie". The sad, simple fact is: it could be. The seller advertised the car on craigslist, and while he seems very open and honest and straightforward, I just don't know for sure. I've heard stories of cars that were submerged in a lake for a month being fixed up and sold. I've heard of friend's who bought cars, drove them for years before finding out that they were stolen. I've read stories about craigslist scams, shady dealings, and all sorts of horror stories from private used car sales.
So coming home that night I did a bunch of research on what I can do to overcome these obstacles. First, one can use a service like CarProof to alleviate most of these fears. CarProof is a vehicle history reporting service. Basically they provide the entire history of the vehicle, including former owners, regular odometer checks, any repairs that have been done, if the vehicle has ever been reported as stolen, a lien check, insurance and accident claims information, the list goes on. If you're worried the car has ever been in an accident CarProof will tell you. If you're worried the car is stolen, CarProof will tell you. While the service isn't exactly cheap, at around $65, it is a worthwhile investment for a purchase that could easily go into the tens of thousands of dollars.
A second important task to take on when purchasing a used vehicle in a private sale is a mechanical inspection. For this, you have a couple of options. You can look it over yourself, you can bring someone with you, or you can bring the car to a mechanic to have a look at the vehicle. We have explored a couple of these options with the car seller, and we decided to purchase an inspection from BCAA, the British Columbia Automobile Association. Essentially, they provide a service where they will meet you at the location of the vehicle and do a 141 point inspection. This will cost about $150, which is certainly not a throwaway amount. It costs enough that you wouldn't want to do it on just any car you're looking at, but not so much that it isn't worth the cost when you're sure you want to buy a car. While we would have preferred to take it to the manufacturer's dealership, the seller was hesitant because of time constraints, so we compromised by bringing the mechanic to the vehicle.
Again, like getting a vehicle history report, obtaining a mechanical inspection is a pretty crucial part of buying a used car. It will give you a great overall picture of the state of the car, everything from whether or not the frame is bent, to the amount of life left on the tires and brakes. Not only will this give you the best picture as to whether or not you should buy the car, it can also give you an edge in negotiating the final price of the vehicle, where you can point to upcoming necessary repairs.
These two steps are the best preliminary steps that you can take towards the purchase of a used vehicle. It will give you the full information required to purchase the vehicle, as it will offer you an extensive history of the vehicle, as well as a snapshot of the vehicle's health at the time of purchase. Based on this information, you can choose whether or not to take the next step towards the purchase of the vehicle.
Learn From Others' Mistakes
I never knew just how long it would take, and how difficult it would be, buying a used car. Being that I was a complete car buying novice, I did not realize that car purchasing was a lengthy process, fraught with anger, disappointment, and frustration. After my wife and I found what seemed to be a good deal on craigslist, we did a test drive, and made sure that we were protected by getting a vehicle history report and a mechanical inspection. Everything seemed to be just perfect, and we were willing to buy the car. The problem was, we had no idea what to do next. To further complicate matters, the seller was an immigrant to Canada and did not know the process either.
No problem, we thought, Google will solve all of our problems. We looked up through our local insurance agency what steps we had to take, arranged a time to meet with the seller, and decided to do everything in one day. Unfortunately, a number of problems arose.
First, we had to get access to our money. Again, this shouldn't be an issue, as we had already transferred all our savings from our online bank account to our chequing account. There was a branch not two blocks from the sellers house, so we would stop by and get the money on our way there. Except when we got there, the branch was closed. Not only that, because it was the Saturday of a long weekend, every single branch was closed. Yes, we definitely should have thought of that ahead of time, but we didn't, as we are new to this whole process. Simply writing a cheque would have been convenient for us, but obviously the seller would not want to accept the promise of money in exchange for his vehicle.
So we went to the post office in an attempt to buy money orders, but for some strange reason, the post office will only sell you money orders up to the amount of $999.99. Therefore we would have to buy many multiples of them, at $5.50 each. Okay, well, that's the price we pay for being stupid, right? Except the transaction won't go through. I guess there is some sort of limit on our account that won't let us debit quite a few thousand of dollars. Well then, we thought to ourselves, let's just do them one at a time. Hurray! The first one works. Boo! The second one didn't.
That ended that long day of frustration and not being able to buy the car that we had the money for, but simply could not get access to. We even tried calling their call center, but of course, that was closed too. Honestly, doing my banking through a credit union is a wonderful thing, except when it comes to situations like these. All the major banks were still in business on the Saturday of a long weekend, just not our small local credit union.
So after the long weekend we decide to try to buy the car again. Luckily for us the seller wasn't in a rush to sell it, and was content to wait for us to get him the money. This time the bank was open. We were actually able to save enough that by raiding our emergency fund we could pay for the car outright. So we got a registered check for the majority of the cost of the vehicle, had a money order for another thousand, and got cash just in case we were able to bring down the price of the vehicle through negotiation, as the mechanical inspection revealed that the tires would need to be replaced quite soon.
So on the Tuesday, we met with the seller and started to go over the paperwork that needed to be filled out. At this point, we realized that his wife was on the registration of the vehicle, and as such, would need to sign off on the sale of the car. Except she's at work, and won't be home for another couple of hours. Perfect. Just in time for all the insurance places to close, and prevent us from getting our vehicle yet again. So in desperation, we end up calling an insurance salesperson who I found about through a coworker. She offers the wonderful service of doing all the registration paperwork for you, and will meet you anywhere you want, but the problem was that her insurance quote was $30/month more expensive than any other place we asked. But we wanted the car, so we called her anyways, and a few hectic hours later we were driving home in our new vehicle.
Oh, and as for negotiating, it lasted about 30 seconds when I made the offer to split the cost of new tires with the seller, and he said no, the price was not negotiable. Fair enough.
Regardless, the sale of the vehicle finally went through, and we are now the proud owners of a slightly used vehicle. It has (almost) all the features we wanted, is the fancy classy model, has really, really nice floor mats, and was the perfect price. Now we just have to worry about paying for insurance, and gas, and maintaining the vehicle, and not getting into an accident… oh dear.
Tips For Buying a Used Car in a Private Sale
Negotiate the final cost of the vehicle before you are invested in the car. If you wait as long as I did, then when they simply say "no", you have no bargaining room to walk away or threaten to leave.
Get a registered cheque ahead of time. Don't wait until the last minute. If you're not sure on the final cost of the vehicle, get one for the cost as you plan on initially offering, and bring cash for the rest of the asking price (or up until what you are comfortable with paying for the car).
Don't use money orders, because if you're buying a $15,000 car, and you have to pay $5.50 for each money order, then that would be $82.50 in extra fees that you're tacking on yourself.
Go over the paperwork. Know who has to sign what, and make sure that all the parties involved are there at the time of sale.
Learn from my mistakes!