Camping season is just around the corner – do you have your camping recipes planned yet? I am always planning ahead of time, and camping is no exception. Except I don't really camp, I go to a cottage. Me and tents don't mix, but that's another story for another day.
Either way, most of these meals can be prepped ahead of time, and quite a few of them can be made over the fire or a barbecue. I found more than 30 camping recipes that would make any camp out awesome!
Breakfast:
Oatmeal Breakfast Bars
Mint Fruit Salad
Blueberry Maple Refrigerator Oatmeal
Loaded Breakfast Potatoes with Mushroom Gravy
World's Best Vegan Pancakes
Delicious & Easy Breakfast Burritos
Crazy Good Avocado Toast
Lunch:
Asian Slaw Salad with Peanut Dressing
Spinach & Strawberry Salad with Honey-Balsamic Dressing
Easy Tomato & Mozzarella Salad
Quinoa & Tabbouleh Salad
Almond "Tuna" Salad (Vegan!)
Tin Foil Chicken Fajitas
Camping Quesadillas
Orange Thyme Grilled Shrimp
Dinner:
Campfire Chili in a Dutch Oven
Quinoa Black Bean Burgers with Vegan Nacho Cheese Sauce
Super Simple Quinoa Bowl with Roasted Veggies & Cashew Dressing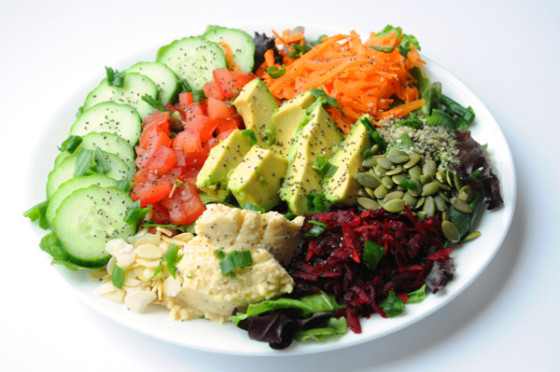 The Big Vegan Salad Plate with Creamy Tahini-Dill Dressing
Deconstructed Falafel Bowl
Potato Boat Dinner with Ham, Bacon & Cheese
Corn on the Cob with Chili Lime Butter
Desserts/Snacks:
Campfire Cones
Sweet & Spicy Mixed Nuts
Healthy Peanut Oat Bars
Chewy Chocolate Chip Granola Bars
Homemade Applesauce
Easy Homemade Hummus
Healthy Peanut Butter Balls
Creamy Vegan Ranch Dip
Healthy & Delicious Trail Mix Cookies
What are your favourite camping recipes?