A Review of Canada's Best Digital Wallets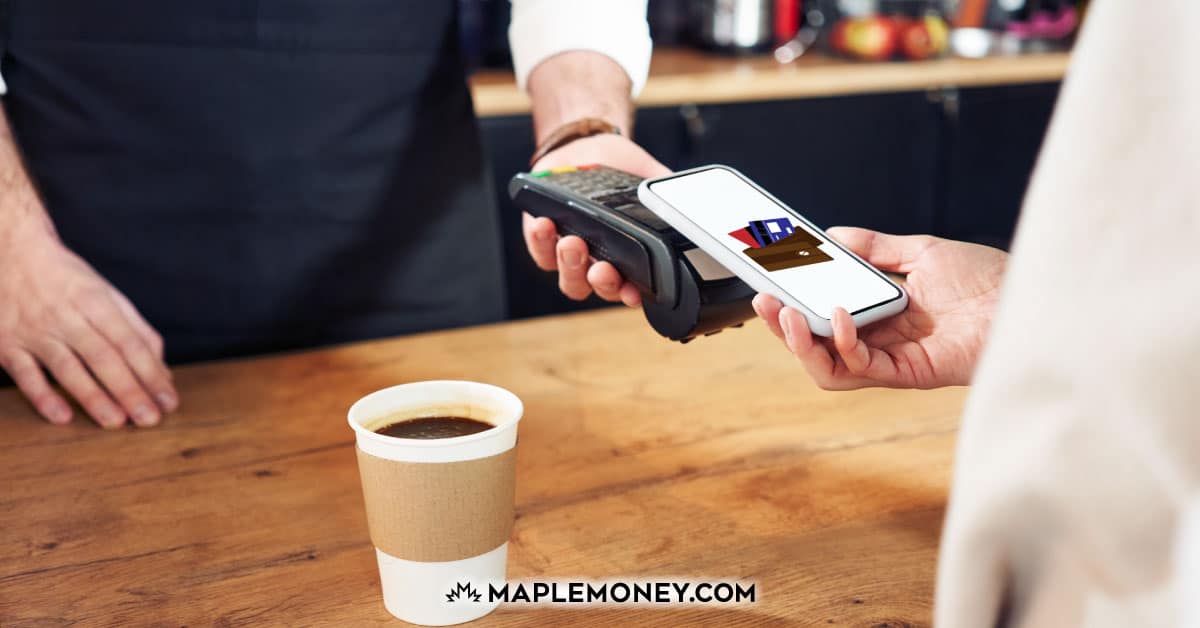 One of the main benefits of mobile payment technology has been the elimination of so much paper; no longer having to keep track of bank statements, bill payment stubs, and all of those receipts. Well, you can add your credit and debit cards to the list of things you no longer have to take with you. Digital wallets can store the cards that we keep in our physical wallets, and they do it while maintaining the highest security levels.
What Is a Digital Wallet?
A digital wallet is an app that stores payment information on your mobile phone so that you can make payments without the use of a credit or debit card. These virtual wallets are available on both iOS and Android devices. Depending on which digital wallet you're using, you can store the following information:
Credit cards
Debit cards
Loyalty rewards cards
Prepaid cards
Gift Cards
Movie and concert tickets
Electronic boarding passes
The most widely used digital wallets are Apple Pay, Google Pay (formerly Android Pay), and Samsung Pay, all of which I'll cover in more detail below. In Canada, two of the big banks have even created proprietary wallets for their customers to use.
Are Digital Wallets Safe?
Digital wallets employ the highest levels of encryption, making them very safe. For example, if you were to lose your phone, someone would have to hack into your phone and then find a way to access your e-wallet. Alternatively, if you were to lose your actual wallet, anyone could pull the cards and easily make purchases online or use the tap feature on your card.
NFC Explained
Whenever you read about digital wallets, you often see the term NFC used. NFC stands for Near Field Communication, which is the technology that allows for the sending of wireless signals over short distances between compatible devices. The best example of this is when you use a card or mobile phone to "tap and pay" when purchasing. Whenever you pay with "Tap," NFC technology is being employed.
The Top Digital Wallets In Canada
Before we take a closer look at the top digital wallets available to Canadians, I should point out that I'm not picking a winner here. That's because the wallet that's best suited for you depends on several factors, including the type of device you have, the types of cards or loyalty programs you use, and in the case of the bank wallets, the bank you're dealing with. With that in mind, let's take a closer look, starting with the big three tech companies:
Apple Pay
You can use your Apple Wallet at any retailer that accepts Apple Pay or NFC (Tap). It's easier than ever, as most Canadian stores now accept NFC payments. To get started with Apple Pay, you'll need to add your debit and credit cards to the Apple Wallet app on your iPhone.
The app makes this a breeze, as do the big bank apps, all of which recognize Apple Pay. I should point out that you will need to authorize the cards through your mobile banking app. Depending on the device you're using, the app is secured by your Passcode, Touch ID, or Face ID. You can use Apple Pay at any retailer that accepts Apple Pay or NFC (tap). This makes things easy, as most Canadian stores now accept tap.
One of the great features of the Apple Wallet is that it also lets you store movie passes, concert tickets, and airline boarding passes, eliminating the need for a paper boarding pass when you travel. A downside to Apple Pay is that it doesn't include membership or gift cards, and it's only available on Apple devices.
What We Like About Apple Pay:
Highly secure, streamlined payment.
Widely available across Canada (NFC-compatible)
It can be used with the Apple Watch.
Apple Wallet stores tickets and airline boarding passes.
What We Don't Like:
Cannot store loyalty rewards or gift cards.
Only available on iOS devices
Google Pay
Formerly known as Android Pay, Google Pay is the software giant's entry into the mobile payments space. Like Apple's digital wallet, you can use Google Pay with any NFC terminal. It can also be downloaded onto any device, so you don't have to worry about which phone manufacturer you choose (iOS or Android). It supports membership and gift cards, which sets it apart from Apple Pay. Like Apple Pay, the majority of Canadian financial institutions support the Google Pay e-wallet.
What We Like About Google Play:
Works across all devices and platforms
Supports loyalty programs and gift cards
Works with compatible smartwatches.
What We Don't Like:
Security features don't include facial recognition.
Samsung Pay
If your smartphone loyalty lies with Samsung, they have a virtual wallet just for you. What sets Samsung Pay apart from its two main competitors is that its technology is compatible with any payment system that accepts credit cards. This means that if a payment machine is not NFC-enabled, you can still use your Samsung digital wallet. It does this by using Magnetic Secure Transmission Technology (MST), which sends the magnetic stripe data from your credit or debit card to the terminal.
What We Like About Samsung Pay:
Accepted wherever you can pay with a debit or credit card
Widely supported by Canadian financial institutions.
Supports loyalty rewards programs and gift cards
What We Don't Like:
Known to have glitches when used with some NFC terminals.
Limited to Samsung phones
Virtual Wallets and the Big Banks
While Canada's Big Banks might have intended at one point to compete with the leading digital wallets, most have failed to keep up, focusing instead on the capabilities and features of their mobile banking apps.
The RBC Wallet allows their customers to make payments by adding an RBC debit or credit card, while TD and CIBC direct their customers to download Apple Pay and add their payment cards to the mobile wallet. Scotiabank discontinued their mobile app in 2019. Like RBC, TD has a digital wallet, but you can't add a payment card, just loyalty, membership, and gift cards. Here's a quick overview:
Ways to Pay with CIBC
On their website "Ways to Pay" page, CIBC directs customers to add their debit and credit cards to the Apple, Google, and Samsung wallets, with links to download each one. When you get a new CIBC credit card, you can add it instantly to any one of the aforementioned wallets before receiving the physical card in the mail, a nice feature.
Ways to Pay with TD Bank
The TD Wallet allows you to upload your memberships, loyalty rewards, and gift cards onto your mobile device, freeing up space in your physical wallet. Unfortunately, the app cannot handle payment as debit and credit cards cannot be added to the app. Instead, TD encourages customers to use Apple Pay by adding their cards to the Apple Wallet.
Ways to Pay with RBC
The RBC Wallet is available on Android and iOS devices and allows customers to make payments by adding their RBC debit and credit cards to the digital wallet. In addition to making payments, you can send and request money via an e-Transfer feature that's built into the app.
Ways to Pay with Scotiabank
Scotiabank doesn't have a digital wallet, but customers can use their Scotia cards on the Apple, Google, and Samsung payment platforms.
Ways to Pay with BMO
As with the other banks, BMO supports debit and credit payments for its cards on Apple Pay, Google Pay, and Samsung Pay.
Which Digital Wallet Is Best Suited for Me?
If you want to know which digital wallet you should use, here's how you can narrow it down. First off, you can eliminate the bank wallets. Except for the RBC wallet, none of them allow you to make payments directly from the app. Even the RBC wallet doesn't compare with the big three e-wallets from Apple, Google, and Samsung, because it can't accept 3rd party cards. After all, if you count credit cards, most of us deal with more than one institution.
So the three best digital wallets are Apple, Google, and Samsung. From there, it might depend on the type of device you have. If you have an iPhone, then Apple Pay is probably the way to go. Keep in mind, however, that Google Pay works on all devices, including iOS.
If you use an Android device, then it's a choice between Samsung or Google. While Samsung Pay works with non-NFC terminals, those are increasingly rare in 2021, making it less advantageous. I use Google Pay as my digital wallet because I can use it on any device, and it can handle my loyalty rewards memberships. As for you? That's a decision you'll have to make.