Free Download: Canada In Season Produce Guide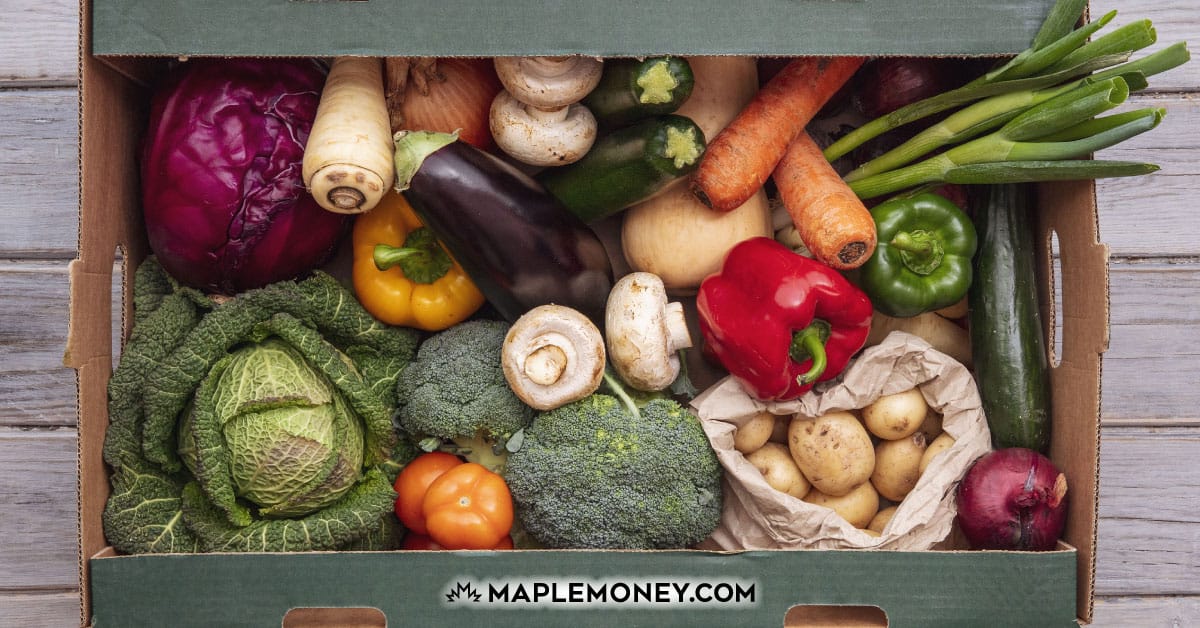 One of the best ways to
save money on produce
is to only buy items that are in season. By doing this you will not only spend less, but you will be eating fresher items as well.
If you enjoy an item that is not in season very often, try purchasing it bulk when it is in season and freezing the extras. You can do this with most fruits and vegetables and it will save you lots of money over the year.
You can download the Canada in season produce guide to keep in your home management binder or wherever else you wish to keep it.
January:
Bananas, Grapefruit, Kiwi, Lemons, Oranges, Pomegranates, Rhubarb, Tangerines, Beets, Cabbage, Carrots, Cucumber, Lettuce, Mushrooms, Okra, Onions, Potatoes, Squash, Sweet Potatoes
February:
Bananas, Grapefruit, Kiwi, Lemons, Oranges, Rhubarb, Tangerines, Beets, Cabbage, Carrots, Cucumber, Lettuce, Mushrooms, Okra, Onions, Potatoes, Squash, Sweet Potatoes
March:
Bananas, Grapefruit, Kiwi, Lemons, Oranges, Peppers, Pineapple, Rhubarb, Tangerines, Beets, Cabbage, Carrots, Cucumber, Lettuce, Mushrooms, Okra, Onions, Potatoes, Squash, Sweet Potatoes, Tomatoes
April:
Bananas, Grapefruit, Kiwi, Lemons, Oranges, Peppers, Pineapple, Rhubarb, Tangerines, Beets, Cabbage, Carrots, Cucumber, Lettuce, Mushrooms, Onions, Peppers, Sweet Potatoes, Tomatoes
May:
Bananas, Grapefruit, Kiwi, Lemons, Mangoes, Oranges, Pineapple, Rhubarb, Tangerines, Asparagus, Carrots, Cucumber, Lettuce, Mushrooms, Onions, Peppers, Radishes, Spinach, Sweet Potatoes, Tomatoes
June:
Bananas, Cantaloupe, Cherries, Grapefruit, Lemons, Mangoes, Oranges, Papaya, Pineapple, Rhubarb, Strawberries, Asparagus, Beans, Broccoli, Cabbage, Cauliflower, Cucumber, Lettuce, Mushrooms, Onions, Peppers, Radishes, Spinach, Sweet Potatoes, Tomatoes
July:
Apricots, Bananas, Blueberries, Cantaloupe, Cherries, Lemons, Mangoes, Papayas, Peaches, Pineapple, Plums, Raspberries, Strawberries, Watermelon, Beans, Beets, Broccoli, Cabbage, Carrots, Cauliflower, Celery, Corn, Cucumber, Lettuce, Mushrooms, Onions, Peppers, Potatoes, Pumpkins, Radishes, Squash, Sweet Potatoes, Zucchini
August:
Apples, Apricots, Bananas, Blueberries, Cantaloupe, Grapes, Grapefruit, Kiwi, Lemons, Mangoes, Nectarines, Oranges, Papayas, Peaches, Pears, Plums, Raspberries, Watermelon, Artichokes, Beans, Beets, Broccoli, Cabbage, Carrots, Cauliflower, Celery, Corn, Cucumber, Eggplant, Lettuce, Mushrooms, Onions, Peppers, Potatoes, Radishes, Spinach, Squash, Sweet Potatoes, Tomatoes, Zucchini
September:
Apples, Bananas, Blueberries, Cantaloupe, Grapes, Kiwi, Lemons, Mangoes, Nectarines, Papayas, Peaches, Pears, Pineapples, Pomegranates, Watermelon, Artichokes, Beans, Beets, Broccoli, Brussels Sprouts, Cabbage, Carrots, Cauliflower, Celery, Corn, Cucumber, Eggplant, Lettuce, Mushrooms, Onions, Peppers, Potatoes, Pumpkins, Radishes, Spinach, Squash, Sweet Potatoes, Tomatoes, Zucchini
October:
Apples, Bananas, Cranberries, Kiwis, Lemons, Pears, Plums, Pomegranates, Artichokes, Beans, Beets, Broccoli, Brussels Sprouts, Cabbage, Carrots, Cauliflower, Celery, Corn, Cucumber, Eggplant, Lettuce, Mushrooms, Onions, Peppers, Potatoes, Pumpkins, Radish, Spinach, Squash, Sweet Potatoes, Tomatoes, Zucchini
November:
Apples, Bananas, Kiwi, Lemons, Oranges, Pears, Pomegranates, Tangerines, Beets, Brussels Sprouts, Cabbage, Carrots, Cauliflower, Cucumber, Lettuce, Mushrooms, Onions, Peppers, Potatoes, Pumpkins, Radishes, Squash, Sweet Potatoes, Tomatoes
December:
Bananas, Kiwi, Lemons, Nectarines, Oranges, Pears, Pomegranates, Tangerine, Beets, Cabbage, Carrots, Cucumber, Lettuce, Mushrooms, Okra, Onions, Peppers, Potatoes, Squash, Sweet Potatoes, Tomatoes
Click here to download the Canada In Season Produce Guide