What Are Blue Chip Stocks and Which Canadian Companies Top the List?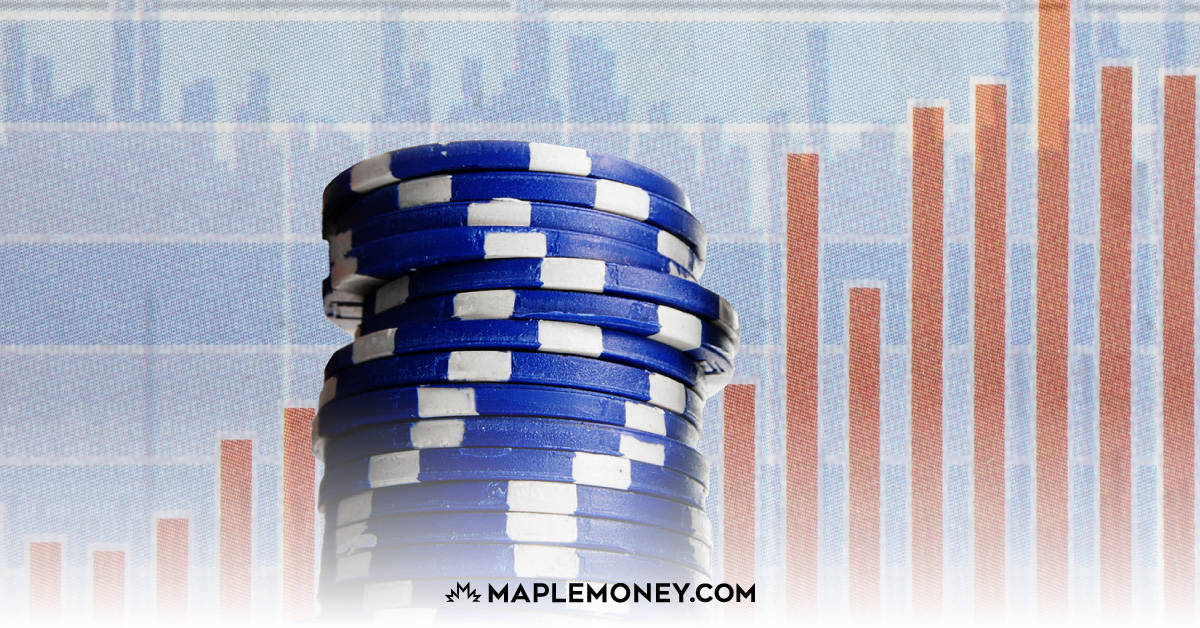 I recently published my list of the Top 100 Canadian Dividend Stocks for 2020. In addition to paying consistent dividends, many of the companies on my list had something else in common. That is, they are considered to be blue chip stocks. But what does the term blue chip really mean, and how can you tell if a stock is considered a blue chip? To give you a better idea, let's take a closer look at what blue chip stocks are all about.
What are Blue Chip Stocks?
Blue chip companies are strong and well established. In most cases, they've been around for many years, and are considered to be the leaders in their respective industries. They are consistently profitable, can perform in just about any economic condition, and have a track record of paying dividends to their investors.
The best example of Canadian blue chip stocks may be any one of the Big Six banks: RBC, TD Bank, Scotiabank, Bank of Montreal, CIBC, and National Bank. Most have been around for over 100 years, they dominate the financial services sector, and, as is no secret, they generate huge profits year in year out. They also consistently increase their dividends. Blue chip stocks exist in other industries as well. Both CN Rail and CP Rail are industry stalwarts, as is utilities giant Fortis, and the grocery chain, Loblaws.
Characteristics of a Blue Chip Stock
Large, long standing companies that dominate their industry
Market values of $10B or more
Profitable in most economic climates
Strong track record of growth
Possess large amounts of cash with low levels of debt
Pay a consistent dividend to investors
Are included in a major market index
Blue Chip Stocks vs. Penny Stocks
You may be familiar with the term penny stock. While both blue chip stocks and penny stocks can be purchased on the market, they have very little in common. Penny stocks are typically valued at less than $5 per share, although some peg penny stocks at under $1 per share.
They tend to be very small companies often valued below $50 million dollars. Because they are not yet established in their respective industry, they are considered highly speculative, and for that reason their share prices fluctuate wildly, up and down.
As opposed to blue chips, penny stock companies usually carry high levels of debt with minimal cash resources to fall back upon. Penny stocks don't typically pay a dividend, and many are not often traded on the major stock exchanges, like the TSX or the Nasdaq. Instead, they are traded on the over-the-counter (OTC) market. For more information, check out my full guide to penny stocks.
What are the Top Canadian Blue Chip Stocks to Buy?
Rather than provide you with an exhaustive list of the best Canadian blue chip stocks, I've decided to highlight a few top companies from different industry sectors, to give you an idea of what a typical Canadian blue chip company looks like. Keep in mind, any decision to purchase an individual stock should only come after you've done plenty of research and consulted an investment professional.
Fortis (FTS) – Utilities
Not only is Fortis a prototypical blue chip stock, it's one of largest utility companies in North America, with holdings in Canada, the US, and the Caribbean, and over $57 billion in assets. Fortis has increased its dividend for 46 consecutive years, and given that energy consumption is continually on the rise, this well managed company is well positioned to continue providing solid returns for investors.
TD Bank (TD) – Financial Services
Of the Big Six Canadian banks, TD has been the top performer over the past 10 years. In fact, when the 2008 financial crisis hit, TD took advantage by purchasing a number of US regional banks at steep discounts. These moves positioned them for strong growth over the next decade and beyond. Perhaps surprisingly, when it comes to lending, they tend to be one of the more conservative Canadian banks, which helps to lower their overall risk profile. Over the past 5 years, their dividend has seen a higher increase versus their peers.
CN Rail (CNR) – Industrials
CN Rail is Canada's largest railway and one of the largest companies overall in the country, with a market cap of over $90 billion dollars. Although rail transportation has been around in Canada for well over 100 years and is a mature industry, it remains vitally important to the Canadian economy. CN has increased its dividend for 24 consecutive years, and it's stock price has appreciated substantially over the past 5 years.
Telus (T) – Communications Services
Along with BCE and Rogers, Telus dominates the communications industry in Canada. Along with consistent earnings and solid growth, this makes it the perfect blue chip stock. With a dividend yield above 5%, Telus has increased its dividend for 16 consecutive years. It also boasts a market cap of close to $30 billion. It's well positioned to be a leader as 5G technology is rolled out across Canada in the coming years.
Other Top Canadian Blue Chip Stocks (in alphabetical order)
Company Stock Symbol Industry
BCE BCE Communication Services
Brookfield BIP.UN Utilities
CP Rail CP Industrials
Dollarama Inc. DOL Consumer Defensive
Enbridge ENB Energy
Hydro One H Utilities
Loblaw L Consumer Defensive
Manulife MFS Financial Services
Rogers RCI.B Communication Services
Royal Bank RY Financial Services
Suncor SU Energy
Telus T Communication Services
Thompson Reuters TRI Industrials
Should I Consider Buying a Blue Chip Stock?
Blue chip stocks can be a great addition to any long term, well diversified investment portfolio, however, there are a number of factors to consider before purchasing a blue chip stock. For starters, you need to properly assess your investment time horizon and your personal risk tolerance. Because all stocks fluctuate in value, they can drop sharply in a poor economic climate. We've seen this play out recently during the COVID-19 financial crisis.
For this reason, it's my opinion that the average investor should not hold individual stocks in their portfolio unless their investment time frame is 10 years or more. It's also important to note that a portfolio holding only one or two stocks cannot be properly diversified, even if they happen to be blue chip companies. In other words, without a large sum of money invested, it can be difficult to attain proper diversification with a stock-only portfolio.
If you are interested in holding blue chip stocks but you don't have a large sum to invest, there is a better option – index funds and ETFs.
Buying Blue Chip Stocks Inside an Index Fund or ETF
Both index funds and Exchange Traded Funds (ETFs) track the performance of an entire segment of the stock market. This means that a single index fund or ETF can hold dozens of blue chip stocks, providing investors with proper diversification without requiring huge sums of money to invest.
The best way to purchase an index fund or ETF is by opening a discount brokerage account online. Thankfully, Canadians have plenty of options to choose from. Each of the big banks have their own discount brokerage, or you can choose from one of the leading independent brokers. Here at MapleMoney, our top pick is Questrade. They offer the best combination of features, including a robust trading platform, excellent mobile app, and low fees. In fact, they are the only full-featured brokerage to offer no-fee ETF purchases.
Final Thoughts on Blue Chip Stocks
As an individual stock, or held inside an ETF, blue chip stocks are an important component of any long term investment strategy. I personally own stock in a number of top Canadian blue chip companies, but most of my investments are held inside a well diversified ETF portfolio. To me, it represents the best of both worlds.
I prefer the simplicity and easy diversification that ETFs offer, and I can top up my holdings by purchasing blue chips whenever they go on sale (drop in value). If you're considering adding blue chip stocks to your portfolio, remember to do your research, and always seek the advice of an investment professional.