9 tricks for scoring cheap summer fun for kids
Summertime is one of my favorite seasons. Breaks from demands, open schedules, and sunshine. But without a careful plan, keeping kids busy can make it an expensive time of year. Try these suggestions to find free summer activities for kids (and the whole family).
9 tricks for scoring cheap summer fun for kids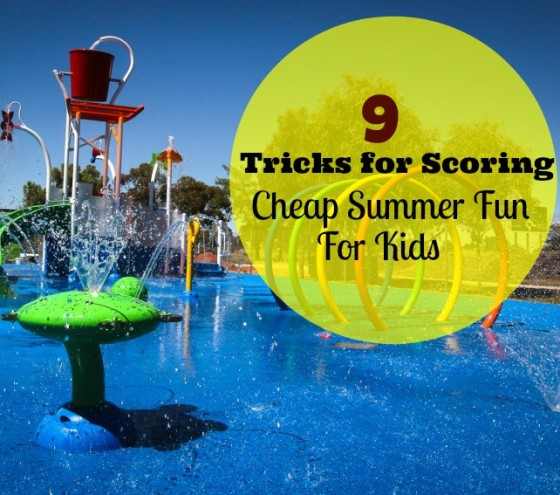 Subscribe to local sites
There are a few sites like KidsAroundCanada.com that post-event according to a geographical area. Narrow down your search by Canadian cities such as Toronto, Ottawa, Vancouver, and Calgary. The Little Paper is another one of our favorites. Events include museum tours, nature walks, local festivities, and many more.
Use social media
Have a group of friends who love free activities as much as you do? Multiply your efforts by all posting tips on Facebook whenever anyone finds a neat activity. Or join a Facebook group such as Entertaining Kids on a Dime. This is how I discovered the Harbourfront Circus in Toronto and the Kidspark carnival in Kitchener. These quality events include musical performances, jugglers, magic shows, and gymnasts. For free.
Local library
Libraries offer free or low-budget, educational activities for children. During the summer, our library offers reptile visits, chess clubs, book clubs, and author visits (thank you Loris Lesynski and Lana Button). Additional tip: Check libraries in nearby cities as well. Subscribe to receive alerts whenever new classes and events are offered. And when you do see an activity that fits the budget, book it quickly to avoid disappointment.
Make the ordinary, extraordinary
Consider what your kids are interested in, and turn that into a low-budget adventure. Have a musician? Spend an afternoon in a music store. Take your animal lover for an extended walk through a pet store. Spend time at garden centers talking to experts, and let kids plant their own garden. Some of my favorite memories come from letting my boys follow their own interests.
Head to the park
Let's not forget the obvious choice for free fun – visiting local parks. Check out this post: 20 Ideas for the Park to mix up typical park visits (keeps the parents from getting bored too). And before you head out, see if your local community has a current geocaching event.
Splash together
Summer is made for getting wet. Whether it be sprinklers in the backyard or a friend's pool, staying cool is easy on the budget. Also, check out your city's free splash pads at a link like this one.
Community center passes
Our city offers a unique opportunity for teenagers in the summertime. Kids 13 years and older can obtain their photo ID and have access to free bus transit and free swimming for the entire summer. Deals like this are usually found through recreation center message boards and word-of-mouth.
Maximize movie deals
Most parents want to minimize screen time when the sun is shining, but a movie date is a fun treat once in a while (especially during a heatwave). Be sure to read this post: How to Go To The Movies for Next To Nothing.
Stay local
Meander through nearby trails. Splash in a local creek. Read books under a tree. Find an apple orchard or petting zoo that is bound to fit the budget. The possibilities are endless. For even more ideas, check out this post: 25 Ideas You Must Try Before Summer Ends.
Go into this summer season with a list of low-budget ideas sure to please the kids. And check back midsummer if you are in an entertaining rut needing fresh inspiration.
What are your favorite ways to find deals for summer adventures? Please share!