One of the most important aspects of couponing is organizing coupons (and keeping them organized). Not only does having organized coupons make it easier to find coupons you are looking for, but it also ensures you never miss out on a deal, because you always know what coupons you have on hand and where to find them.
With experience, I've found that the longer I wait to organize any new coupons I receive, the harder it is to stay organized. Since I'm receiving new coupons almost every day, I have to make a conscious effort to file those coupons as soon as they come in. Otherwise, things can get ugly very quick!
Other the years, I've tried many different coupon organizing ideas and tips, but I've always come back to the coupon binder, because that is just what works the best for me. However, there are so many other ideas out there, and I encourage you to try a few of them out before settling on one way of keeping those coupons organized.
You never know if something may work better than what you're currently using.
7 Creative Ways to Organize Your Coupons
1. Fabric coupon organizer
I've used this exact one and it's awesome! It attaches to your grocery cart and comes with dividers and labels.
2. Box coupon organizer
This one uses a shoe box, which you can decorate, and is filled with dividers and labels.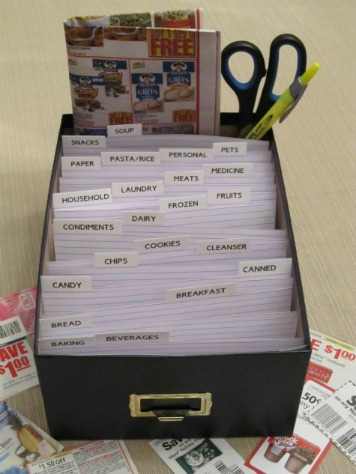 3. Coupon basket
Use a large basket or box, fill it with dividers and labels, and organize your coupons in a snap!
4. Coupon binder
Of course, you can always use a coupon binder, which is my prefered method of coupon organizing.
6. Coupon envelopes
This is an easy way to organize coupons when you're first starting out. It's easy, and inexpensive, and a great way to get your feet wet with couponing. Read more on coupon envelopes here.
6. Accordian file folders
These small file folders are also great for new couponers because they're very simple and easy to use. They're also inexpensive (you can pick one up at your local dollar store!).
7. Coupon clutch
Isn't this one cute? Organize your coupons in a coupon clutch – you can make this DIY version or you can simply re-purpose an old clutch (just make sure it's large enough to fit your coupons).
As you can see, there are a bunch of different ways to stay organized. The most important thing is to get, and stay, organized – so pick a coupon organizing method, try it out for awhile, and if you don't like it, try something new. There are lots of ideas here to choose from!
How do you organize your coupons? Is it working well for you?