Don't Just Track The Past, Forecast With PocketSmith
I've been trying out another online budgeting tool that has some interesting features and most importantly to readers here, works for Canadian bank accounts!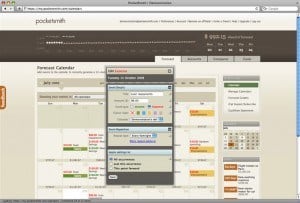 The reason PocketSmith works with Canadian banks is because it requires you to load your transaction data that you can download from your bank's website. This can also provide a great increase in security since the site does not store all your bank passwords.
What sets PocketSmith apart from other applications is that it focuses more on forecasting your finances up to 12 months ahead and less on reporting what has already happened. While both views are important to being in control of your finances, it's understandable that these web sites do not try to do everything for everyone or they would become bloated and no longer have simple interfaces. That said, I personally like PocketSmith's focus on forecasting as it gives you a better picture of where you're going.
PocketSmith has a great calendar interface. It shows when all your bills are due and when you get paid. Even more impressive, the calendar's events can be imported into Outlook, iCal or Google Calendar! Like any budgeting application, you can set spending and savings goals. With the 12 month view, it's easy to see what it will take to reach your goals and then whether you remain on track.
PocketSmith has three plan levels. If you're looking for something to track and forecast your finances, I'd suggest signing up for the free plan and give it a try. However, with the amount of bank accounts and number of events I'd need, I'll probably settle on the Premium plan.
Another good reason to try out the free version of PocketSmith… next week I'll be giving away premium upgrades to three lucky readers!