How to Earn Money by Playing Games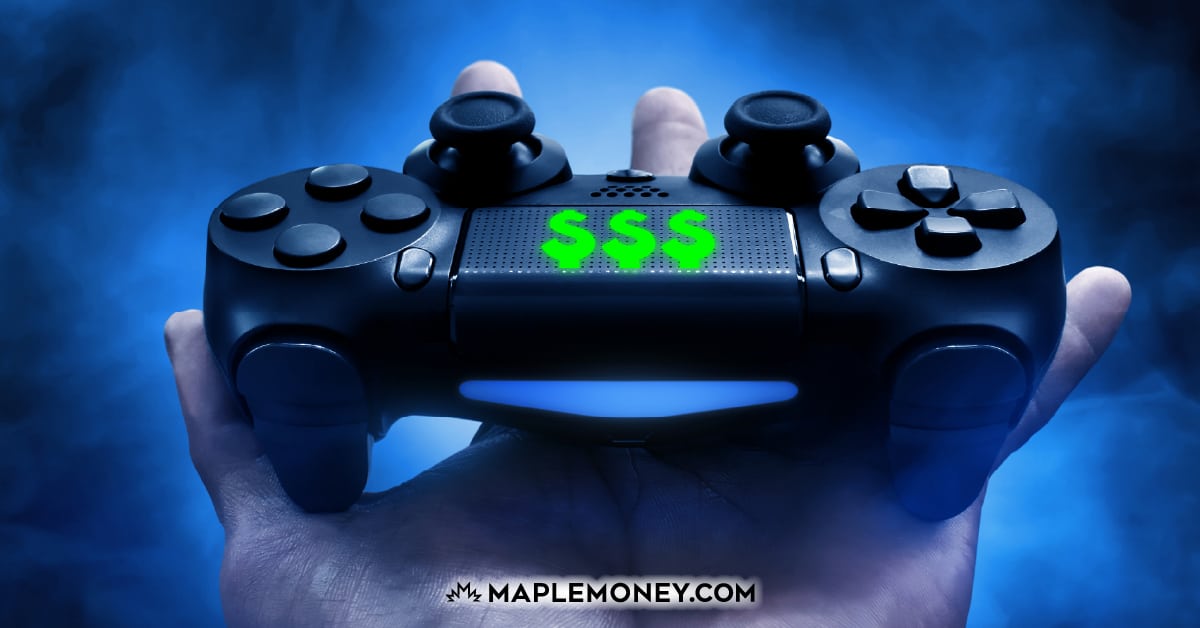 Not everyone looking to make a few extra dollars wants to spend hours per week filling out paid surveys. But if you enjoy playing games, there's a better way.
I've come up with the following list of the best game apps and instant win games to win gift cards or cash that you can transfer to your PayPal account. Most of the apps give you multiple ways to earn. If you're willing to invest some time, you'll have a chance to win real money.
Mistplay
Mistplay is one of the most popular online gaming sites for Android users, and it's available in Canada. The concept is simple. Play games you love, and the longer you play, the more you earn.
Choose from a personalized list of games in Mixlist. Earn Mistplay units as you play. You'll have an opportunity to redeem the units you've earned for rewards, which include gift cards to Amazon, Google Play, PayPal, and more.
You can earn bonus units by unlocking achievement badges for completing missions. In addition to game rewards, Mistplay offers weekly contests, with a grand prize awarded for the last contest each month.
Cashyy
Like Mistplay, Cashyy is a gaming app that lets you earn a few extra bucks by playing games online. You can download the app for free on the Google Play store, and there are no annoying in-app purchases. One nice thing about Cashyy is that you get a registration bonus just for signing up.
While you will never make much money playing games, one downside to Cashyy is that it gets increasingly more difficult to earn extra points the more you play. Rewards include PayPal cash or gift cards to retailers such as iTunes, Sephora, and Amazon. You must be 18 years of age to use Cashyy.
AppStation
AppStation is a cash rewards app that lets you play video games for real money. More than 10 million users have downloaded AppStation since it launched in 2018. Downloading is free, and you aren't required to make in-app purchases. AppStation offers an ad-free experience, a nice perk.
According to AppStation, you earn rewards for every minute of playing time. Rewards are in the form of coins. Once you've reached a minimum payout threshold, you can redeem your points for the following prizes: Amazon gift cards, Google Play cards, PlayStation vouchers, Steam coupons, Nike gift cards, Walmart gift cards, and cash via PayPal.
To maximize your AppStation earnings, invite your friends to play for an additional 25% bonus, and try to choose games that earn more points per minute.
Prize Rebel
PrizeRebel is primarily a paid survey website, so it's difficult to compare it to sites like Mistplay or Cashyy, which are pure gaming sites. But PrizeRebel Rewards include game codes for popular games, like League of Legends or World of Warcraft, and gift codes for Xbox Live and Playstation Network.
They have an Offer Wall, which is refreshed daily. Sign up for a website, watch a video, or play a game, and redeem the points you earn for more than 100 rewards, including PayPal Cash and gift cards to Amazon, Walmart, Burger King, Starbucks, and more.
Sweatcoin
Sweatcoin rewards you for playing games, but you'll have to get on your feet and move around. Here's how it works. Sweatcoin tracks your daily steps when you perform fitness activities, like walking, running, playing golf, or tennis. You earn digital currency, called Sweatcoins, which can be redeemed in various ways.
Choose from hundreds of products in their virtual marketplace, donate your points to charity, or convert them to SWEAT tokens, a form of cryptocurrency. Interestingly, Sweatcoin has plans to launch SWEAT NFTs shortly.
Swagbucks
Swagbucks is a prominent get-paid-to website that lets you earn real money in many different ways. You can shop online, complete surveys, search the web, and, yes, play cash games for rewards. In exchange, you can redeem the points you earn for PayPal Cash or gift cards from your favourite retailers, like Amazon, Starbucks, Walmart, and more.
When it comes to playing games, you can choose from a wide selection of Swagbucks original, free games or earn points for making in-game purchases from GSN, a Swagbucks partner.
In addition, you can earn points by participating in trivia games on Swagbucks LIVE. Play solo or with your friends (more on Swagbucks LIVE below). The Swagbucks app is available for download on the App Store and Google Play.
Swagbucks LIVE
Swagbucks LIVE has its own app that you can download from the App Store or on Google Play. The game plays like a live trivia game show that rewards you just for playing, in addition to a grand prize if you answer all the questions correctly. Here's how it works:
Each week, a Swagbucks LIVE host will ask a series of multiple-choice questions. You have 10 seconds to select your answer. If you answer every question correctly, you will earn the Grand Prize. Even if you don't answer all questions correctly, you'll still earn SB LIVE digital currency.
You can refer your friends and family to play Swagbucks LIVE when you send them a referral link via text message. They'll be able to download Swagbucks LIVE, and once they sign up, you'll receive 10% of their winnings.
There is no cost to play Swagbucks LIVE, but they will require your phone number for your account security and protection.
Drop
Drop is a popular loyalty rewards app that pays you to shop at your favourite stores. But you can also earn Drop Points for playing video games. To play online games, use Drop to locate eligible games on the App Store or Google Play and complete in-game tasks to earn points. You can redeem Drop points for gift cards, collectibles, cryptocurrency, donations, and contests.
Drop Spin is another Drop game that lets you earn cash. You can play it weekly and earn point boosts, free points, or even the grand prize of 250,000 Drop points. You can earn bonus points when you refer your friends to Drop. All they need to do is use your referral code to sign up, and earn 1000 points. There is a 10-referral limit.
Inbox Dollars
Inbox Dollars is a paid survey website that lets you win cash prizes for playing games online. They offer dozens of arcade games, which include card games, strategy games, word games, action games, etc.
In addition, they've partnered with GSN to bring you various casino-style games, like Poker, Casino, Wheel of Fortune, etc. Unlike some of the other gaming apps on our list, Inbox Dollars is available for both iPhone and Android users.
One nice perk is the $5 bonus you earn just for signing up. Prizes include PayPal cash and gift cards from companies like Amazon, Starbucks, Home Depot, Sephora, and more.
Skillz
Skillz gives you a chance to win real money by competing with other users in various skill-based online games. Some of their top titles include Blackout Bingo, Dominoes Gold, Spades Cash, Pool Payday, and Solitaire Cube.
Skillz also has a streaming platform that allows users to put on cash tournaments for a chance to win money. You select the game, the tournament template, and the time.
iRazoo
iRazoo is a get-paid-to website that's similar to Swagbucks. They offer multiple ways to make money online, including taking surveys, watching videos, completing offers, and playing games.
When you play Solitaire, Bridge, Mahjongg Dimensions, and Crossword, you will earn iRazoo points, which can be redeemed for free gift cards at leading retailers or cash via PayPal. If you refer your friends and family to iRazoo, they will earn 500 points. Once your referral earns 1000 points, you'll receive a bonus of 100 to 500 points. The number of points you earn depends on the country you're in.
ClipClaps
ClipClaps is a social media platform where you can earn real cash. The primary way to win prizes is by watching videos on your main feed, but you can also make money playing games.
When you play ClipClap's arcade-style games, you'll have a chance to earn cash, or ClipClaps digital currency, known as Clapcoins. You will need to convert your Clapcoins to dollars before redeeming them. ClipClaps is available for download on the App Store and Google Play Store.
How to Make Extra Money by Playing Games
If you want to make money with online games, it's important to remember that you won't get rich doing it. The apps on this list will pay you a few dollars per month at best. The best way to increase your earning potential is by signing up for multiple apps.
For example, you could use Mistplay for gaming, Swagbucks or Inbox Dollars for completing surveys and Drop for shopping rewards. No rules are saying that you can't use more than one app. Your only constraint is the amount of time you want to spend.
Final Thoughts on Games that Pay Real Money
There is no shortage of ways to earn money playing games in Canada. While all of the apps on our list are legit, I recommend trying out Mistplay or Skillz if you're looking for mobile games. If you want more variety from surveys and shopping rewards, try out the top get-paid-to sites, like Swagbucks and Drop.