Is Extreme Couponing Right For You?
Extreme Couponing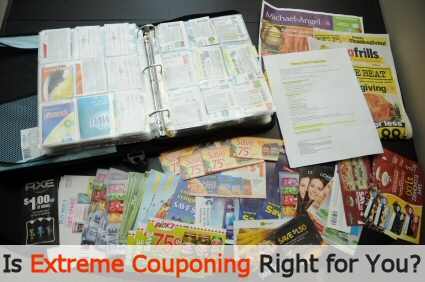 With all the hype surrounding the TLC program, Extreme Couponing, it's no wonder I get weird looks at the store when I go shopping with my coupon binders (yes, that is plural – I have 2 coupon binders).
I've received countless emails from people all over the country, begging me to teach them how to be an extreme couponer in Canada, and one of the first things I ask them is – are you sure that extreme couponing is right for you?
I don't mean that in a rude, "you can't handle it" way, but more of a "are you sure you want to deal with everything involved?" way.
Extreme couponing is hard work. It is not easy. Granted, in my opinion, the hard work is well worth it – but it's worth it for me. It may not be worth it for you. It's important to weigh the pros and cons of extreme couponing before you take a stab at it.
If you're interested in becoming an extreme couponer, consider these points:
1. It takes a lot of time
Couponing in general takes time (I'd say at least 1-2 hours per week, not including actually going shopping), but extreme couponing? That takes a lot more time.
Personally, I spend a minimum of 5 hours per week on couponing. Searching for coupons takes about 2 hours (I do a little bit each day, and sometimes I will walk to the grocery and drug stores in our area and search for tear pads), clipping and organizing takes at least 2 hours once per week, planning my shopping trip takes about an hour and my shopping trip is always at least 1 hour.
That amount of time is only if it's a slow week for deals. If there are tons of deals one week, the amount of time I spend on couponing can easily balloon to 10 hours or more.
2. You will probably be criticised
People who have never used coupons before often call extreme couponers "crazy" and "hoarders". If you choose to become an extreme couponer, this is the type of feedback you have to expect.
Of course, there will be people that will congratulate you on your deals (they may even ask you to show them how to do it themselves), but keep in mind that you will get your fair share of negativity too.
If you want to give extreme couponing a shot, you will need to have thick skin so that the negative feedback doesn't bother you.
3. You need to be organized
If you're not a very organized person, extreme couponing is going to be extremely difficult. Not only do you have to organize all of your coupons, but you have to organize your shopping trips (this is what takes quite a bit of time), your stockpile and your list of available coupon sources (online companies, stores that have tear pads, printable coupon websites).
When I first started using coupons, the hardest thing for me was preparing my shopping trip. I had to make very detailed shopping lists that included all of my price matches, coupons I was going to use and then I had to watch the checkout screen to make sure things were ringing up correctly.
It was very difficult, stressful and time consuming, but in the end I was usually able to walk away with a cartful of groceries for a few dollars. Therefore, for me, the work is worth it.
4. You need a large stockpile area
When you're an extreme couponer, you often get dozens of items for free or very cheap every single week. In the course of one month, I would say I add a minimum of 50 items to my stockpile.
That's a lot of stuff taking up residence in your home. Determine in advance if you have the space to store these items, and always remember to only stockpile what you know you will be able to use before the expiration date.
I'm not saying that extreme couponing is a bad thing (not at all!), and I'm certainly not trying to imply that you shouldn't do it. I just want to stress that it's not for everyone.
I encourage you to weigh the pros and cons before you decide if this is the right decision for you (and if it is, you'll get lots of support here. I have plenty of couponing guides that can help you!).
Do you think extreme couponing is right for you?