Fake Coupons – How to Avoid Them
How to Spot Fake Coupons.
Have you heard about this coupon scam? 3 women in the US were arrested after police found $25 million worth of fake coupons in a counterfeit operation!
Police say that Robin Ramirez, believed to be the leader of the operation, bought the counterfeit manufacturer coupons overseas and then sold them on her website.
Something that many people do not think about when they first start using coupons, myself included, is this: "what if that awesome coupon I just found is fake?". No one thinks about it because the vast majority of coupons are perfectly legitimate, but every once in awhile, a fake one starts making its rounds online.
Here is what to look out for to make sure you are not using fake coupons:
The coupon is printed
Most often, fake coupons will be printed. This is because, in our very technological society, it's relatively easy to create a fake image and post it. Not to mention that anyone can put anything online. While most printable coupons are legitimate, be aware of coupons that you print from a site that does not link back to the company site.
For example, if you find a printable coupon for Ziploc bags, but the coupon is not hosted on Ziploc's website or Facebook page (or a reputable coupon site, such as Save or Websaver), you need to be wary of that coupon.
The coupon is too good to be true
As the old saying goes, "if it's too good to be true, then it probably is". If you find a coupon that seems "too good to be true", it likely is a fake coupon. Free bag of Doritos? Free $15 razor? Free $30 box of diapers? Yep, those are probably fake.
Free product and high value coupons are out there, but be wary of a coupon that is a beyond amazing good deal. For example, high value coupons that offer dollars off ANY product from a company. Think Kellogg's, Kraft, Ocean Spray and other companies that have a large variety of products (example: $5 off any Kraft product).
Typically, coupons are for specific items, not any item, and if they are for ANY item, the value wouldn't be as high as $5 (although sometimes you can get these types of coupons from contacting the company for coupons).
The coupon is missing some important information
Retailers require certain information to be present on coupons for them to be accepted. This important information is is:
Must have "Manufacturer Coupon" printed on them (only some stores require this).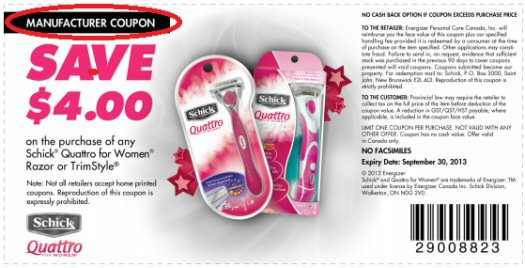 Have have a valid name & Canadian remit address.
Must have a valid expiration date.
Must have a scannable bar code (even though we don't scan coupons in Canada).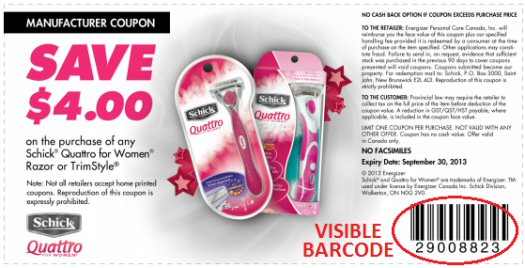 While sometimes you may come across a coupon without an expiry date or the words "manufacturer coupon", if some or all of the information above does not appear, then it is likely a fake coupon. Also, if you find a spelling mistake anywhere on the coupon – that is a sure sign that the coupon is fake.
Check with the company
If you are concerned with the authenticity of a coupon, always contact the company. They will be able to tell you if what you have is a legitimate offer – especially if you did not find the coupon on their website or Facebook page. This will also help them inform consumers and retailers of a fraudulent coupon being circulated.
The best way to stop the spread of a fake coupon is to let people know about it. Share the information on the MapleMoney Facebook page and any other pages or groups you belong to.
This will keep others from unknowingly using a fake coupon. It's all about working together to help save money – but doing it legally.
Have you ever spotted a fake coupon?