8 Ways Friends Can Save You Money
If I were asked to list the benefits of friends my pen would run dry. They know me well, encourage me, make me laugh and the list goes on. And it recently occurred to me that my friends also help save me money. Perhaps you can relate to some of these ways.
8 Ways Friends Can Save You Money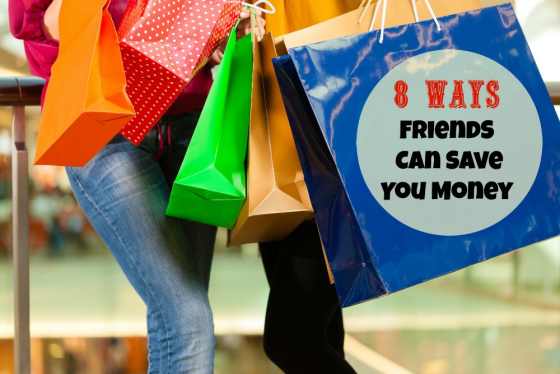 1. Share Things
When I was expecting my fourth, a friend gave me four Rubbermaid containers filled with adorable boy clothes. I was so grateful for her generosity and I was able to give her a like-new Perego car seat. Be willing to ask friends if you can borrow specific items and share freely.
2. Encourage Frugality
Many of my closest friends and family members are on a quest to live simply and save money. Knowing other moms are not buying the "latest and greatest" helps me feel like I'm part of a money-saving team. I'm also less likely to overspend when I shop with my frugal friends.
3. Dine Wisely
It helps me stay on budget when friends have similar views on eating out. We tend to do dinner OR a show (not both). We use social living sites to eat out inexpensively. We split appetizers and order water instead of drinks.
4. Be Vacation Buddies
When it feels like everyone else is travelling to exotic places, it helps to have friends who enjoy more simple holidays. Camp together, hit waterpark sales or rent a cottage together.
5. Swap Coupons
Swapping coupons with a few friends might feel more manageable than joining a coupon train. Save coupons for cat food for your cat-loving friend. Ask them to keep coupons for your favourite shampoo. Just a few trades can help the savings add up.
6. Spot Deals Together
I often share sales and groupons with friends I know will appreciate the savings. And when they do the same for me, we are all saving money. Shopping at the GAP outlet last week, I asked a cashier if there were any current promotions and she gave my whole group an extra 40% off all of our purchases, even though we didn't have the coupon.
7. Rethink Giving Nouns
Friends can help us stay focused on what's important, including our gift-giving. It can feel awkward if you have friends who give expensive presents that are not in your budget. But frugal friends help us remember that "stuff" can lead to clutter and just a desire for more. Brainstorm ways to celebrate each other by making memories instead.
8. Cheer Each Other On
There is nothing like a friend who will celebrate small victories. High-five bargains instead of brand names. Cheer for saving not splurging. Make saving money a challenge and cheer each other on in the game.
I recently helped a friend who felt overwhelmed posting furniture on Kijiji. Within an hour, we had dusted, staged and photographed several large items. I posted the ads and uploaded her pictures. By the next morning she had made $400 cash and cleared out a lot of room. It feels great to help friends save or even make money.
There are infinitely many ways to save money as a smart shopper. Now we can add "forming friendships" to the list.
Did I miss any ways that friends help us save money? Chime in below!