Frugal Family Fun – Marshmallow Moments
Our series on Frugal Family Fun continues – this week, with marshmallows. Get that camera ready! There are a variety of marshmallow activities for kids of all ages and young-at-heart parents.
Activities range from 5 to 15 minutes each. Choose a few and let the gooey games begin.
For these activities, you will need:
Mini Marshmallows
Large Marshmallows
Chocolate Chips/Sprinkles (Optional)
Toothpicks
Straws
Edible Creations
Polka-dot milkshake (coloured ice cream, milk, large marshmallows)
I was pleasantly surprised by how well this idea worked with my kids! Blend ice cream and milk, then cut large marshmallows into thirds (width-wise) and place them on the inside of a glass. Press firmly. Slowly pour in the blended milk and ice cream. Enjoy! (Idea from here.)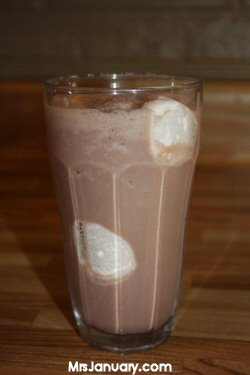 Marshmallow Fun Pops (jumbo marshmallows, toothpicks, melted chocolate, sprinkles)
Place marshmallows on toothpicks (or candy sticks). Dip them into white or dark melted chocolate. Swirl the ends into the sprinkles and enjoy! Note: Our sprinkles only cost a total of $1.12 at The Bulk Barn.
Marshmallow Faces (markers)
I could not resist this blogger's adorable idea for marshmallow faces. If you do a lot of baking, you may already have food decorating pens on hand. I did not, so after seeing these fun faces, I invested in a few of these markers (from Michael's, with a 50% off coupon!) to send silly marshmallow faces in my kids' lunches. You could also use regular markers if you don't want to eat the creations.
Marshmallow Goldfish (graham crumbs, chocolate melts, goldfish crackers)
There are infinite possibilities of marshmallow creations on Pinterest, but this one I especially liked. Melt blue chocolate melts, dip marshmallows in and place the goldfish crackers and graham crumb bottom.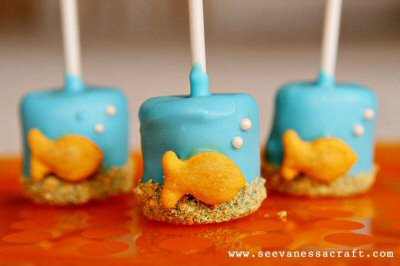 Marshmallow Fun & Games
Deep Breath (straws)
Every person gets one straw and each team has their own bowl. Place a mound of marshmallows on the table. Without using their hands, everyone sucks a marshmallow to the end of their straw, runs and drops it into their team's bowl. The winning team has the most marshmallows in their bowl when the marshmallows are all gone.
Balancing Act (spoons)
Put a marshmallow on a spoon and try to walk from one end of the house to the other. If the marshmallow falls, start again. Mix it up by adding challenges – climbing stairs, dancing to tunes and putting the spoon in your mouth. You can also make it a relay race with teams.
Marshmallow Dodge Ball
Play traditional dodge ball using marshmallows instead of a ball. Just make sure they don't smush into the carpet!
Marshmallow Fling (muffin tin)
Everyone takes turns throwing marshmallows into a muffin tin that is on the floor. Make certain muffin openings worth more points and see who can rack up the most points.
Build It
Marshmallow Engineering (toothpicks)
Construct a house, tower or animals using toothpicks (or icing) to join the marshmallows.
Marshmallow Challenge (spaghetti, tape, string)
See if your family can do this team building challenge in 18 minutes. Build the tallest free-standing structure out of 20 sticks of spaghetti, one meter of tape, one meter of string, and one marshmallow. The marshmallow needs to be on top.
What marshmallow idea do you think your kids will most enjoy?