How to Get Coupon Overage
Coupon overage – does it even exist anymore? After so many episodes of Extreme Couponing, and after so many new couponers popping up everywhere, is it still possible to get coupon overage when you shop?
Why yes. Yes it is! Let me show you how…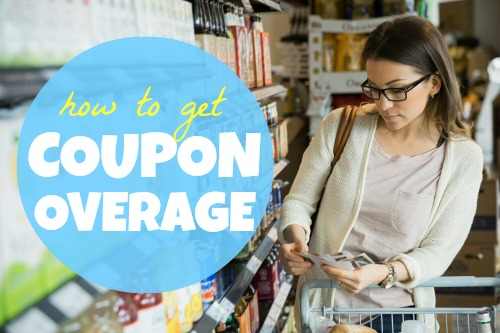 What is coupon overage?
Coupon overage is when you have a coupon worth more than the price of an item.
Example: You have a $3 coupon for a $2 bottle of body wash. Using this coupon would mean you get $1 in overage.
You can use this coupon overage to pay for other items in your transaction or you can get the money as cash back at Walmart.
Which stores give coupon overage?
Currently, there are only 2 stores in Canada that give coupon overage to their customers: Walmart and Giant Tiger.
Since the stores are reimbursed the full amount of the coupons they receive, if they don't give the coupon overage to their customers, they are pocketing it for themselves (as well as a handling fee for accepting the coupons in the first place).
How to Get Coupon Overage
So, how do you get this coupon overage (other than finding the cheap product and having the great coupon)? What you need to do is the same thing you do when you use regular coupons – just hand your coupons to the cashier.
If you ever have any problems with a cashier refusing to give you coupon overage, make sure that you have the store's coupon policy printed and with you so that you can show them that they're supposed to give you cash back or give you the coupon overage toward your other purchases.
You should always have this policy with you when you go shopping – just in case you come across any problems when checking out.
What about overage on FREE/B1G1 coupons?
This is a common question that I get regarding coupon overage. Let me give you the honest truth:
You do NOT get coupon overage on these coupons! I don't care what anyone else tells you – if a coupon says a product is free, you get it for free, you're not PAID to buy it.
Example: You have a coupon for FREE Ziploc, up to a maximum of $7.99, and you want to buy an item that is $5.99 – the cashier would enter in $5.99 and NOT $7.99.
Do you get coupon overage when you go shopping?