Get Paid To Walk: 15 Apps That Pay You for Walking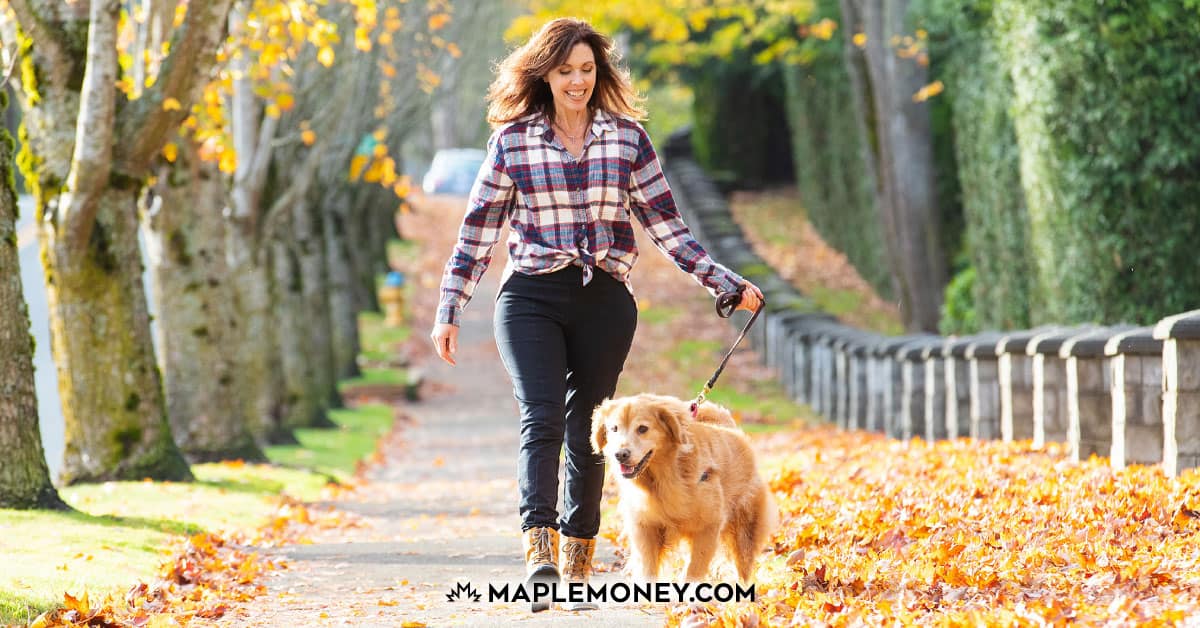 Walking can be a great low-impact exercise. And many of us walk throughout the day as part of our jobs. What if you could get paid to walk? It is, in fact, possible. Check out these 15 apps that pay you for walking and turn your regular health and fitness activities into a little extra something for yourself.
Can You Really Get Paid To Walk?
Yes, you really can get paid to walk. Two types of apps pay you for walking.
One type of app is an activity-related app that rewards you based on the number of steps you take in a day. These rewards can be monetary, discounts, coupons, or prize draw entries.
The second type of app that pays you for walking includes walking as part of a job or specific task. These apps usually pay higher than the other kind. But also involve more concentrated effort on your part.
How Do Walking Apps Make Money?
Apps that pay you for walking make money in a few different ways.
Some make money through display advertising or other forms of advertising from third-party companies.
Other apps make money through affiliate programs where if you buy something with a coupon or discount, the app receives a commission from the sale. This is at no extra cost to you as the commission is paid directly by the company you purchased from.
Some apps take a commission from the money you bet or contribute to the app. These fitness apps take a cut off the top. And the rest of the money is rewarded to the winner of the challenge.
Work or gig apps that pay you for walking make money from a delivery fee or a commission-based model for every job you complete.
Whatever way walking apps make money, it's often behind the scenes and already included in what you can make from the app. The majority of the apps are free to sign up for, making it an easy decision to sign-up.
A Review of Walking Apps Available in Canada
Many health and fitness apps pay you for walking. But not all of them are available in Canada. The following is a list of 15 apps that pay Canadians for walking.
SweatCoin
SweatCoin is an app that lets you convert your steps into sweatcoins, a cryptocurrency within the app. For every 1000 steps, you earn 0.95 sweatcoins.
You can redeem your sweatcoins for various rewards within the app. The app offers limited gift card options, and one drawback is the lack of Canadian offers. You can, however, earn a $1000 payout for 20,000 sweatcoins. But you can only redeem the $1000 payout one time.
With the free Sweatcoin plan, you can earn up to 5 sweatcoins a day and 150 a month. But you can upgrade to a paid Sweatcoin plan that lets you make more sweatcoins daily and monthly.
| | | |
| --- | --- | --- |
| Plan | Cost | Max Sweatcoins/Day |
| Shaker | 4.75 Sweatcoins/month | 10 |
| Quaker | 20 Sweatcoins/month | 15 |
| Breaker | 30 Sweatcoins/month | 20 |
| Troublemaker | $1.29 | 50 |
Features
100% data privacy
No cost to start collecting sweatcoins
Ability to earn $1000 payout
Uses your phone's GPS
HealthyWage
HealthyWage lets you set weight loss goals, bet on yourself and win money when you meet your goals. The top prize is up to $10,000, and you can participate in up to 10 challenges at once.
Essentially you can earn money for losing weight. But your weight loss goal has to be a minimum of 10% of your starting weight. And you are committed to paying your bet if you lose.
Your current weight, weight loss goal, height, sex, waist measurement, and the amount you're willing to bet on yourself all impact how much you can win with HealthyWage. Check out the HealthyWage Calculator for more specific.
Features
Referral program
Earn money for losing weight
Guaranteed payout if you reach your goal
Cash payout (cheque or Paypal) up to $10,000
Optimity
Optimity is the reinvention of the former Carrot Rewards app.
Every day you accumulate more than 6000 steps, you earn points (known as gems). You can redeem these points for Petro Points, Save on More Points, or entries into prize draws.
It's easy to challenge friends on the app, which lets you gain more gems together. You can also earn extra points for completing health and wellness-related quizzes that appear in the Optimity app.
Features
Syncs with your phone, Fitbit, or Apple Watch, Galaxy watch
Referral program
No hidden costs
Ability to challenge friends through the app
Rover
Rover is a dog walking, pet sitting, and boarding app. It lets you set your rates, work on your schedule, and pays you more than other walking-related apps. Some people have used this app to launch their dog walking business.
When signing up to become a dog walker, you can expect a general background check before being approved. Pet owners can use the app to find someone to help with their dog or cat.
Rover has a safe, secure online payment system, liability protection for you, and 24/7 support that includes veterinary assistance if needed.
If you like animals and have a few hours of extra time, Rover may be an excellent side hustle option.
Features
24/7 support and veterinary assistance
Safe, secure online payment system
Work on your schedule
Earn more than other walking apps
Stepbet
Like HealthyWage, Stepbet lets you join games, place a step bet (usually a minimum of $40 is required), and win money if you meet your weekly goals. Games typically last 6 weeks, and all the winners share the pot. If you are the only winner that week, you get the whole pot.
Stepbet helps you determine your step goals based on your current fitness level. And if you reach all your weekly step goals, you're guaranteed to at least get your bet money back.
Having to place a bet on yourself and put money on the line can be a real motivator to achieving your goals. Stepbet has over 1 million players and has paid out over $100 million, with that number increasing daily.
Features
Guaranteed payout if you meet your weekly step goals
It easily syncs with most fitness trackers.
Highly motivating
Stepbet has paid out over $100 million.
Lympo
Lympo is another fitness app with its own cryptocurrency. Tracking your activity will earn you LYM tokens (the app's cryptocurrency). You can then redeem these tokens for rewards such as discounts on fitness gear and gadgets or gift cards. Unfortunately, there is no direct cash pay-out option.
The app runs in the background on your phone. And is an excellent option for indoor or outdoor activities (a feature not offered by every app that pays you to walk).
You can also earn additional LYM tokens by referring friends or completing in-app challenges.
Features
Works indoors and outdoors
Syncs with other apps such as Apple Health and Google Fit
Referral program
Redeem tokens for gear, gadgets, and gift cards
Charity Miles
Charity Miles is an app that rewards you for walking, running or cycling. But you must have the app open to track your workout accurately. You can choose to donate your earnings to one of the app's charities.
There are more than 40 charities to choose from within the app. And although there are no Canadian specific charities, Charity Miles has partnerships with international charities operating in Canada, such as Habitat for Humanity and the Special Olympics.
Features
Earn money to donate to over 40 charities
Earn rewards for walking, running, or cycling
Some charities operate within Canada.
Free to join
MapMyFitness
MapMyFitness is part of the MapMyWalk, MayMyRide, and MapMyRun family of activity and fitness apps owned by Under Armour.
Although you can't earn cash rewards with the app, you can earn discounts and prize entries when you participate in challenges and contests.
Not only will this app track your distance, but you can also see your pace, calorie burn, and elevation, features not offered by many of the other fitness apps on this list.
You can track your steps with MapMyFitness directly with your phone or by syncing your fitness tracker.
Features
Syncs with fitness trackers
Free to join
Earn discounts and prize entries
More data than just total steps
FitPotato
FitPotato is a free app to download, but you will be required to pay to compete for weekly prizes.
Like Stepbet, you challenge others by putting up some of your own money (usually $5 USD). The winners share the weekly prize, and as long as you complete the daily challenges, you are guaranteed to get your money back. And if you're the only winner that week in that challenge, then your winnings increase.
The daily challenges are step-based and work on a 24-hour time frame. If you're traveling and using FitPotato, you may have to be careful with the timezone changes.
Although it will cost you to earn money with FitPotato, you can download it and try it out for free; you just won't win any money that way.
A drawback of FitPotato is that it only works with iOS; you, therefore, will need an iPhone or Apple Watch.
Features
Ability to challenge others
Can test drive the app for free to see if its right for you
Guaranteed payout if you meet daily challenges
Minimal entry fee required for the challenges
Lifecoin
Lifecoin is an app that works with your phone's GPS. You, therefore, can only use it for outdoor activities to earn Lifecoins. Lifecoins are the app's cryptocurrency. And you can redeem your Lifecoins for gift cards or other prizes.
You will earn 11 Lifecoins for every 1000 steps you take a day, with the ability to earn extra Lifecoins through in-app challenges.
The app is available on iOS and Android devices.
Lifecoin also has an ambassador program that is currently in the preliminary sign-up phase.
Features
11 Lifecoins for every 1000 daily steps
Redeem Lifecoins for gift cards or prizes
Works with your phone's GPS
Ambassador program
Runtopia
Runtopia is an app that provides audio coaching that matches your pace to help motivate you to stay active. With the app, you can earn SPC coins (the app's virtual currency). Redeem your SPC coins for prizes, coupons, or experiences within the app.
There have been recent changes with Runtopia, and it no longer provides cash rewards. And it only syncs with specific fitness trackers, so look into if it will sync with yours before downloading.
Another drawback of Runtopia is they now work on a membership model, meaning it will cost you to use this app. But the app does have customized running workouts depending on your goals which may be worth paying for.
Features
Audio coaching for motivation
Redeem SPC coins for prizes, coupons, or experiences
Provides customized running workouts
Data of your activities provided
Beyond Just Walking
As you can see from the list of apps above, except for Rover, the cash payout for walking isn't that great. But it is always nice to earn a little extra for something you are already doing. And there is the potential to win some great prizes.
If you want to earn more money or turn your walking into a side hustle, then you may consider some of the gig or delivery apps listed below. These apps not only pay you for walking but also for completing a task while you are walking. The payout structure for each app varies, so check out each website to decide which option is right for you.
Which Walking App Is the Right One For You?
Each of the apps listed above has its unique features, but there are some similarities.
If betting your own money will help motivate you to walk and stay healthy, then check out these apps that involve you putting in some of your own money:
Or if you are looking for a free app that pays you for walking, these apps will be your best options:
If donating your rewards is appealing about these apps, then Charity Miles is the app for you.
Do you want an app that tracks your steps both indoors and outdoors? If so, then these apps that pay you for walking are the most versatile for that characteristic:
And finally, if you're looking to get paid for walking and maybe turn it into a side hustle then these apps may be what you're looking for: