15 Homemade Gift Ideas for Kids
It's Homemade Gift Week at MapleMoney.com! This week, I will be sharing with you 15 different gift ideas for kids, women, men, teens, and even your pets. I'll give you food gift ideas, crafts that make great gifts, and other DIY projects that work well for gift-giving.
I'm sharing these gift ideas with you, in the hopes that you will consider giving more homemade gifts this year. Not only are they often much cheaper than giving store-bought gifts, but they are also much more meaningful, because you have to spend your time creating them for the recipient.
Today we're talking gifts for kids. Here are 15 gift ideas that kids would love:
15 Homemade Gift Ideas for Kids
Portable Lego Tray
Painted Wood Blocks
DIY Doctor Play Kit
Movie Theatre Kit
Magnetic Paper Dolls
Beginner Sewing Kit
Homemade Sundae Kit
Gingerbread Playdough
Childrens' Tool Belt
Homemade Sugar Cookies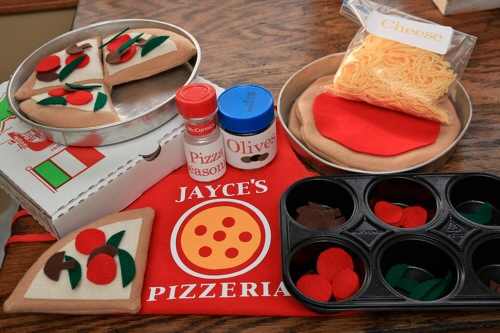 Felt Pizza Kit
Dress Up Play Kit
Felt Hair Clips
Homemade Playdough Kit
Homemade Bubbles & Wands
There aren't many kids that I know, who would be upset about receiving a homemade gift – especially when it's something they really like (such as sugar cookies, or playdough!). These always end up being my kids' favourite gifts every year!
Do you give homemade gifts to your kids?