13 Healthy Halloween Recipes
My family has recently started tracking our sugar intake, so knew I had to be intentional about celebrating Halloween this year. I set out on a quest for healthy Halloween recipes that would be both mom and kid approved.
I was surprised by how many healthy Halloween recipes there were to choose from. We can still enjoy the theme, while being mindful of ingredients. Here are a few of my favourites.
Pepper Jack'O Lanterns
This brilliant mom created edible jack o' lanterns out of peppers. Quinoa filling and chickpea cheese sauce. Must. Try.
This would be great fun to make with the kids. Prep the veggies and create this healthy Halloween recipe together. Perhaps they could each make their own mini skeleton.
I'm confident that my whole family will love these – except for my husband who is Zucchini-phobic. Quick and easy snack packed with vitamins and protein.
I know my boys are going to devour this insect-inspired idea. Nacho chips dipped into cheese sauce with black beans floating.
Apple Bites
Quartered apples and silvered almonds become a healthy Halloween snack with one simple move.
Spooky Spider Dip

Turn a regular 7-layer dip into a healthy Halloween snack by adding plastic spiders and an edible web.
This could be as simple or elaborate as you want. Start with a house carved out of cheese and add as many accessories as you would like.
Rachel Ray's idea to turn tomato soup into a spiderweb with yogourt and a toothpick – brilliant. I'm going to do a trial first to make sure it is as easy as it looks.

With a dollop of whipped cream and chocolate chips, ordinary pancakes become festive.

Pineapple, mandarin oranges and bananas combine to make candy corn more naturally. Why didn't I think of that?
Who says gingerbread cutters are just for Christmas time? They are the perfect backdrop for creating mummy cookies this year.
This might be stretching the term "healthy", but surely having a berry in the centre of that chocolate dip gets a few food guide points, no?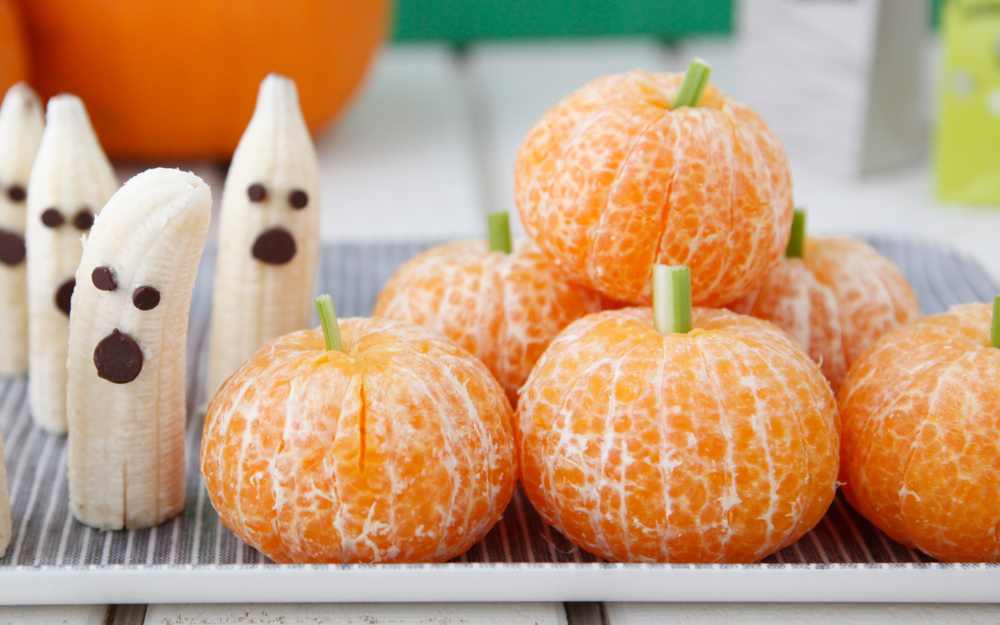 This fruit platter would be perfect to take to a Halloween party for kids. And it's made from ingredients we usually have on hand-tangerines & celery or bananas & chocolate chips.
My boys and I are going to try several of these healthy Halloween recipes the last week of October. Now that the recipe round-up is complete, we can enjoy the fun part of creating them (well, and eating them…..)
Don't forget to check out our other Halloween posts such as:
Which healthy Halloween recipes are you going to try this year?