Homemade Baby Cereal With Only 2 Ingredients
Make Your Own Baby Cereal.
Well… it's happening. Though I keep telling him not to, my baby is growing. The time has come for him to begin eating baby cereal. I went to the store, as I did with my other two when they were babies, picked up a pack of the $5 baby cereal and groaned.
I knew the cereal would last only 1 week. A $5 box of baby cereal would add a minimum of $20 a month to my grocery bill!
I make my own fruits and veggies – but what is it about baby cereal that makes it so expensive? Is there any way I could do it myself and save money? A bit of research confirmed that yes, yes I can make homemade baby cereal!
I found the original recipe for homemade baby cereal on Momtastic. The only issue with that recipe is that it requires about 10 minutes every single time you make it.
Through my own experimenting, I found you can make a large batch of this baby cereal and freeze it in ice cube trays – a big time saver!
If you're like me, you won't believe how simple this baby food is to make (and it's inexpensive, too!).
Ingredients
Whole Grain Oats (Any kind – rolled or steel cut)
Water
Instructions
Put your oats in a food processor, blender or magic bullet and blend into an "oat powder" – this powder can be kept in the fridge for 6 months.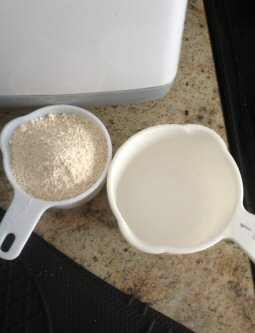 Bring 2 cups of water to a boil in a small saucepan.
Whisk in 1/2 cup of the oat powder.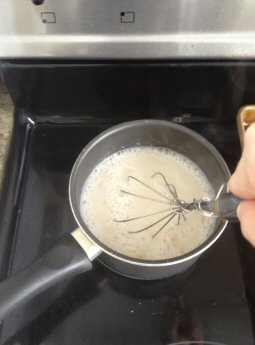 Whisk constantly for 10 minutes
Pour mixture into ice cube trays and freeze.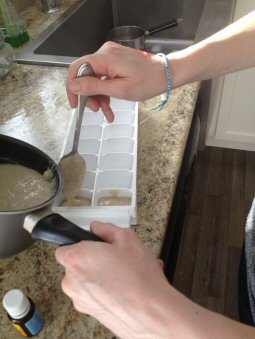 Once frozen, these can be stored in a zip-top bag in the freezer.
To use your homemade oatmeal, thaw in the fridge overnight (or in the microwave ). It thaws a bit pasty/glue-ish, but just add breast milk or formula and whisk until smooth.

Note: You can do this with any grain – long grain brown rice, barley, etc.
One package of rolled oats can cost $5 or less and will last you months. This recipe is also very pure and simple, as baby food should be!
Note: Homemade baby cereal is not iron fortified, and most doctors recommend adding iron to a baby's diet by 6 months of age. You may wish to speak with your doctor about adding iron drops to your cereal.
Do you make homemade baby cereal?