Homemade Dog Toothpaste
Today I'm going to show you how to make
homemade dog toothpaste
. The toothpaste that you can get in the stores for your dog is so ridiculously over-priced. You can make it yourself and it is much, much cheaper.
All you need is some baking soda, a teeny tiny oil (any kind of oil you have on hand is fine) and a little bit of water.
How to Make Dog Toothpaste
So, what you need to start with is 2 teaspoons of baking soda and to that baking soda you add 1/4 teaspoon of water and then a super, super small amount of oil.
Then you can mix it all up until it forms a paste. If you need to add a little bit more water, that's okay, just don't add too much at a time, because it turns into a liquid really fast.
And now, you can brush your dog's teeth with that homemade dog toothpaste!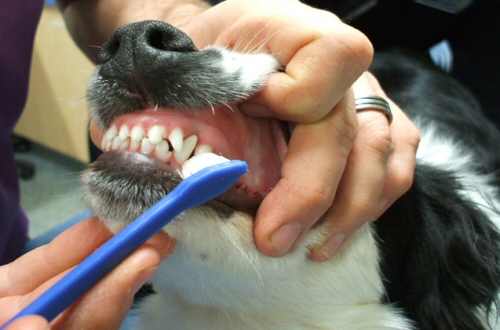 How to Use Dog Toothpaste
I use this dog toothbrush that I picked up at the pet store, but you don't have to use that. You can just use a cotton ball or a little towel, and run your fingers along their teeth.
Dip your toothbrush (or other item) into the toothpaste, and just rub it along your dog's teeth.
You want to be really gentle, obviously, and they will likely try to eat the toothpaste, but they don't hate it and it does the trick, and gets their teeth nice and clean.
Have you ever made homemade dog toothpaste?