Homemade Oatmeal Laundry Soap
Homemade Laundry Soap.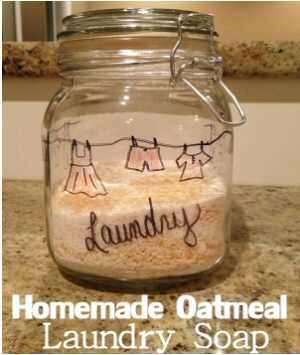 Laundry soap is an item that I will no longer pay for. I stumbled upon a homemade laundry soap recipe from Soule Mama awhile back and I am now hooked on making this item myself. With a few slight modifications, I believe I have the best natural laundry soap in town.
It also meets my 3 natural product requirements. This laundry soap is:
Inexpensive
Effective
Simple (oh so simple!)
DIY Oatmeal Laundry Soap Recipe
Ingredients
1 Cup Natural Oatmeal Soap (or any other bar soap), Finely Grated
1/2 Cup Borax
3/4 Cup Washing Soda (recipe here)
1/2 Cup Baking Soda
First thing's first – add the grated soap to a large mixing bowl. I use a natural oatmeal soap, but any bar of soap will work. I have a little one with eczema and a newborn, and I love how gentle the oatmeal soap is on the skin.
Tip: Approximately 3/4 of a typical bar of soap is one cup.
Approximate cost per batch: $1 (much less if you use non-oatmeal bar soap)
Best Price I've found: Bulk Barn or Michaels (for natural oatmeal)
Step 1: Add 1/2 cup Borax to the mixing bowl.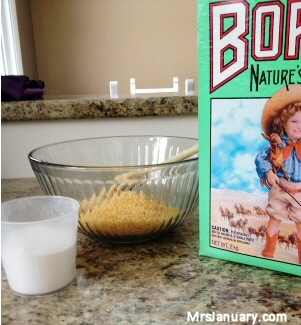 Borax is a naturally occurring substance that will help to remove stains from clothing.
Approximate cost per batch: $0.50
Best price I've found: Walmart
Step 2: Add 3/4 cup washing soda to the mixing bowl.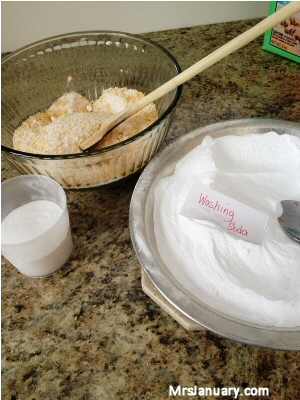 Penny shares how easily baking soda can be made into washing soda – simply bake at 400 degrees for 30 minutes, stirring occasionally until it becomes grainy.
Washing soda helps get out odours, so it's necessary in this homemade laundry soap recipe.
Approximate cost per batch: $0.60 (if cooking baking soda)
Best price I've found: Bulk Barn
Step 3: Add 1/4 cup baking soda to the mixing bowl.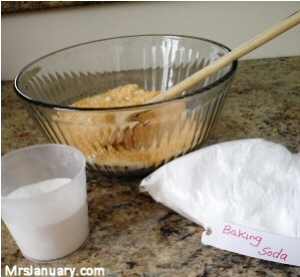 Baking soda acts as a clothes softener and whitener. Honestly – what can't baking soda do?
Approximate cost per batch: $0.20
Best price I've found: Bulk Barn
Step 4: Mix all ingredients very well and store in an air-tight container.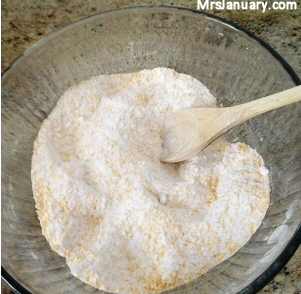 To use: Add 2 tablespoons per load of Laundry. I also add in a splash of vinegar with each load to help with stains – and I promise your clothing will not smell like vinegar!
When you transfer your clothes to the dryer, consider using a balled up piece of aluminum foil (about the size of a ping-pong ball) instead of static cling sheets. Change the foil weekly for best results. I have had great success with this tip!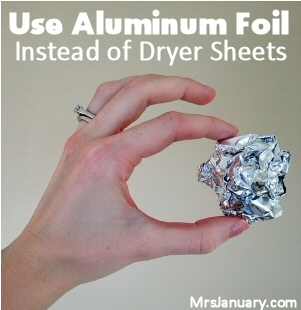 Total cost for 20 loads worth of laundry soap: Approximately $2.30 (only $0.12 per load)