Stockpile for a Lower Grocery Bill.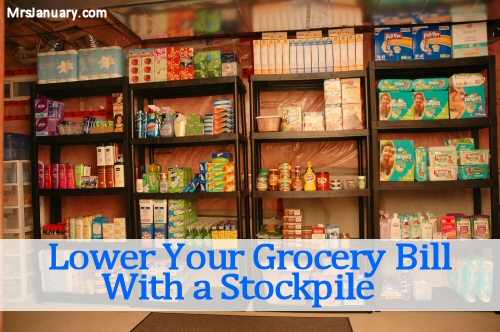 When you learn to stockpile, you are setting yourself up for a better financial future – when it comes to your grocery bill, that is.
Stockpiling groceries saves you time, money and stress – and a stockpile is not that hard to set up. It just takes time.
I promise that you will lower your grocery bill if you create a grocery stockpile in your home. If you're ready, here's how to get started…
Where to keep your stockpile
If at all possible, try to set up your grocery stockpile in one location and only keep your stockpiled items in this space. A basement or garage is ideal, but I realize you may not have those spaces to use for a stockpile.
If that's the case, consider alternatives. An unused closet, a single stand-alone shelf in one room of your home, and if you have to – all over the house (food stockpile in the kitchen, health stockpile in the linen closet, beauty stockpile in the bathroom).
If you're looking for stockpile ideas, this post should help: Stockpile Storage Ideas
How much to stockpile
When it comes to how much you should stockpile, the answer is not the same for everyone. You need to decide for yourself how much you should stockpile based on a few factors:
Do you have the room to store things for a long period of time (1 year or more)?
Will you use up the items before they expire?
Do you have the extra money to spend on many stock-up items?
If your answer is yes to all 3 questions, you may decide that you would be comfortable knowing that your stockpile will last 1 year or more.
If your answer is no to any of the above questions, it may be a good idea to think more short term when it comes to your stockpile storage, such as 3-6 months.
How do you know when to stock up?
I get asked this question a lot: how do I know if a deal is so good that I should stock up?
To be honest, this is something you learn over time. The more you shop frugally, the more you watch your prices, the better you will become at determining a good deal from a mediocre or bad deal.
Until then, you can refer to my own personal stock up price list, which lists the top price I would pay for certain items we use regularly in our home (your pricing may vary).
How to start stockpiling
My best advice when it comes to starting a grocery stockpile, is to start small. Please don't compare your shopping habits or your stockpile to anyone else – this may end up leaving you feeling discouraged and not as "up to par" as someone who has been doing it longer than you.
Take your time. A stockpile does not magically appear over night. It takes months and months (or even years) to create a stockpile that will last you awhile.
Set aside a bit of money each time you go grocery shopping and stock up on sale items as you see them. Once you have stockpiled enough of each item, don't buy any more until you start getting low again.
After a few months, you will see your stockpile start to grow. After about a year, you should have a decent sized stockpile that is likely to last you for quite some time.
If lowering your grocery bill is a goal of yours, consider giving stockpiling a try. It will not only help you to save money, but it will change the way you shop – for the better!
You will always have what you need on hand, you will be able to quickly decide if something is a good deal or not, and you will have the freedom to avoid grocery shopping for a week (or more), if you choose, because you already have lots of groceries in your grocery stockpile at home.
Do you have a grocery stockpile?