Make your own indoor park
This indoor park activity has saved me time and time again. It's ideal for days when it is rainy, terribly cold, or terribly hot – which seems to be happening more and more frequently these days.
My toddler loves going to "inside parks" on days like this. Adventures on Wonderland and Kidscape are two of his favorites – but these are expensive (and sometimes busy and dirty).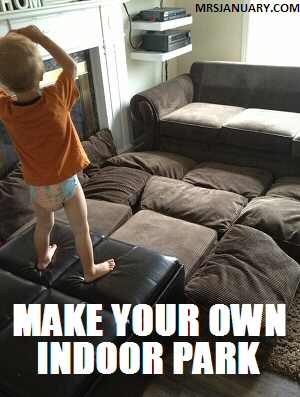 We had the idea to make our own inside park one day – and what a hit it was! We now regularly make our own indoor park right inside our house, changing little things here and there, but always keeping our favorites.
How to make your own indoor park
Decide on location
Where would you like to make your park? Choose a place that you can easily supervise and that has a lot of space. This is something we change often when we make our park. A new location means new couches or beds, pillows and blankets, and therefore a brand new park!
Decide on activities
This step is great for toddlers as it allows them to have control (don't all toddlers LOVE control?). It also allows them to make a plan and think about what is to come in the future. Planning skills are very important and just beginning to develop in our toddlers. Here are the activities we love:
A big spot for jumping
A spot for sliding
A place to jump from
A place for balancing
A place for climbing
A tunnel
A special car (This is my Sammy's favorite activity at Kidscape. They have Plasma cars. He insists that we recreate the special cars when we make our indoor park, which usually means bringing one of his trikes/bikes in the house to the upstairs hallway.)
Jumping pit/bouncy castle
We decided to take all of the pillows off of our sectional and position them on the floor to make a jumping area. This also allowed me – well, forced me – to vacuum under those cushions!
Perhaps because our cushions are brown, I'm not really sure, but this time our jumping pit evolved into a "mucky mud pit" in which my toddler kept getting stuck and had to be rescued by his Mama.
A jumping cliff
This one may be seen as dangerous, so I caution you to do this only if you feel comfortable and safe in doing so. My toddler would be jumping off of something anyway, so I try to provide him with a safer platform to do it from. We pulled our cushioned footstool/ottoman to the jumping pit for my stunt man to do his thing from.
A slide
Our slide was rather pathetic this time. We propped up the end to the toy box to slide down. He kept getting stuck, and it was rather slow. But, my Sammy had a great idea! He remembered this problem from before and grabbed a little blanket to sit on. When I pulled the blanket it made a great, quick slide. And a great arm workout for me, too!
A climber
My little one loves to climb. Which is why our couch is positioned well away from our half wall. I let him have free rein of the couch for this activity. He climbed up the armrest, slid down the back of the couch, pulled himself up onto the couch from the back, and had a blast. Of course, I closely monitored his play.
A tunnel
This one was more for my 9-month-old, but of course, because it was, my toddler loved it very much and did not want to share it with his brother. We slid three kitchen chairs together and covered with a blanket to make our tunnel. The boys spent a long time crawling through again and again, and then pushing trucks through, rolling a ball, etc.
A balance beam
We folded some towels lengthwise (quite narrow) to use as balance beams. We added some obstacles that had to be jumped over to keep it interesting.
My kids will play with us at our indoor park for quite some time. By offering suggestions and ideas to change the play a bit, they will play even longer! Adding a ball to roll through the tunnel or down the slide is a great way to extend the play. A truck or car will do the same.
We ended our morning with an obstacle course. This is a fun challenge and a great activity for toddlers as they need to remember a sequence of actions. Depending on the age of your child, 2-5 steps would be ideal. We used 4 (1. Climb through the tunnel, 2. The balance on the beam, 3. Jump into the pit, 4. Run along with the couch). He had a great time!
I love finding activities that are great for little minds and bodies and can be done at home with materials you already have. This indoor park is definitely one of my favorites.
Do you make indoor parks for your child at your home?