Moka Review (previously Mylo): Invest Your Spare Change by Automating Your Savings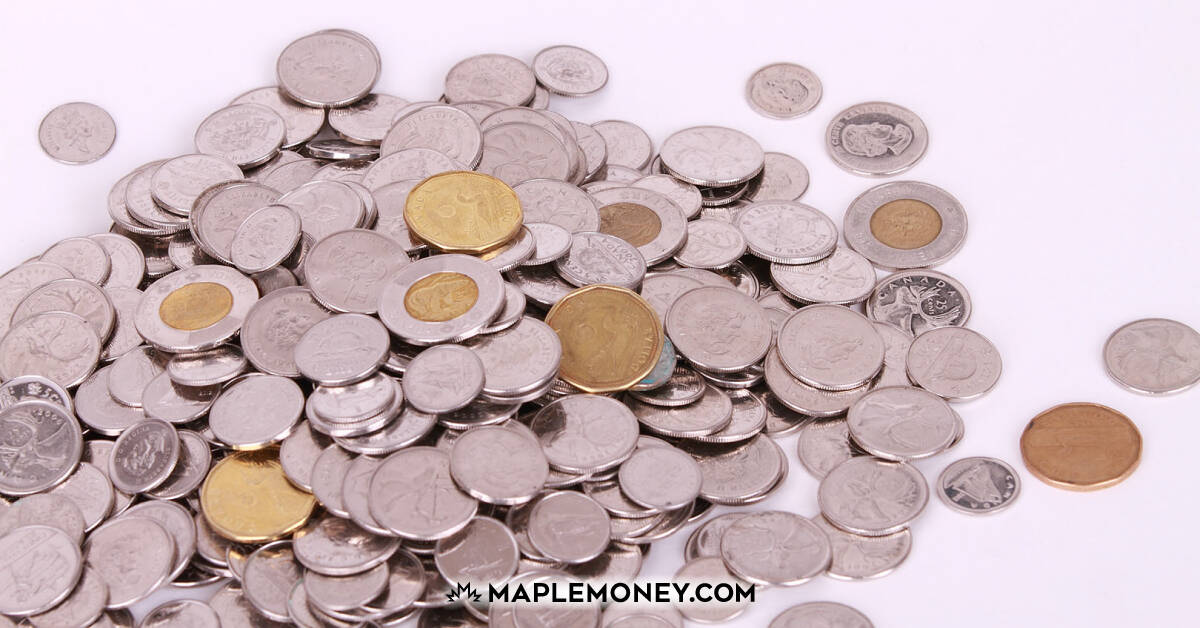 Nothing may be more important than automation when it comes to reaching your savings goals. No matter how hard they try, most people cannot save consistently if doing so requires a manual process. Moka is a revolutionary app, the first of its kind in Canada when it originally launched as Mylo, that not only automates your savings, it does so in such a way that you'll hardly even notice.
Like Acorns in the U.S., Moka links to your primary debit and/or credit card and rounds up all of your purchases to the next dollar. It then withdraws the 'spare change' and invests it inside a low-cost ETF portfolio you set up when you open the account.
What makes Moka especially unique is that it's designed with your specific savings goals in mind. As I'll explain in more detail later, Moka wants to know what you're saving for, and they'll help you create a plan to make it happen. I found the concept so unique that I thought I'd test it out myself by opening my own account.
Update: MOGO Acquires Moka Financial
In March of 2021, MOGO, the digital payments and fintech company, announced that it would acquire 100% of Moka Financial Technologies for $64 million. According to the press release, the "acquisition will form the core of MogoWealth, leveraging Moka's investing platform and team," and "accelerate the planned launch of Mogo's free stock trading solution, further expanding Mogo's digital wallet capabilities."
While this news is very recent, it appears as though there are big changes in store for Moka as an investing app, and it will be interesting to see how things develop with MOGO at the helm.
How to Start Using Moka
As soon as you download the Moka App, you're ready to open your account. To get started, Moka will guide you through a series of questions designed to establish an investor profile. Moka will want to know about your investment experience, the time horizon for your savings goal, and your risk tolerance (how you will respond if your investment were to drop in value).
From there, Moka will prompt you to come up with a savings goal or goals. This is where you name your goal. For example, you might decide that you are saving for a winter getaway. You'll then assign an amount to that savings goal and a date by which you hope to reach it.
It's important to make your savings goal a reasonable one and avoid being too aggressive with the date you plan to reach it. You want this to be a motivating exercise, after all. And don't worry if you haven't figured out your savings goal right away; you can always adjust or add another later.
Start Saving With Moka Today and get a $5 bonus!
3 Ways to Save Using Moka
Moka has a tonne of unique features. You can open a variety of account types, including TFSAs and RRSPs. You can even donate to your favourite charity. But at the centre of it all are 3 unique savings features: Roundups (including multipliers) One Time Boosts, and recurring deposits. This is where the magic happens. You can see that my options have been 1x Roundups with a $5 recurring deposit.
Roundups
Roundups are the main savings feature of the Moka App. The concept is simple. You make a purchase, and Moka rounds up to the nearest dollar. The spare change is then deposited into your investment account, and chances are, you haven't even noticed the extra money that's left your account.
How Roundups Work
Using a simple example, let's say you purchase a pack of gum for $1.25. Moka will instantly move $.75 into savings. If you want to save more quickly, Roundups can be multiplied up to 10X. And Moka has added plenty of flexibility as well.
If you need to place your contributions on pause at any time, you can disable Roundups until you want to start again. What happens if your balance drops? Moka won't withdraw any Roundups if your account balance has dropped below $25, preventing a potential overdraft situation.
One-Time Boosts
Sometimes you discover that you have a surplus of funds in your account. Rather than be tempted to spend, you can apply a One-Time Boost to your next transfer. This lump sum payment feature makes it even easier to save. The minimum Time Boost is $5.
Recurring Deposits
Automating your savings is one of the best financial decisions you'll ever make. Moka Roundups are one way to do this, and recurring deposits are another. Like just about everything else on the Moka app, the setup is quick and easy. You begin by assigning a goal to your frequent deposit. You then choose your funding preferences and enable the recurring debit.
Moka Round-Up to Give
Moka doesn't just make savings easy; they make it easy to give too. Through Round-Up To Give, Moka allows you to select a Canadian charity and set a donation goal the same way you would a savings goal.
Every time you use your connected debit or credit card, Moka collects the spare change and donates it to your favourite charity once a month. A 2% administration fee is paid to CanadaHelps, which partners with Moka to distribute the charitable dollars.
Over time, a few cents can turn into a significant contribution to a cause you care about. According to their website, you can select from over 86,000 Canadian charities, and at the end of the year, you'll receive a tax receipt for your donation.
Moka Pricing
There are two Moka plans you can choose from. What we'll call Moka Standard, for $3/month, and Moka 360, which is $15/month and comes with a money-back guarantee. Let's take a look at what you get with each:
Basic Moka Features:
$3/month
Fast withdrawals to your bank account (within 1 business day).
Automated saving features

Unlimited tax-free investment accounts

Socially responsible investing

Charitable giving

Cashback from Perks – earn rewards from Moka retail partners
Moka 360
For $15/month, Moka 360 provides enhanced debt repayment services, making it more than just a round-up savings app. Features include a customized debt plan, access to personalized financial advice, and a 200% money-back guarantee if you don't save what you pay in the first year. You also qualify for Double Cashback from Moka Perks, which is a nice bonus. Here is a breakdown of Moka 360 features:
Moka 360 Features:
All Moka's standard features.
$360 refund if you don't save what you pay in your first year
Save money by letting us negotiate your bills.
Access to personalized financial advice.
Create a customized debt plan.
Earn double Moka cashback Perks when you shop.
Moka Investing: 3 Types of Moka Accounts
Moka now offers three investment accounts: a basic non-registered account, a TFSA, and an RRSP. Let's take a closer look at each account's benefits and how they work within Moka.
TFSA
With Moka, you can open a Tax Free Savings Account (TFSA) for a fee of $3/month. It doesn't matter if you already have a TFSA with your main financial institution. Still, if you do have more than one, you'll be responsible for making sure that you stay within the allowable contribution limit between all of your accounts.
For 2021, the annual limit is $6,000. The beauty of this type of account is that any income earned by the investment is tax-free. With Moka funds being invested in market-based ETFs, you have the potential to earn a higher return than you would in a standard savings account, and you can get at your money any time. The $3 fee may be a turn-off for some, but if Moka helps you reach your savings goal sooner, it just may be worth it.
Basic Non-Registered
For conservative investors or those with a very short-term outlook, a tax-free account may not be necessary. Instead, a Moka non-registered account might be the best choice. As short-term savings towards a vacation, you can see how my portfolio is in cash and high-interest savings.
RRSP
You can now use Moka as part of your retirement strategy by opening an RRSP account. Because Moka will invest your money in one of 5 low-cost ETF portfolios, they have solutions for the long-term investor.
When opening a Moka RRSP, it's important to accurately answer the investor profile questions to make sure you're invested properly. Just like an RRSP held at your main bank, you'll receive a tax receipt for contributions you make throughout the year.
You'll also be able to select a beneficiary for your account. RRSP accounts are available for $3/month.
Moka Investment Management
Moka Investment Portfolios are managed by Tactex Asset Management, a subsidiary of Moka Financial, and a Canadian-based wealth management firm that's been around since 2011. Tactex's Moka portfolio management team is made up of 4 investment professionals, including Tactex's CEO, Dr. Liam Cheung. Tactex Asset Management is listed as a registered portfolio manager in all ten Canadian provinces.
Socially Responsible Investing
More and more Canadians are choosing socially responsible investments that align with their values. As I alluded to earlier, Moka accountholders can make this choice by investing in the Moka SRI Fund.
Is Moka Safe?
Moka is safe to use. In fact, Moka uses the same security encryption that the major banks use, and they take your privacy seriously, with a comprehensive privacy policy.
Refer Your Friends to Moka
I noticed that as I was getting started with my Moka account, I could earn $5 through the Moka Referral program, and the person signing up also gets $5 (use my link to get $5 when you sign up).
Because Moka is geared towards a younger clientele or those new to investing, it's a great incentive to help your friends start investing. In fact, if you were successful in making referrals on a fairly regular basis, the $5 bonus would more than cover the monthly $3 fee, making it a free savings tool.
Moka App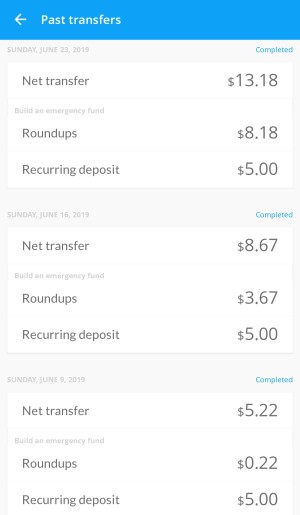 The more I use fintech apps, the more I'm blown away by their ease of use. My experience with the Moka app was no different. Opening an account with a traditional bank seems archaic by comparison. As I mentioned earlier, the process was a breeze, as the Moka app flowed through a series of questions designed to get to know me and my savings goals.
It made a secure connection to my main chequing account, set up a small recurring debit, and got my Roundups going almost instantly. I'm really looking forward to watching my savings grow in the coming months. I have savings going to my goal every week, though a multiplier would help me get there sooner without needing to shop more often!
Moka vs. Wealthsimple Roundup
Moka isn't the only fintech company making headlines in Canadian savings. Canadian robo-advisor giant Wealthsimple is another leader in the market and offers a similar feature to Moka, called Roundup. Wealthsimple's Roundup feature rounds up your purchases to the nearest dollar and adds it to your Invest or Save account. There is no cost to Wealthsimple's option, but it exists as a customer acquisition strategy, so you can only save with them.
Who is Moka Best Suited for?
I hope you've enjoyed this Moka app review. While Moka is clearly targeting young adults who are new to saving and investing, I feel like the app can be a great tool for just about anyone. After all, even the most experienced investor has smaller, short-term savings goals that arise from time to time. Best of all, Moka makes saving money a lot of fun.