Negative Effects of Extreme Couponing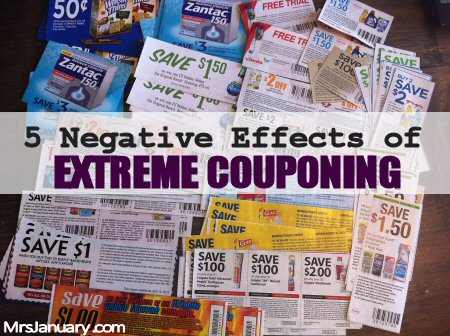 You know, when Extreme Couponing first aired on TLC, I was excited. I couldn't wait to watch episode after episode of other couponers getting stuff for free at the grocery store. And for the first season, I really did watch every episode – and I loved them all. Each one had me excited to go shopping.
Now, many seasons later, I really believe that everyone should avoid watching Extreme Couponing, because the show has created a lot of serious issues for those of us that regularly use coupons (and yes, I know these problems existed before the show aired, but it has definitely become much worse).
It also makes new couponers believe that you can always walk into a store and save 90% or more on your grocery bill, which is simply not true. Extreme couponing can be very good, but it can also be very bad.
Here are the negative effects of extreme couponing:
1. Newspaper Theft
That's right, people are stealing newspapers to get the coupon inserts inside. They are stealing them from driveways, in stores (the coupons inside, not the paper itself) – anywhere they can get them. I don't care if it's just coupons – when you take something that does not belong to you – that's theft.
2. Tear Pad Theft
Have you ever heard about a great tear pad coupon and went out trying to look for it, only to find all of the stores completely wiped out? This is common, and it is usually due to the fact that instead of taking a few, people are taking entire tear pads full of coupons.
What are they doing with those coupons? Some may be using them themselves, some may use them for coupon trading, but most are actually selling these coupons on eBay for a profit. This, again, is theft in my mind.
3. Store Policy Changes
We have seen a lot of changes to store coupon policies in the last year or two – and not in a good way (for most stores). Look at a store like London Drugs – they used to be one of the best stores to shop at with coupons because they allowed coupon stacking.
Now, they have so many restrictions on what they accept for coupon stacking, that couponers aren't shopping there as much. This is not just London Drugs, but many other stores in Canada have been changing their coupon policies because of extreme couponers.
4. Manufacturer Coupon Changes
Just like stores are changing their coupon policies, manufacturers themselves are also making changes to the wording on their coupons. P&G is a great example. I remember when I used to get tons of free (or cheap) P&G products because there were no limits on their coupons.
Now, you can't use P&G coupons on most travel size items or on bonus packages. Also, some of their coupons have restricted the use to only 4 of the same coupon per person.
5. Shelf Clearing
I'm sure we've all experienced this at some point – you walk into a store, planning to pick up a bunch of stuff that is on sale and will be really cheap (or free) with coupons, and you notice that the shelves are completely bare. Not a single item left for you (or anyone else).
Now, this doesn't mean an extreme couponer cleared the shelf, but if the item was supposed to be free or dirt cheap after coupons, then the odds are likely that a couponer (or multiple couponers) cleared the store out of stock.
Let's not forget that extreme couponing really can be a good thing, but only if you play by the rules. When people start getting greedy, that's when things can get ugly and that's what gives extreme couponers a bad rap (have you ever been to the store with your coupon binder and been asked if you're "one of those people"?).
Play nice, play fair and we can all win with extreme couponing!
What would you add to this list, if anything?