Preparing for a New Baby – 8 Tips for an Easier Transition
Are you pregnant with your first child, and a bit nervous about everything you need to do to prepare for a new baby?
If so, you're not alone. From 2012-2013, there were a reported 383,822 pregnancies reported in Canada, according to Statistics Canada. I can almost guarantee that a large percentage of those pregnancies are of first-time parents that are scared to death of "doing it all wrong" and being completely overwhelmed with how their lives are about to change.
Don't be scared. The best thing you can do when preparing for baby, is to learn the basics of bringing home an infant. Don't try to learn too much – because, really, there is only so much you can actually do to prepare for a child. Parenting is much more a "learn as you go" type of gig.
To help get you started, here are just a few things that you can do to prepare for a new baby…
1. Learn about the birthing process
Read books, talk to other mom's, check out websites such as Baby Center and Pregnancy. Talk to your doctor. Learn all there is to know about giving birth, so that you are mentally (and physically) prepared when the time comes.
Even if you are not planning on having a c-section, I strongly suggest that you read up on that as well. From my own personal experience, I can tell you that sometimes, things don't go as planned. There's not much scarier than expecting to delivery your baby the "normal" way, and then being told that you have to go into surgery so that doctors can deliver your baby for you.
Don't forget to sign up for a childbirth class. Most hospitals offer them free of charge. Even if there is a fee involved, it's well worth it to know exactly how the birthing process goes.
2. Pre-register
The last thing that you want to worry about when you're in labour, is registering at the hospital. If you are having your baby at a hospital (as opposed to a home birth), one of the best things you can do for yourself is to pre-register.
Once you get that taken care of, you can easily walk into the hospital when you're in labour, give them your name, and you will go straight to a room to have your baby.
You do not want to be doing paperwork when you're labouring. Make sure you pre-register!
3. Decide on a pediatrician
If you want your child to have a pediatrician instead of just going to your family doctor, make sure you seek on out in advance. Ask your friends, family, neighbours and colleges for recommendations, but don't just take their word for it.
Do your own research, too, and look up pediatricians online. Find reviews. Look up the reviews of your recommended doctors. If you can, set up a meeting to talk with some pediatrician before you give birth to see who you "vibe" with the best.
When you find that perfect doctor, make sure you "sign up" with them, so they are ready and waiting for you to bring in your new bundle of joy.
4. Line up daycare
If you're planning to go back to work soon after your baby is born, make sure you line up daycare for your child as soon as possible. Many daycare centers fill up very fast and it's hard to get your child in, especially an infant – so sign up your child as soon as you can.
Don't just complete this task and then cross it off your list. Make sure you call your daycare provider once your baby has been born to confirm your spot and a few times throughout your maternity leave. Make sure they don't forget about you!
5. Purchase needed baby items
Make a list of what you think your baby needs when they are born. Then, eliminate about 50% of the items from your list – because, really, babies don't actually need that much stuff.
Here are actual baby necessities:
Somewhere to sleep
Car seat
Stroller (for some)
7 Onesies
7 Sleepers
10 Diapers per day for the first few months
High Chair
Breast Pump (if you're breast feeding)
Bottles & Bottle Brush
2-3 Pairs Stretchy Pants
8-10 Swaddling Blankets
Snowsuit (for Winter babies)
Sun Hat (for summer babies)
2-3 Pairs Socks
Don't pay any attention to the people that tell you that you have to buy a change table and a wipes warmer and a Diaper Genie. You don't. I've had 2 kids of my own and I promise – you don't need that stuff.
6. Prep baby clothes
Wash, sort, fold and store all of your baby's clothing, as well as their blankets and anything else you think needs washing. To make finding what you need easier once baby comes, try to store all of your baby's clothing in one area.
Take a look at what you already have for your baby. Do you need anything else? If so, make a list and get to the store to do some shopping. Pick up what you need and then that's it – don't buy anymore. Even if it's "so cute". Don't buy more than you need!
7. Pack your diaper bag
About a month before your due date, start putting together your diaper bag so that it's ready for you when you need to go to the hospital. It's essential to keep this bag packed and in an easily accessible spot of your home so that you can easily just grab it and go when the big moment arrives.
Some things you may want to include in your diaper bag are:
2-4 Baby Outfits
2-3 Mommy Outfits
Diapers & Wipes
Changing Pad
2-3 Swaddling Blankets
Socks for Mommy
Toiletries & Personal Items
Camera
Diaper Rash Cream
Breast Pump (if breastfeeding) + Nursing Pads
1-2 Pairs Socks for Baby
Don't leave this task until the last minute or, I promise you, you will not be very happy when you realize you're in labour and don't have anything packed! Get it done and this will be one less thing to worry about when you're working through contractions.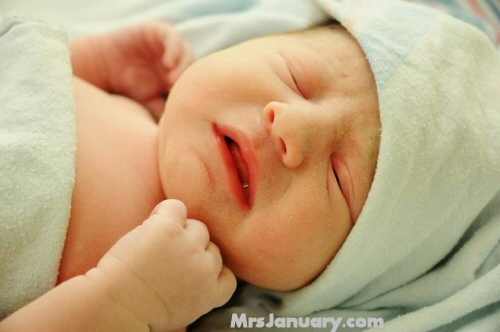 8. Set up the crib
Whether it's in a crib, a Pack N Play, or in bed with you – make sure that your baby's sleeping quarters are ready for their arrival. Keep blankets and sheets near by. Include a lamp, as well, for late-night feedings and diaper changes. If your baby is sleeping in a different room than you, a baby monitor may be a good idea, as well.
If your baby is sleeping in a crib, remember to never buy this item used. It's against the law because it's dangerous for your child. The same goes for crib mattresses as well.
Remember not to add any "fluff" to your baby's bed, either, such as crib bumpers and pillows. Soft materials pose a suffocation hazard for your child, so don't use them at all.
Bringing a child into the world can be scary, so the more you prepare yourself, the better off you will be.
At the same time, don't try to learn everything (mostly because that's impossible, but also because it will start to drive you crazy). Being a parent is something you learn over time – not something you can learn by reading a few books or websites.
If you're having your first child, what are your fears? If you've already had a child, what are some tips you can offer soon-to-be parents?