How to pamper yourself without spending a ton of money
Pamper yourself!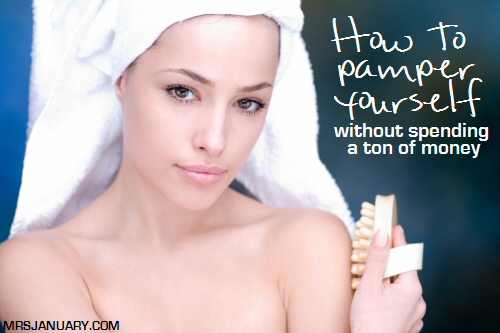 There is nothing more refreshing than a trip to a spa. But alas, the price tag can make this splurge out of reach for many. I would like to offer some ideas about how you can pamper yourself, without breaking the bank.
The early years
When my boys were little, sometimes pampering involved dipping my toes in the tub while I gave them their nightly bath. They loved swimming under my leg bridge, and that was sometimes my only pause for the day.
Make the ordinary special
If you have a bathtub, why not try to slow down just long enough for one bubble bath a week (I'm talking to myself here, too!)? Float a few petals and pour in some bubbles.
Registered massage therapist
If you have chronic stiffness or pain in your neck or back, you can legitimately request a doctor's note for a massage. If you have one, check your family's benefit package to see if you have coverage for any massage.
It will have to be with a "Registered Massage Therapist" in order to qualify and so you can have your insurance cover the treatment, though. It's fairly standard to receive around $500 annual coverage, which averages about 4 x 80 minute massages. Once you have a 80 minute massage, it's hard to book anything less!
If possible, I highly recommend finding a registered massage therapist at a spa. My personal favorite is the Silvery Blue Butterfly. If you go an hour before your appointment you can enjoy the hot tub, sauna and relax in their dimly lit lounge in a luxurious robe. Ask for a highly recommended spa in your area and see what amenities they offer.
My friend once enjoyed a therapeutic massage at a nearby four-star hotel. Without being a guest, they invited her to enjoy their indoor pool, hot tub and lounge area for the entire day because her massage was booked.
Pampering pedicures
At a mother's group I attended, we planned to treat our feet during one of our meetings. We each brought:
A bucket comfortable for both feet (sounds obvious, but I gave myself a foot cramp because my bucket was too small – that's the exact opposite of relaxing!)
Our own pumus stone
A towel
Bubble bath and delicious smelling soap to share
One mom was the hot water runner. She kept getting hot water and refreshing our buckets. A few moms offered to give pedicures/manicures to each other. We all left feeling rejuvenated, without spending a dime.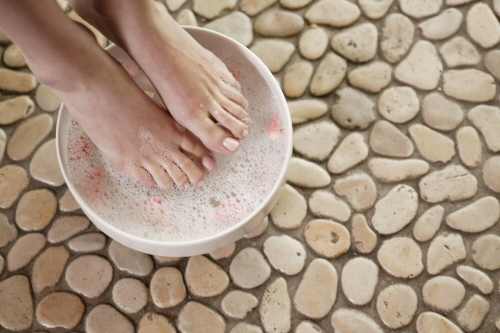 Girl's night in
Invite a few friends over, and set the stage for a relaxing evening. Dim lighting, candles, mellow music. You could also order in some food or each bring a snack to share. I recommend appetizers and smoothies.
The website Recipe Goldmine has many recipes for homemade face masks for different skin types. Just search "facial masks" and pick a few to try.
Soak your hands and take turns giving each other manicures.
Book an aesthetician (a student, to save money) to do everyone's make-up. They often need to gain experience in their field towards their accreditation, so they won't be expensive.
While someone is having their make-up done, warm a damp facecloth in the microwave to place on the back of their neck.
A make-up artist who sells products would also be thrilled to do a make-up lesson. There will not be a cost, but their products will be available to purchase if you wish.
Marry a massage therapist
Why didn't I think of this idea 15 years ago? Just kidding, honey, in case you are reading this…
We can all use a bit of pampering to help us feel refreshed. However, we don't have to spend a bundle of money at expensive, fancy, over-the-top spas and salons.
With a bit of creativity, you can have your own spa experience without spending a fortune.
Do you have any ideas for pampering yourself on a budget?