Paying off debt vs. saving for emergencies
Save for emergencies or pay a debt?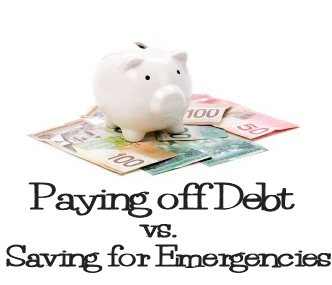 A question that I am asked on a regular basis is whether or not I believe you should start saving money while you are still paying off your debt. My answer is always a resounding YES!
Many people may argue that you will end up paying more in interest on your debt than you will make with your money in a savings account and while this may be true for most, it shouldn't deter you from saving.
Why is an emergency fund important?
Having an emergency fund with cash readily available at all times is crucial in ensuring that you don't add even more debt to the existing pile when an emergency comes around.
It's not a matter of if a true emergency is going to present itself, it's a matter of when. Your car could break down, you may have to take time off work due to a serious illness, or you may get let go from your job altogether. All of these situations are considered an emergency and having money set aside for them will be extremely beneficial to your financial situation.
Why not pay off debt first?
Although I whole-heartedly believe that paying off debt should be your top priority, I also believe that saving money is very important and is something that should not be left until you have "extra" cash lying around.
If you decide to focus all of your resources on eliminating debt and completely ignore your savings, what are you going to do when an emergency comes up? It's likely that you will whip out your credit card to pay for the issue(s) and there goes any progress you have made on your debt repayment.
How much should you save if you are paying off debt?
It's often suggested that an emergency fund has enough money to cover at least 3 months' worth of your basic living expenses (rent/mortgage, gas, hydro, etc. – not entertainment, clothing, or eating out). However, when paying off debt at the same time as building an emergency fund, it's recommended that you only have a pre-determined amount of money set aside for just one or two emergencies.
A good amount to set aside would be $1,000. This is enough to cover most small emergencies. However, if an even bigger emergency presents itself (like a job loss), this amount won't get you far. So, make sure you get that debt paid off as soon as possible so you can grow your emergency fund to a much larger amount.
It doesn't matter how much you're in debt, you should always have a bit of extra money set aside for those things that will pop up when you least expect them to.
Build a small fund of $1,000 or so and then leave that money alone and focus all of your energy on getting your debt paid off. Only once the debt is gone, should you consider adding more cash to your emergency fund.
What are your thoughts on paying off debt versus saving for emergencies? Please share in the comments.