PolicyMe Review: The Best Way to Get Life Insurance Online In Canada?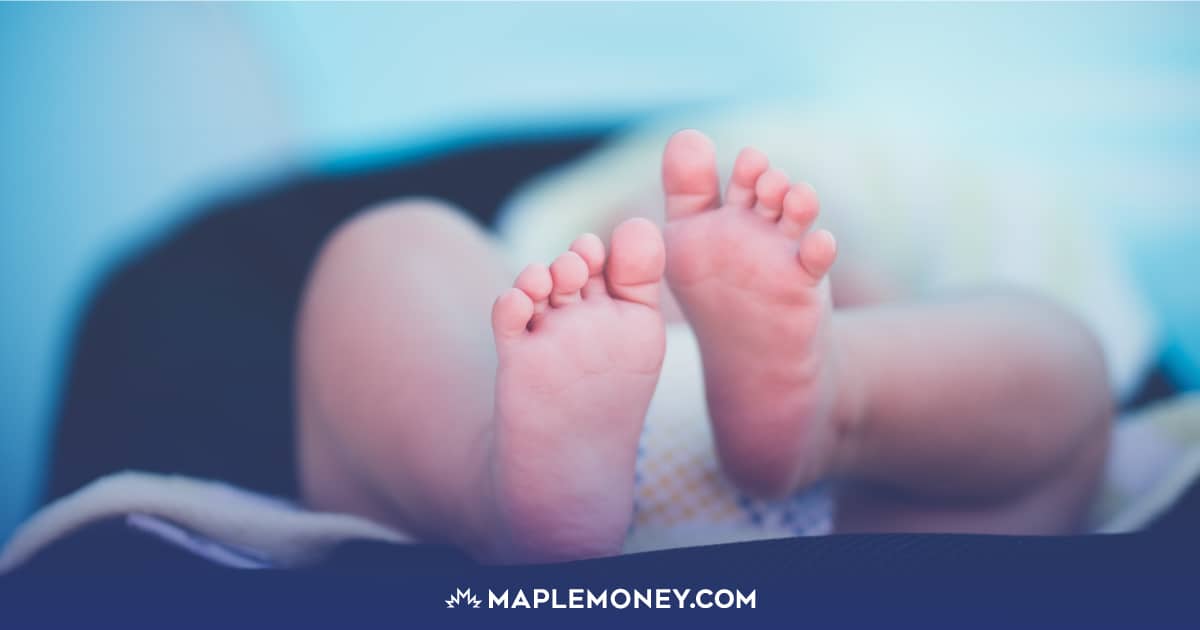 Studies show that most Canadians remain underinsured. A recent survey showed that more than 50% of Canadians do not have any life insurance. It's startling when you consider how cheap life insurance is, especially for younger Canadians in relatively good health.
One insurance company is trying to change those statistics for the better. In this PolicyMe review, I'll show you how you can apply and be approved for term life or critical illness insurance online within 20 minutes.
I'll explain how PolicyMe works, cover the key features, pros, and cons, and share a couple of PolicyMe alternatives. If you're one of the 50% of Canadians without life insurance, this might be your moment to do something about it.
About PolicyMe
Toronto-based PolicyMe is an online life insurance platform that provides term life insurance and critical illness insurance policies to Canadians. Because you can complete the application online, PolicyMe can offer life insurance at a more affordable price than traditional insurance companies.
Another PolicyMe advantage is the speed at which they can operate. The average application takes about 20 minutes to complete, and all applications receive a decision instantly.
Canadian Premier Life Insurance Company issues most PolicyMe insurance policies. They've been in business for over 60 years and are federally regulated in Canada.
PolicyMe Term Life Features
Couples save 10% off their term life insurance rates in the first year
Every term life policy includes Child Coverage at no extra cost
Receive an online quote within seconds
A quick, 20-minute online application process
Most customers are approved without a medical
No payment is required until you activate the policy
Non-commissioned sales staff
Doesn't offer permanent or whole life insurance
Get a Personalized Life Insurance Quote from PolicyMe
How PolicyMe Works
With PolicyMe, you can go from getting a quote to activating your new life insurance policy in 4 steps. Here's how it works:
Get an instant life insurance quote. PolicyMe will provide you with a no-obligation quote within a couple of minutes. You'll need to provide them with basic personal details, such as your age, income, and whether or not you are a smoker. If you're unsure of how much coverage you need, PolicyMe can assist you with that as well. By providing them with additional information, their insurance advice tool can recommend the right coverage for your situation.
Fill out a life insurance application. If you're happy with the quote you've received, you can fill out an online insurance application, which takes about 15 minutes. There is still no obligation on your part at this point. PolicyMe will ask you more questions about your personal information, medical history, and details of any existing insurance coverage you have.
Receive a decision from PolicyMe. As soon as you submit the online application, you'll find out if you are instantly approved (most customers are). If you are, you'll be able to finalize your policy details, connect a payment method, and activate your policy within a few minutes.PolicyMe may require you to provide additional information or obtain a medical if you're not approved on the spot. It doesn't mean you won't be approved, but it will delay the application.
Activate your policy. There are four steps in the activation process: Name your beneficiaries, eSign your new policy, add payment details, and verify your ID. As long as you've determined your beneficiaries, activation should only take a couple of minutes.
PolicyMe Life Insurance
When it comes to life insurance, PolicyMe only offers Term Life coverage. While rates will vary depending on several factors, including coverage amount, age, sex, smoking status, etc., PolicyMe claims to offer some of the most competitive term life insurance premiums. I've included the following price comparisons (from the PolicyMe website).
Of course, I strongly advise you to do your own comparison using current quotes before you decide to sign up with PolicyMe, or any other insurance provider.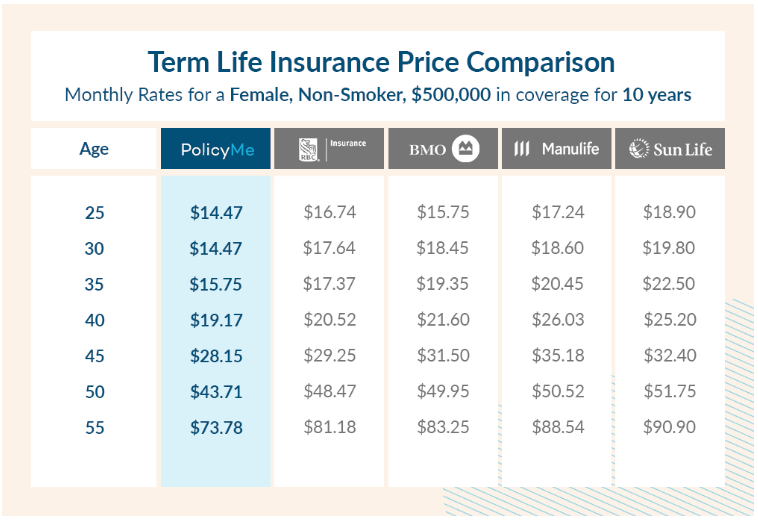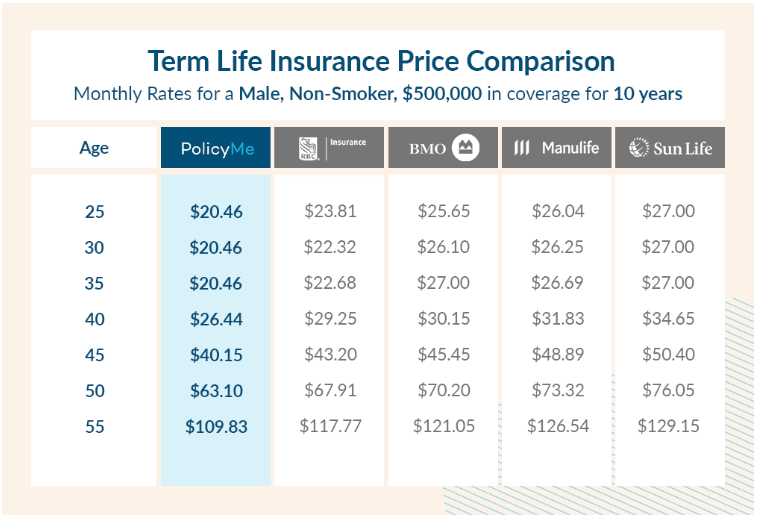 Apply for Life Insurance with PolicyMe
PolicyMe Coverage and COVID-19
Since the pandemic, many Canadians have wondered if life insurance policies will cover them in the case of a COVID-19-related death. According to PolicyMe, you can rest assured knowing that you are still covered even if you pass away from COVID-19 complications.
Like most policies, there are standard non-COVID limitations on coverage, such as death by suicide within the first two years of the start of the policy.
Term vs. Permanent Life Insurance
As mentioned, PolicyMe only sells term life insurance, but you may be familiar with another type of coverage – permanent life insurance. Let's take a look at the similarities and differences between the two.
Term insurance protects you for a defined period, such as 10 or 20 years. Unless you renew your policy, the coverage expires after the period ends. Permanent life insurance offers lifelong protection and includes a cash value portion, which you can access after a certain period.
Term insurance is the best option for the vast majority of people because it is far cheaper than permanent life insurance. This is because the coverage has a specific end date, and you're not contributing to an "investment" portion, which is very costly.
The following tables (from the PolicyMe website) illustrate how much more affordable term life insurance is than permanent life.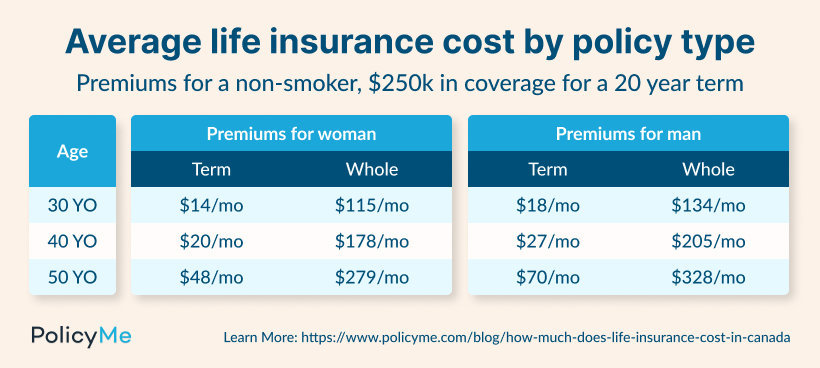 While I am not a licensed insurance professional, I believe most people should keep their insurance separate from their investments. Permanent life insurance policies are simply too expensive and complicated.
PolicyMe Critical Illness Insurance
PolicyMe also offers Critical Illness insurance coverage at competitive rates. According to the PolicyMe website, their critical illness policies cover up to 44 conditions, the most in Canada.
Unlike life insurance, critical illness insurance is a living benefit, meaning you don't need to pass away to receive money. Critical illness provides a one-time, lump sum payment if you are diagnosed with a critical illness during the coverage period.
Most critical illness insurance policies cover life-threatening cancer, heart attacks, and strokes. PolicyMe also covers select early-stage illnesses, including some forms of breast cancer. Here are the key features of PolicyMe's Critical illness coverage:
PolicyMe Critical Illness Features
Competitive rates
Online application, decision within 20 minutes
Covers up to 44 conditions (full and partial coverage)
Coverage amounts ranging from $10,000 – $1,000,000
Term lengths: 10, 15, 20, 25, and 30 years
Lump-sum tax-free payout
You can apply with your partner
Apply for Critical Illness Coverage with PolicyMe
PolicyMe Pros and Cons
PolicyMe delivers on its promise of no-hassle, affordable term life insurance for most Canadians. But there are a couple of drawbacks, which I've included in the following list of PolicyMe pros and cons:
Pros:
Affordable term life insurance
Instant quotes are available within 2 minutes
Apply online within 15 minutes
Instant decision
A medical exam may not be required
Critical illness insurance coverage is also available
Cons:
Not available in all Canadian provinces
Only offer term life insurance and critical illness insurance
PolicyMe Alternatives
In addition to dealing directly with a traditional insurance provider, such as Manulife or Canada Life, a couple of companies offer a service similar to PolicyMe. Let's take a closer look at two PolicyMe alternatives.
PolicyAdvisor
PolicyAdvisor is a digital insurance brokerage that partners with more than 25 Canadian life insurance companies. You can obtain life, critical illness, mortgage, and disability insurance through PolicyAdvisor. But while they offer more types of coverage than PolicyMe, PolicyAdvisor is only available in three Canadian provinces (Ontario, Alberta, and Manitoba), and you can't complete the entire fulfillment process online.
InsuranceHotline.com
InsuranceHotline.com has been around since 1994, helping Canadians find the best insurance rates for various insurance coverages, including life, home, auto, travel, motorcycle insurance, and more. They are available in all Canadian provinces and deal with more than 30 insurance companies. Like PolicyAdvisor, however, you cannot complete the entire application process online, whereas you can with PolicyMe.
Get a Personalized Life Insurance Quote from PolicyMe
PolicyMe Review: Final Thoughts
That's it for our PolicyMe review. If you're looking for affordable life insurance coverage from the comfort of your living room, PolicyMe is the way to go. Even if you have existing life insurance coverage through a different insurance provider, you may want to check with PolicyMe to see if you can get a better rate.
I love the great rates and the fact most applicants don't require a medical exam. While PolicyMe lacks certain coverages, like permanent or whole life insurance, those products aren't suitable for most Canadians. If you do want to explore permanent life insurance, there are plenty of life insurance providers who handle that product. I would like to see PolicyMe extend its services to all Canadian provinces, as it would make them a truly national brand.