How to pre-order merchandise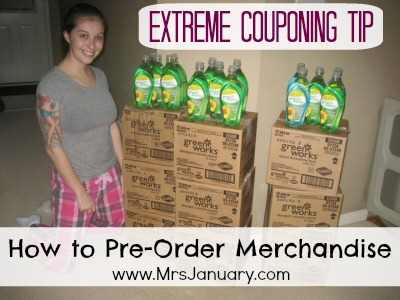 As a couponer, there may be times when you know about a sale in advance – a sale that would get you a product for FREE (or better) with a coupon that you have – and you have a ton of coupons to use.
How do you "buy" a bunch of those items, without clearing the shelves?
Shelf clearing is bad coupon etiquette and something I strongly advise that you avoid – but I know how tempting it can be to pick up every single free item you can, so this is how to do it in a way that everyone wins.
How to pre-order merchandise
When you find a really hot deal, when matched with a coupon will get you a free item, the first thing you want to do is check your coupon stash. How many coupons do you have to use? How many do you need to use?
If you have 3, 5, or even 10 coupons, you probably don't need to pre-order any merchandise.
However, if you have 20, 30, 50 or more coupons, calling ahead may be a good idea.
Call the store
Note: I have been able to pre-order merchandise from both Walmart and No Frills. I'm sure other stores will allow it, but I haven't tried.
Ask to speak to the store manager (not an assistant). Let them know exactly how many items you need, and make sure that they know you will be using coupons to pay for your purchases. Keep in mind that items may not come in in time for the great sale price, so ask if the manager will still honour that price when the items come in.
Some stores may require you leave a deposit for your order, so you will have to pre-order your merchandise in store, and not over the phone.
Pick up your order right away
As soon as your order comes in, go and get it right away. The longer you wait, the more likely it is that the manager will just have the items put out for sale in the store.
It's also likely that they will not allow you to pre-order merchandise again.
Not all stores are alike
The main thing to keep in mind is that some stores will not allow you to pre-order merchandise, for any reason. In fact, most stores don't allow it.
But – some do, and if you're lucky enough to find one of those stores that does allow it, you can save some serious cash!
Just because a Walmart in Toronto allowed someone to pre-order merchandise, doesn't mean a store in Ottawa will allow the same thing. It's all up to the store manager at each store. So call around and see if you're lucky enough to have a store that allows this practice.
Don't be a hoarder
If it turns out that you are able to pre-order merchandise at a store near you, that's great! However, don't use this as an opportunity to hoard free merchandise in your home.
Only order what your family can use before expiry (unless you plan to donate the excess).
If you pre-order merchandise, don't go and take items from the shelves, too. Remember to also leave deals for other people. It's the right thing to do!
Have you ever pre-ordered merchandise? If not, would you consider it?