How to Preserve Green Beans
Today I'd like to teach you how to preserve green beans so that you can enjoy fresh beans during the long winter months!
Some vegetables from the garden taste so much better than store bought, and I believe that green beans are one of them. Green beans are so tender, flavourful, and fresh right from the garden or farmers market. Knowing how to preserve green beans properly can allow you to enjoy that fresh taste even in the middle of winter.
Also, preserving foods allows you to purchase in bulk when items are their cheapest, saving you big money.
How to Preserve Green Beans
Green beans, like all vegetables contain enzymes which break down over time. To ensure that the nutrients are kept in the vegetable, it's important to prepare them properly for preserving. Blanching your green beans prevents the action of the enzyme from breaking down the nutrients.
Blanching is a brief heating of the vegetable which destroys the enzyme that deteriorates the nutrients. This can be done with boiling water or steam.
Here is one simple method for preserving green beans:
Pick your beans and preserve as soon as possible. If you need to wait a bit to preserve, store your beans in the fridge.
Trim and cut. Trim the ends off of your beans and cut to whatever size you like.
Wash, wash, wash. Rinse your beans very well with cool water.
Prepare. You will need 2 pots. One with boiling water and one with ice water.
Bring a pot of water to a rapid boil and put your beans in for 3 minutes, boiling rapidly. Start timing your beans as soon as they return to a boil. You want to use a lot of water and few beans so they return to a boil very quickly.
Immediately drain, rinse with cold water, and plunge into the ice water (this prevents overcooking). Keep them in the ice water for 3 minutes. Continue to add ice to keep the beans cold. (Tip: I like to freeze water in containers to form bigger ice cubes as they take longer to melt.)
Bag the beans. You are now ready to bag and freeze your green beans. Use a good quality zip-top freezer bag. Push out all extra air (or use a straw to suck it out), label, and freeze.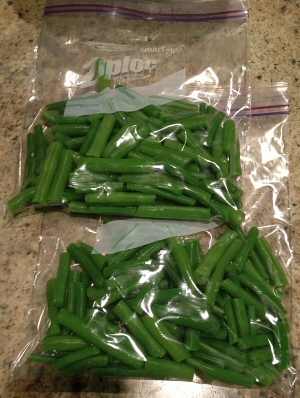 These preserved green beans can be enjoyed for up to 9 months straight from your freezer. Garden fresh – all winter long!
Knowing how to preserve your food is a wonderful way to save money and provide healthy food for your family. Buying ripe food, in bulk, and in season and preserving right away ensures your biggest savings!
What food items do you preserve?