Create a Price Book to Save Money on Groceries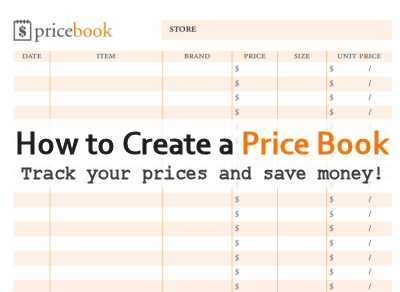 A grocery price book is essential if you're just starting to track your spending and lower your grocery bill. It may be wise to consider making a price book if you are constantly asking yourself:
What is a good price for _____?
A price book can easily answer that question.
What is a price book?
A grocery price book is a list of items that you regularly purchase and how much you paid for those items. Having a price book allows you to spot bargains and maximize your savings at the store.
In this book, you will track the following things:
Store Name
Item
Brand Name
Size
Cost Per Unit
Why you need a price book
With a price book, you will always know when a sale price is actually a great deal. Stores have sales all the time, but did you know that a lot of the sale items advertised in flyers and online are actually just regular prices?
If you have a price book, you can check to see if the item you're looking at is advertised at full price or is actually on sale.
Not only will you know if a deal is really a deal, but a price book allows you to track the best prices for items you regularly buy. This means that when items hit your rock bottom price, you can stock up. So you not only know if something is a good deal, but you know just how good of a deal it really is.
How to make a price book
If you're ready to make a price book to track prices of sale items at your favourite stores, here's what you will need:
Binder/Notebook (Or you could use a spreadsheet on your computer)
That's it!
You can download our free price book sheets to help you make a price book!

Start compiling your price book information
Make a list of the items that you buy on a regular basis. Forget everything else – it will be too hard to maintain a price book if you have too many items in it, so only stick to your most purchased items.
You will need to set aside some time to go to your regular stores and make note of the regular prices of the items on your list. Again, don't go to too many stores. A maximum of 3 is my recommendation.
When I made my first price book, I tracked prices at Walmart, Shoppers Drug Mart and Real Canadian Superstore.
Note: You many need to update this list from time to time, as regular prices can fluctuate.
Organize your price information
I found that, for me, the best way to set up my price book was to put everything in alphabetical order.
For example,
A – Apples
B – Bananas, Bread – Brand Name, Butter
C – Cereal, Cookies, Cauliflower, Chicken
Each page in my price book had a different letter. Some pages has next to nothing on them and some were completely full (a few even had both sides of the page filled up!).
Refer to your price book often
If possible, bring your price book with you every time you shop (in case you run across an unadvertised sale at the store). This is where a small notebook or an electronic price book works well.
Always check your price book when looking over the sale flyers, as well. The items on the front and back of a flyer are usually the best deals, but not always. Double check your price book to be sure, before stocking up on those items.
I have been bargain hunting for just over 5 years now, but I still keep a price book. However, mine is just a short list scribbled on note paper that I keep in my purse. It's only for items that I don't buy very often.
My years of experience with shopping the sales and tracking prices has made it so much easier for me to know when a good price is actually a good price. I can spot a deal from a mile away. This may or may not be the case for you over time.
I strongly suggest starting with a price book, though. It helped me immensely when I first starting trying to lower my grocery bill – and I know it will help you too.
Do you use a grocery price book?
This post is part of the 6 Weeks to a Lower Grocery Bill series. You can read the other posts in this series here.