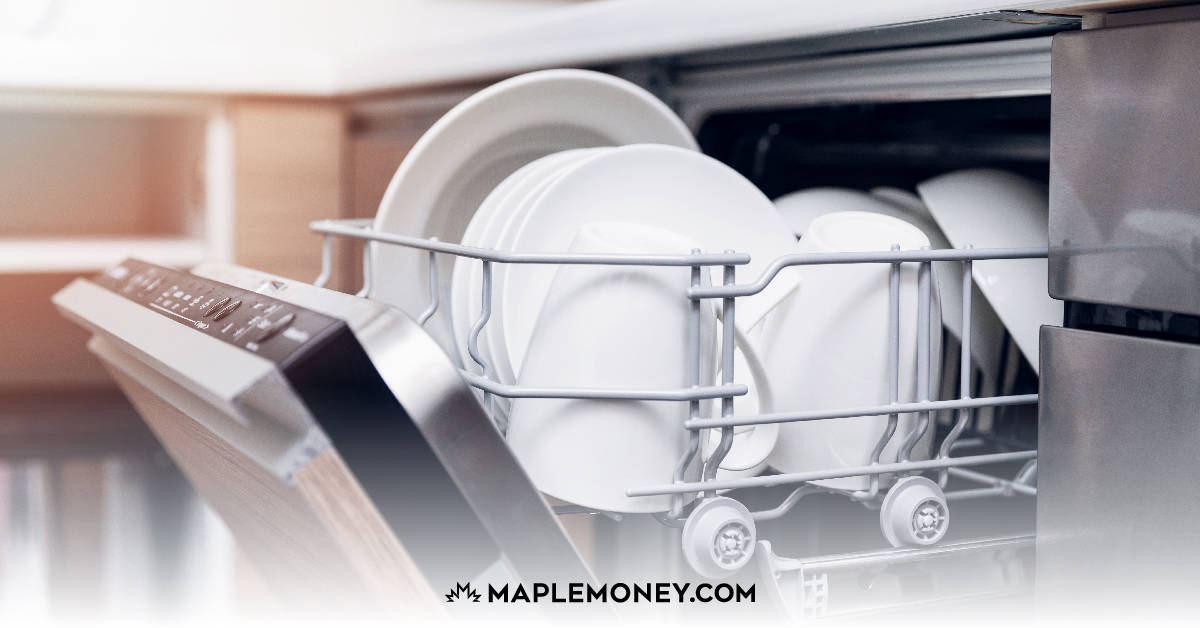 If you have a dishwasher in your home, you own one of the best cleaning machines out there. Dishwashers are great for cleaning your dirty dishes, but they can do so much more than that. There are a variety of different items you can put in the dishwasher.
Here are 20 everyday items to wash in your dishwasher.
20 Everyday Items You Can Put in the Dishwasher
1. Clips and Barrettes – You can put these in a mesh laundry bag (found at most dollar stores) or in the cutlery tray.
2. Hairbrushes – Remove all hair so you don't clog the drain, and place the hairbrush on the top rack.
3. Plastic Toys – These can go anywhere in the dishwasher, but thin, plastic toys should go on the top rack.
4. Vent Covers and Fan Grills – These things are a pain to clean, so why not let your dishwasher do all the work instead?
5. Bottle Brushes – If you have a baby that drinks from a bottle, it's likely that you use your bottle brush on a regular basis. Sanitize it by running it through the dishwasher periodically.
6. Scrub Brushes – Those brushes that you use to scrub caked-on food off of your dishes? Yeah, those need to be cleaned (and cleaned well) to prevent bacteria from growing on them. Throw them in your dishwasher to sanitize them.
7. Switch Plates – Light switches get a lot of use. This means that they can get dirty rather quickly. Put a bunch of them in a mesh laundry bag and wash on the top shelf.
8. Shoes – That's right, you can wash your shoes in the dishwasher. Not just any shoes, though. Jelly and canvas shoes, as well as rubber boots, all can be put into the dishwasher to be cleaned.
9. Baseball Hats – You can put these in your washing machine, but they will usually end up coming out mishapen. Instead, clean and sanitize your baseball hats by putting them in the dishwasher.
10. Stove Knobs – Pull them off your stove, toss in a small mesh laundry bag and wash on the top rack. You could also put your stove knobs in the cutlery tray.
11. Potatoes – Yes, you really can wash your potatoes in the dishwasher. This comes in handy when you have a large amount of potatoes to clean. Put them on the top rack, don't add any soap, and turn on the "rinse cycle" (may be called "quick rinse" on your dishwasher).
12. Soap Dishes and Toothbrush Holders – These items can get pretty gunky over time, so make sure to keep them clean by putting them in your dishwasher every once in awhile.
13. Fake Flowers – To get rid of all that dust that can accumulate on decorative flowers, put them on the top rack of your dishwasher.
14. Dustpans – They assist you in cleaning your floors, and because they have such a dirty job, they end up very dirty themselves. Dishwasher to the rescue!
15. Makeup Brushes – Makeup brushes need to be cleaned often to get rid of any bacteria that may be lingering. You can put these on the top rack of your dishwasher. Let them air dry once clean.
16. Garden Tools – Scrape off large chunks of dirt and then let your dishwasher do the rest of the work needed to clean your tools.
17. Shower Heads – Your shower heads get you clean, but have you ever considered cleaning them? If not routinely cleaned, shower heads can under perform, so take care of them.
18. Pet Bowls – Your pets need clean dishes, too! They can go in the dishwasher, just like your own dishes can.
19. Salt and Pepper Shakers – Handled on an almost-daily basis, salt & pepper shakers can quickly become grimy and gross. Make sure to keep them clean by sticking them in the dishwasher sometimes.
20. Desk Accessories – Note paper trays, pen & pencil cups and magazine holders are just a few desk accessories that can be put in the dishwasher to be cleaned.
Did you know that you could put those items in the dishwasher? That magical machine can do so many wonderful things, but many of us just don't know what they are capable of.
Instead of spending much of your time cleaning, have your dishwasher do the bulk of the work for you.
What is the last "everyday item" you put in the dishwasher?