Roam Mobility Review: Save Money on Roaming Charges When Travelling to the U.S.
Like many Canadians, I sometimes travel south of the border. In fact, I recently returned from a trip to Orlando, Florida with my family. I often travel to the States for business, and it's an even bigger perk when I can bring my family with me.
One of the issues you have to be aware of when you travel to the States is the fact that your phone isn't going to work the same way. If you just head south, the roaming charges are going to get ridiculous.
When I travel below the 49th parallel, I make sure to use a special roaming plan with a SIM card. This gives me a US-based phone number to use while in the States — and it costs a lot less than my phone provider's roaming charges for talk, text, and data. A company that offers a solid choice is Roam Mobility.
Roam Mobility Review: Low-Cost Plans for Travel to the United States
When you are out of your home area, your cell phone provider is likely to charge you a roaming fee. You might be able to get away without being charged if you are going across Canada, but once you head south into the United States or Mexico, you are going to get hit with charges big time. You might be surprised at the cost of data roaming. Ask your provider what is data roaming, and find out what is charged.
Next, compare it to a company like Roam Mobility, which offers its own plans and phone numbers. You might be surprised at how much you can save. Here are the plan options when you have a Roam Mobility SIM card:
USA Daily Plans: You can save up to 99% over other carriers when you use the daily plans available for travel to the States. The Text + Data plan starts at $2.95 per day. You can get Talk + Text plan for $3.95 per day. The most popular plan, though, is the Talk + Text + Data plan for $4.95 per day. It's unlimited, and you can pre-pay. You don't have to worry about overage charges and hidden fees, which is a nice bonus when you're travelling.
Snowbird Plans: Because we all know that many Canadians like to head south when the weather gets colder, it's possible to get a Snowbird Plan that offers a discount over the daily plan. You can get a Talk + Text plan for $34.95 per month, or a plan with unlimited talk, text, and data for $49.95 per month.
Data Only: If you are interested in data only, you can pick your preference for data, starting at 300 MB of data for three days, at a price of $9.95. Other prices range in terms of how much data you want, and how long you will use it. The top plan is a 5 GB data plan that is valid for 30 days, and it costs $59.95.
On plans that include unlimited data, Roam Mobility offers you 4 GB of 4G LTE data for the month. You won't be charged if you use more data than that, but you will be throttled back to 2G speed after you reach the 4 GB threshold. That's important to keep in mind as you use data. It might make sense to turn off your LTE at some points during your trip in order to conserve faster data speeds.
How to Use a Roam Mobility SIM Card
Setting up your phone to avoid expensive roaming charges is fairly straightforward. You first need to make sure that your phone is unlocked. You can do this by calling your service provider, or by using a service like doctorSIM to help you unlock your phone. You will need to pay a fee to make this happen, no matter who does it. However, the savings you receive from using a roaming SIM card are usually big enough to make paying the fee worth it.
You can obtain a Roam Mobility SIM card by ordering it online, or by getting it from one of the resellers authorized to offer these cards. Staples, Superstore, and Petro Canada are all authorized to resell Roam Mobility products. Once you have your SIM card, you can activate it online. Provide details, including how many days you will be in the States. (If you end up staying longer, you can just get on the website and purchase additional days.) If you will stay down south for longer, you can choose a monthly Snowbird Plan to save a little bit more.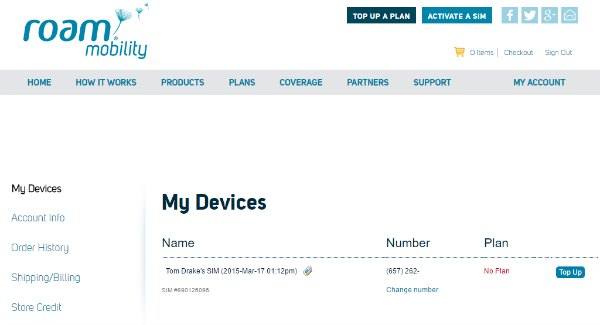 Now that your plan is set, you are ready to travel. When you get into the United States, it's time to switch out your SIM cards. Power down your phone, and then make the switch. After you turn the phone back on, you should receive a message welcoming you to the Roam Mobility network. You should be ready to go.
It's important to understand the process of switching out a SIM card before you get to the states. You can find instructions online, as well as with your carrier. It's important to find out whether you need special confirmation as well.
Android phones require that you get an APN confirmation before you change your SIM. You will also want a separate container for your usual SIM card. You don't want it to get lost or damaged while you are out of country because you need to swap the SIM cards again upon your return home to Canada.
How Does Roam Mobility Compare to Other Data Roaming Plans?
You can find other data roaming plans that cost less than your regular plan. However, these plans aren't always as low-cost or convenient as using a Roam Mobility SIM card. Here are some of the other options, from the "big three":
Rogers Roaming: You can get an add-on using your existing account, for $5 per day. However, your existing account limits remain in place and you need a Share Everything plan to make it work.
Bell Roaming: You can get this for $5 per day as well. However, the downside to this plan is that you are only allowed 100MB of data per day. You might be surprised at how fast you can blow through that.
Telus Roaming: With this plan, you add on to your existing account for $7 per day. It has a higher cost, and you are limited by your plan.
Even though it might be more convenient to activate these plans, the value just isn't there. If you can pay a fee and unlock your phone, and then use a Roam Mobility SIM card, you are likely to save more money in the long run.