Save money by failing forward
At MapleMoney.com, we strive to make the frugal life accessible with money-saving tips.
But we also understand that life happens.
Time constraints, rush hour traffic, and crammed schedules. Life can be full of surprises that we are not always prepared for. If you experience overspending "oops", don't be discouraged. Use it as a tool to be better prepared for the next time.
Save money by failing forward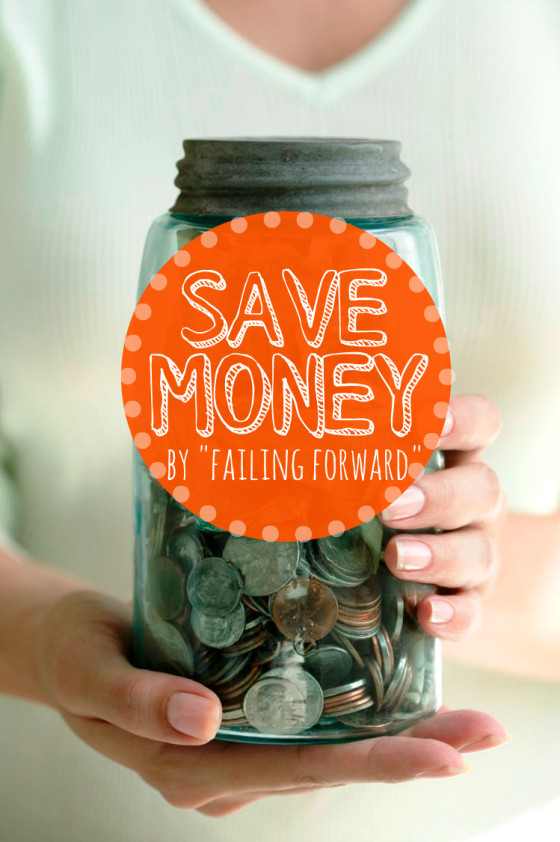 If any of these situations sound familiar, arm yourself with the knowledge of what to do the next time. And then you have not failed. You have simply failed forward.
Situation:
Your little one spikes a fever at midnight and you realize you are out of medication. A late-night run to the pharmacy means paying full price for medication.
Next time:
Stock up in advance for Cold and Flu products, combine sales and coupons before the crisis hits. Organize containers so you always know what you have on hand.
Situation:
Your child's feet seemingly grow overnight. Suddenly their outdoor or indoor shoes (or both!) no longer fit. You scramble to find new shoes and pay full price.
Next time:
Gradually start to stockpile shoes on sale. Being pre-paired will save time, stress, and money.
Situation
Your child hands you a birthday party invitation….and the party is tomorrow. You scramble to find a suitable gift, paying full price.
Next time:
Stock a birthday cupboard with quality sale items you find by watching for deals on MapleMoney.

Situation:
You always pay full price for many staples like dishwashing detergent because you think mail-in rebates are too much work.
Next time:
You learn how easy it is to cash in on mail-in rebates and receive many months of dishwashing detergent from different brands….for FREE.
Situation:
An item rings up higher than the price marked on the shelf. You can't quite remember the rule about getting items for free when this happens.
Next time:
Keep a reminder note in your purse and ask if the store honors the Scanning Code of Practice (SCOP). If they do, you receive this item for free because of the mismatched price (or $10 cheaper if the item is over $10).

Situation:
The customer in front of you at the checkout is showing the cashier several flyers to price match items. You realize it's easier than you thought and wish you had brought your flyers.
Next time:
You read our post Price Matching for Beginners and decide to start by simply price matching produce and front-page deals. Eventually, you use an app like Flipp to price match like a champion.
Situation:
The kids are grabbing chocolate bars and melting down while you cash out at the grocery store. You realize the cashier overcharged you ….after you get home.
Next time:
Pass out snacks at the checkout to give you the 3.2 minutes required to watch the cashier scan your items. Better yet, swap childcare with a friend so you can both do groceries kid-free. A mom can dream, right?
Situation:
At the end of a busy week, you spontaneously treat the family to a night out at the movies, paying full price.
Next time:
You use one of these ideas and take the family to the movies for next to nothing.

We've all been there. Spent too much money when we are rushed, disorganized or unprepared.
Don't be discouraged. Dust yourself off and learn from the past.
Failing forwardcan lead to success the next time. And the next time. And the next time…..
How have you been able to fail forward in managing your money?