How to save money on Halloween costumes
It's the first week of October, and that means Halloween is coming! I love Halloween. There's just something exciting about dressing up as someone else. Especially zombies. Zombie costumes are my favorite.
The thing about Halloween costumes is that they are often quite expensive. Have you seen the cost of these things lately? Last year I saw a little dragon costume for a toddler – it was $65. Sixty-five dollars! For a tiny little costume. Ridiculous.
7 ways to save money on Halloween costumes
This year I did some digging and researched the best ways for saving money on Halloween costumes. Here are 7 ways:
1. eBay
There is always a huge assortment of Halloween costumes on eBay, and thankfully, the prices aren't too bad (usually).
One great benefit of shopping on eBay is that you can search for exactly what you want. If you already have a costume idea in mind, that is.
Related: How to Make Money on eBay
Selling on Ebay is just as great as selling on websites such as Kijiji or Craigslist. You can make some extra cash just by posting something on the internet. Fantastic!
2. Thrift stores
Most thrift stores have a section for Halloween costumes and it is often bursting at the seams come October. New stuff is being added every day, as more people drop off old costumes that they no longer want, so if you don't find something on your first visit, try again another time.
There are some thrift stores (Value Village especially) that even sell brand new Halloween costumes, with prices as much as 50% off the original. The closer you get to Halloween, the higher the discount will be, but this also means your selection will be more limited.
3. Online classifieds
Websites such as Kijiji and Craigslist are great places to not only find Halloween costumes, but to sell your old costumes.
Just like eBay, this is an easy way to find a very specific costume, since you can just type what you're looking for into the search box.
Related: How to Sell Your Stuff Online with Kijiji & Craigslist
Making money from online classifieds, such as Kijiji and Craigslist, is not as simple as posting the ad and watching the money roll in. In order to make the sale, you have to be prepared to put in a little work.
4. Costume swap or borrow
Get together with a couple of friends and/or family members and either borrow a costume (or more) from them, or swap costumes entirely.
I personally find that a clothing swap is the way to go, since then you don't have to worry about returning anything. Less work = perfect for me.
5. Do it yourself
One very frugal way to save on Halloween costumes is to simply make them yourself.
There are many websites with easy DIY Halloween costume ideas for adults and children. If you have a bit of a crafty side, this may be the route to take if you want to save money on Halloween costumes.
6. End of season sales
We all know that shopping at the end of a season is one of the best ways to save money. Right? Knowing the sale cycles is your best bet to saving big on winter clothing, snowsuits, swimwear, sunscreen, Christmas items and… yep, costumes (and other Halloween goodies – including candy!).
If you don't mind purchasing next year's costume this year, you will be able to save some serious dough. Keep in mind that the longer after Halloween you wait to purchase these costumes, the more limited your selection will be.
7. Dollar stores (for accessories)
If you need to buy face paint/make-up, hair colour spray, hats, jewellery, tiaras, swords, shields, wigs, eye patches, or almost any other Halloween costume accessory, check out your local dollar store.
Most stores (good ones, anyway) have at least one row full of Halloween items. I've even seen actual Halloween costumes at some dollar stores (usually only for babies, though). If you're into dressing up your pet, there's often costumes for them, too.
Related: Why I Love Dollar Stores
Looking to save money? Head to the dollar store. They have so much stuff, and it is all inexpensive. The quality is actually very good as well, these days. Dollarama is my favourite dollar store, but there are other good ones, too.
Halloween costumes that won't break the bank
If you're wondering how to get awesome Halloween costumes that won't break the bank, you're in luck, because I have some money-saving tips for you today.
I'm shocked at the retail price of many Halloween costumes. Costumes that are usually only worn once or twice. That is nonsense! There are so many ways to save money on Halloween costumes. Here are a few tips…
Buy second hand
Sites like Kijiji, Craiglist, eBay or more local sites like Milton Moms are excellent ways to purchase costumes second hand. If your children do not particularly care which costume they get, you have free reign to find a good deal you know they would like.
If Junior is desperate to be a superhero, begin searching earlier to find that more specific costume.
Also, Gymboree has the most adorable costumes for kids and they are excellent quality. If you can find a second hand deal on a Gymboree Halloween costume, snatch it up.
Purchase off-season
Full-price costumes in September and October can be reduced by up to 90% off the day after Halloween. I have scored ladybug and flower costumes for $3 for my niece (regularly $25 at The Children's Place).
My husband has also had great luck buying costumes after Halloween at Walmart and Real Canadian Superstore. These included Buzz Light Year and a Clone Trooper for less than $5 each.
Use more than once
If you pay $20 for a costume that is worn once, that is an expensive investment. However, if you pay $20 for a costume that gets passed down from child to child, and used in the dress up box for almost a decade – not such a bad deal. We have a Hulk costume that no kid can resist when they dress up at our house!
We have had a few theme parties that gave our kids and their guests a chance to dress up. We had a jungle party in October and our son got to wear his giraffe costume again. We offered to lend out a few extra animal costumes we had on hand so other moms didn't have to scramble, too.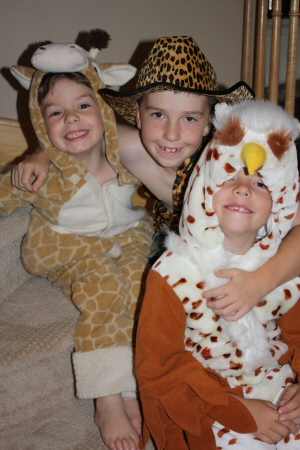 Swap with a friend
Finished with a costume? Pass it along to a friend with a younger child. Or, shop for costumes with a friend so you each buy one costume and then trade after one Halloween, for the next year.
Create homemade Halloween costumes
This is probably my favorite way to "find" Halloween costumes that won't break the bank. My childhood memories around Halloween center on the thrill of creating our own costume from items on hand.
Pinterest has now revolutionized internet searches for costume ideas. If you're an all-out kind of person, start planning now!
Sell your costumes
You can make most of your money back on costumes if you've purchased them at a reasonable price and kept them in good condition. Market them as dress-up clothes, or sell them in September/October to get top dollar.
With October 31st fast approaching, there is no better time to start getting costume ideas. If we start early, we can avoid last-minute scrambling (my specialty). I hope these ideas help you find cheap Halloween costumes your kids will love.
There is absolutely no need to spend a ton of money on a costume that you are likely only going to wear once.
If you're buying a costume for your child that you plan to use as a hand-me-down for future children, then you might want to spend a bit more for quality, but a Halloween costume should never cost you more than $30 (even less for young children).
How do you save money on Halloween costumes & accessories?