12 Ways to Save Money on Clothing
Are you trying to save money on clothing? Sticking to a budget when you're shopping for clothing can be very tricky. There are, what seems like, endless amounts of retailers to shop for clothing to suit your style and there are sales on clothing left and right.
Here are some tips that can come in handy the next time you're looking to save money on clothing.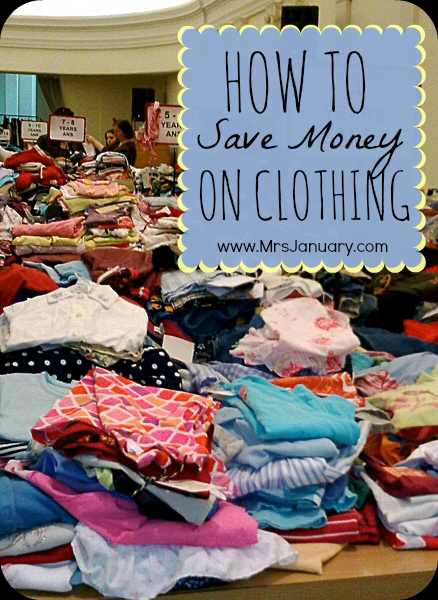 12 Ways to Save Money on Clothing
1. Shop thrift & vintage
Shopping at thrift stores can be addictive because you never know what to expect; there's just a thrill to snatching up quality clothing for a fraction of the retail price.
You may even find brand new clothing with tags! My favourite time to go thrift shopping is when stores have 50% off sales. Just remember to always check for holes, rips and stains before purchasing, and to properly launder all your clothing before wearing for the first time.
2. Shop clearance & sales racks
Items on clearance racks are priced best when you shop at the end of the season, since retailers are trying to sell off all seasonal stock. Most items may not be needed at the time of purchase, but you store your finds for approximately a year and find yourself stress-free when in need of a winter scarf.
On the other hand, sale racks aren't necessarily out of season items. They sometimes feature items that will return back to regular price after the sale ends. Note that some retailers hide their sale sections in the back of the store.
3. Shop outlets & liquidations
Many retailers have regular stores as well as outlet or liquidation stores which sell older stock for a fraction of the cost. The trade off is that most of these stores do not allow returns or exchanges and have a final sale policy.
If possible, be sure to visit a fitting room prior to making any purchases and if you have any doubts, don't buy a final sale item. This will save you from a lot of financial stress when you end up with an item that you just cannot wear.
4. Shop online
Another way to save money on clothing is shopping online. Oftentimes, shopping for clothing online can land you better deals than in stores. However, since you're unable to try on the clothing before purchasing, be sure to check out the store's return policy. If you're going to have to cover the costs of return shipping, it may not be worth the risk.
If you are shopping online from a retailer that offers in-store returns – great! Beware that shopping online may rack up tax and duty charges when you're importing items from outside of the country.
5. Calculate cost per wear
For a woman, the best piece to own is a little black dress. For a man, it's a black business suit. Although it may seem contrary to a frugal shopper, if you invest in a quality staple piece that you truly love, it will be worth your investment. Buying pieces that are more of an upfront cost may seem intimidating, but you should determine your cost per wear.
To calculate your cost per wear; take the total cost of an item and divide it by the estimated number of times you'll wear it. The perfect example is my favourite convertible dress by a Toronto-based company; Henkaa.
Their dresses are perfect for just about anything including; evening wear, daily wear, as well as travelling! They're also great because they come one size (0-14) or plus size (14-24) so the dress will fit you if your body changes and is flattering on all shapes and sizes; even during maternity!
Products like these dresses basically guarantee to decrease your cost per wear.
6. Buy classic pieces & avoid trends
Most people know that there are trendy styles and colours when it comes to fashion. If you're looking to save money on clothing, it's probably not the best idea to purchase an item currently in fashion – such as a pricey neon coat – because it will be difficult to pair with other pieces to make up an outfit.
7. Shop based on needs, not wants
Before being sold on the spectacular price of an item, stop and think about whether you're about to purchase an item based on need or want. If you ask yourself "Is the price of this better than the product?" and the answer is yes, don't buy it.
Shopping on a budget requires discipline, because it's just too easy to become a shopaholic.
8. Visit the fitting room
Some may find the line up for the fitting rooms a nuisance, but it may end up saving you a lot of money. There are tons of articles of clothing that look amazing on the rack or mannequin but not so great on you.
Be sure to try on clothing that you are hesitant about, because nothing is worse than purchasing an item, falling out of love with it and then forgetting to return it for a refund.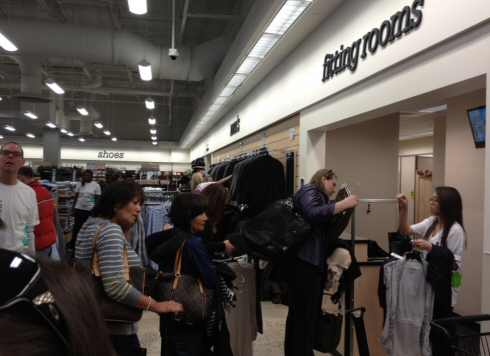 9. Retire clothing to pyjamas
Pyjamas are not cheap – they cost just as much as clothing that you go out in public with. Think about cutting your pyjama budget to zero and wearing comfortable loungewear to bed instead. You probably don't want to be wearing your old gym shorts to bed, but maybe an old t-shirt that hasn't been worn out in a while.
10. Alter your own clothing
If you have sewing machine skills or even hand sewing skills, they can come in handy when you find an affordable piece that you absolutely love, but cannot fit into.
It's important to remember not to over achieve and to evaluate the difficulty of the project prior to purchasing an ill-fitting item. You don't want to end up with a pile of "to-be-altered" clothing because these items may end up in a donation pile instead.
11. Attend clothing swaps
If you're in need of a fresh new wardrobe, try attending or organizing a clothing swap. This is where friends can get together and bring their lightly used items to swap with others. You can barter and bargain with one another and you can easily revamp your wardrobe without spending a cent!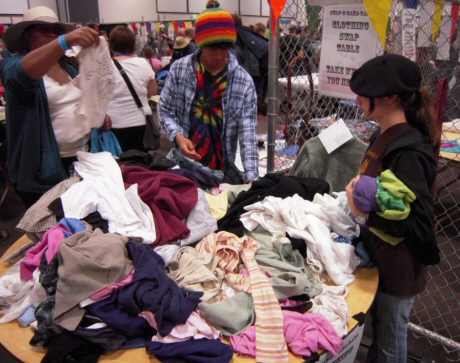 12. Follow the care labels
If you're careful with the method of washing your clothing, they will last you a lot longer than you may expect. It's unnecessary to wash clothing in anything but cold water, as well as putting any of your clothing into a dryer. The heat slowly damages your clothing and also shrinks it over time (even on a low setting).
If you purchase a sturdy drying rack to hang dry all of your clothing, you will not only save money on electricity, but you'll also help your clothing last longer.
There are endless tips and methods about how to save money on clothing – what are some of your favourites?